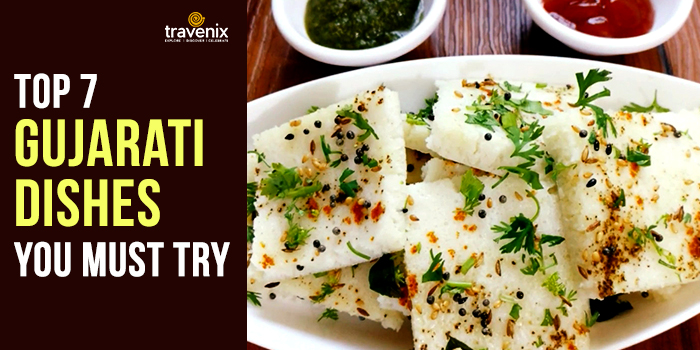 Top 7 Gujarati Dishes You Must Try
At the center of Gujarati culture is its food varieties. Gujarati cuisine is mostly vegetarian with most dishes exhibiting a tinge of sweetness in them. It's a culture that cherishes its many dishes and is ever-eager to share it with the rest of the world. Thankfully Mumbai has a lot of Gujarati cuisine restaurants and farsan shops, so you can try it all out here.
Explore Gujarati Cuisine
Our list inludes delectable sweets as well as savory snacks that Gujaratis savor all around the year. Everyone has heard enough about Khaman, Dhokla, and Khakhra. So, we're going to skip the obvious and delve into some other interesting dishes that Gujarati cuisine has to offer. If you get a chance to try Gujarati dishes, make sure you don't miss out on these:
1.Khandvi
Khandvi is a healthy snack item that is made with gram flour, mustard seeds, curry leaves, and tempered coconut. It has a distinctive look like a light, soft and fluffy version of a spring roll. This sweet and salty dish will melt right  in your mouth and leave you craving for more. In Marathi, this dish is also known as 'Suralichya vady'.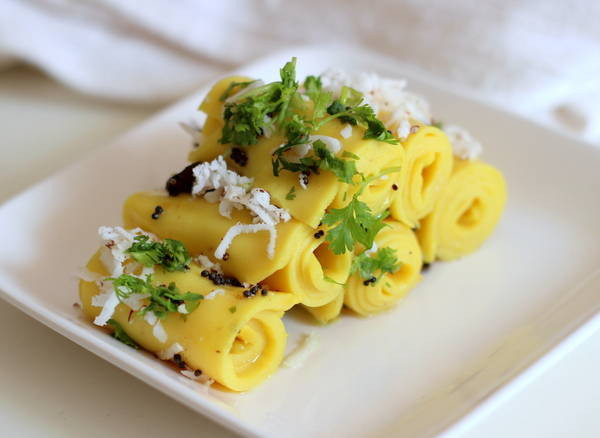 2. Patra
This dish is a part of not just Gujarati cuisine, but also Konkani, Malvani, and Maharashtrian cuisine. Patra is its Gujarati name, while in other areas it is also referred to as Patrode and Aloo Vadi.  It's made by stuffing colocasia leaves with rice flour and steaming it. Tamarind, jaggery and other spices are added to it for extra flavor.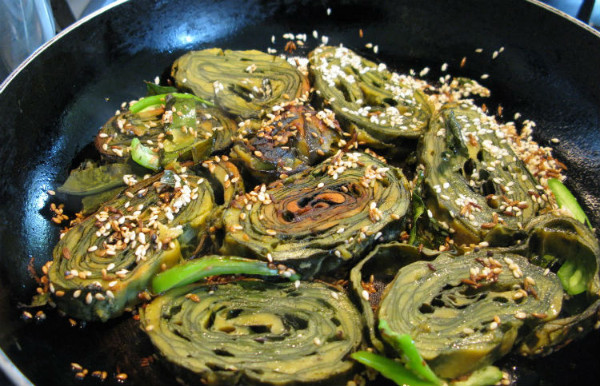 3. Undhiyu
This seasonal dish, relished during the Kite Festival in Gujarat, has a unique preparation method. Eggplant, bananas, beans, potatoes, fried chickpea dumplings and other vegetables and spices are filled in a clay pot and covered. It is then kept upside down underground. Because of the way it is cooked, the dish is called Undhiyu. In Gujarati Undhiyu means upside down. This special method of slow cooking lends a dollop of flavor to all the veggies.
4. Handvo
Handvo is a healthy baked snack that looks like a tea cake. It's savory though. Made from lentils, sesame, bottle gourd, wheat flour, rice, buttermilk, spices, and coriander, this is often enjoyed as a light dinner. It has a soft and a moist texture on the inside, but is crunchy on its surface.
5. Fafda- Jalebi
This sweet and salty dish is a popular snack during Navratri, Dusshera, and other festivals. Fafda is a long strip of chickpea dough that is deep fried till it becomes dry and brittle. It is teamed up with a chutney made of gram or chickpea flour, and is similar to Gujarati kadhi. Raw or cooked papaya mixed with spices is served with it along with jalebi. This dish teases yur taste buds constantly with its sweet, salty, and spicy flavors.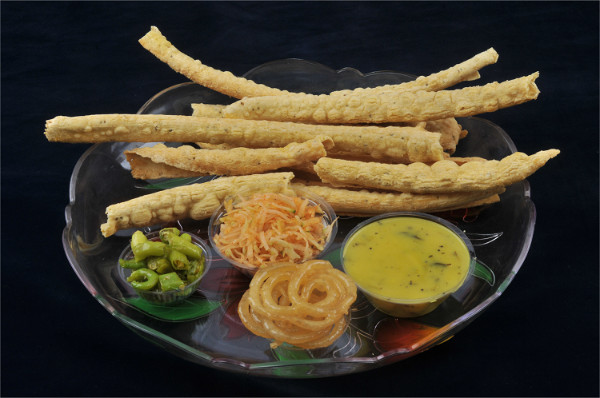 6. Shrikhand
This sweet dish has a smooth and creamy consistency and is really rich in flavors. To make Shrikhand, curd is strained for more than 4 hours and whey is removed from it. To finish it up, powdered sugar is added along with different flavors. Kesar, Mango, Blackcurrant, Elaichi, and Badam Pista are some of the popular Shrikhand flavors.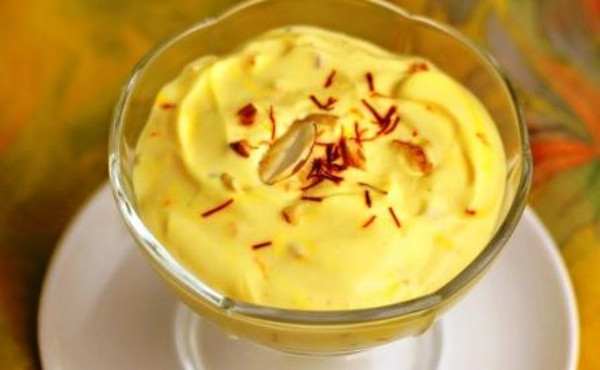 7. Basundi
To make Basundi, milk is boiled continuously on slow heat. This is done till it gets reduced into half and becomes like sweet condensed milk. To add some rich flavor to it, nutmeg, cardamom, and dry fruits are added. This sweet dish is similar to a North Indian dish, Rabri.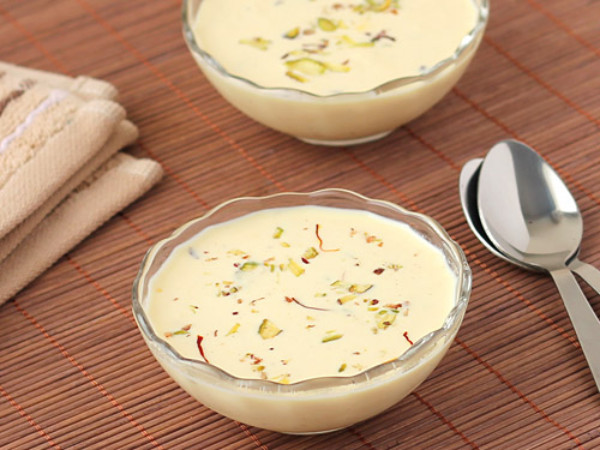 Which other Gujarati dishes do you like the most? Please share with us your views in the comments section below.
Image Credits: Foodviva.com, Awesome Cuisine, recipehindi.in, gujaratheadline.com, Food Forever, Golden Temple Atta, WeRecipes
Latest posts by Vibha Sharma
(see all)