9 Best Restaurants To Try A Gujarati Thali in Mumbai
One of the best things about living in Mumbai is that you get to try a whole lot of new cuisines at their authentic best, right here in the city. For those looking to sample a little bit of India on a plate, thalis are their best bets. Gujarat's very own version, with its glorious spread of sweet dishes,farsans and buttermilk, will test even the limits of even the best of gluttons.
Sweet, spice and everything nice
Typically,with a thali being an all-you-can-vegetarian meal, Gujarati hospitality means that waiters at these restaurants will entice you into stretching your appetite way beyond what you deem permissible. For a heavenly meal, check out these restaurants known to serve some of the best Gujarati thalis in Mumbai.
1) Shree Thaker Bhojanalay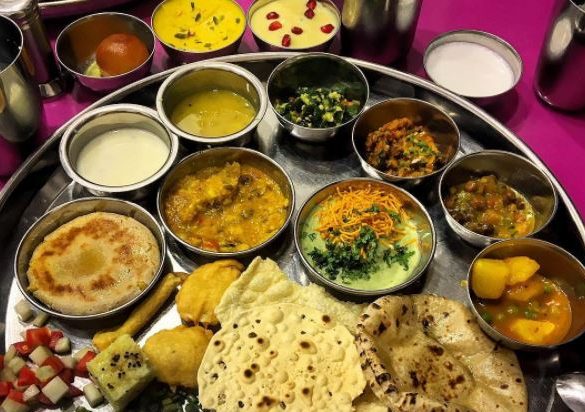 A visit to Shree Thaker Bhojanalay should be reserved for days when you know you can hog like a pro. With generous servings of farsans, vegetables, dals, chutneys, dhoklas, khichdi, bhakris, kadhi and a lot more, you are going to have a tough time squeezing in some space for desserts; but do not miss them. Their winter special Gujarati dish, Undhiyu which is available on Sundays, Tuesdays and Thursdays, is absolutely top quality.
Where: Kalbadevi
2) Maharaj Bhog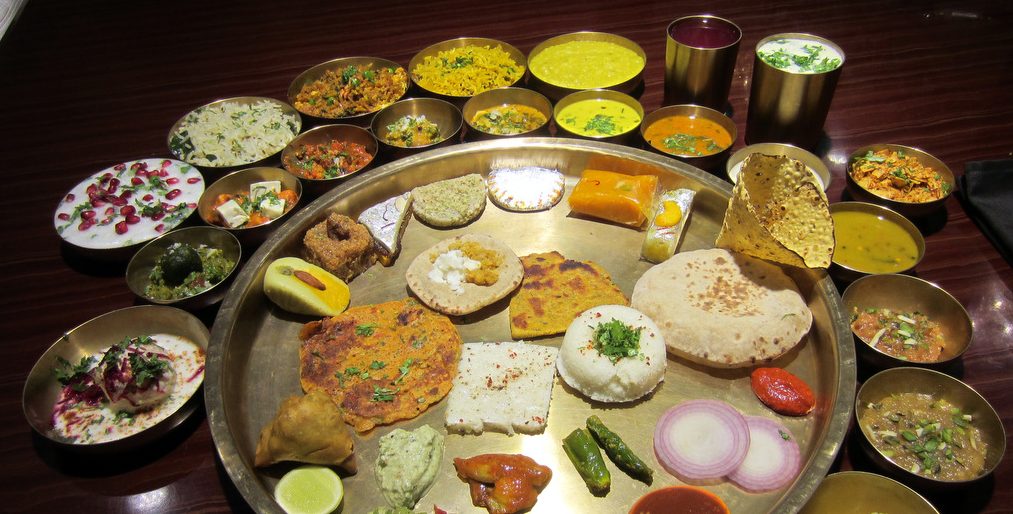 At Maharaj Bhoj, right from the moment you enter, you get a truly traditional experience. The customary namastes are followed by an ancient ritual Go Daan and a round of tulsi tasting before you head for a royal meal. Their thali has a mix of delicacies from Gujarat and Rajasthan; Moong Dal Halwa, Khasta Kachori, Makai Tikka, Moong Khichiyo, Thepla, Gujarati and Rajasthani dal,dhokla, Khichdi are only some of the things you'll have on your plate that is full of variety.
Where: Lower Parel, Goregaon East, Juhu, Malad West, Powai
3) Tuskers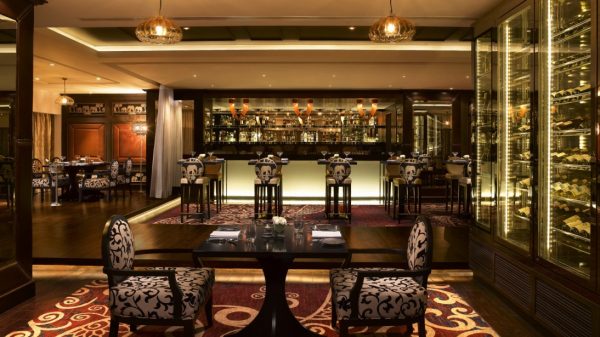 While the interiors at Tuskers make you believe it is a fine dining restaurant, the food is absolutely homely. The Gujarati and Rajasthani thali menu is very limited compared to other restaurants, but right from the phoolkas to their Bindi Tamara and kulfi, everything is done to perfection. They have also included a whole new range of South Indian delicacies which are equally delectable.
Where: BKC
4) Samrat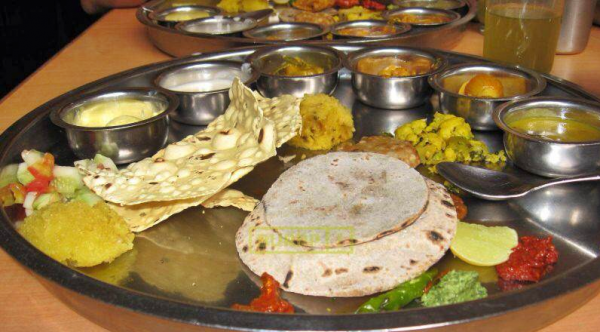 Over the years, Samrat has earned itself a badge of honor in Mumbai's culinary landscape for providing the best of Gujarati Kadhi and Khichda. Expect to be pampered there; they serve four vegetables along with puris and rotis generously smeared with ghee, salad, pulao, farsan, khichdi, basundi, shrikhand and a lot more. Samrat's service too is quite noteworthy; you won't have to wait long for your wholesome thali.
Where: Churchgate
5) Golden Star Thali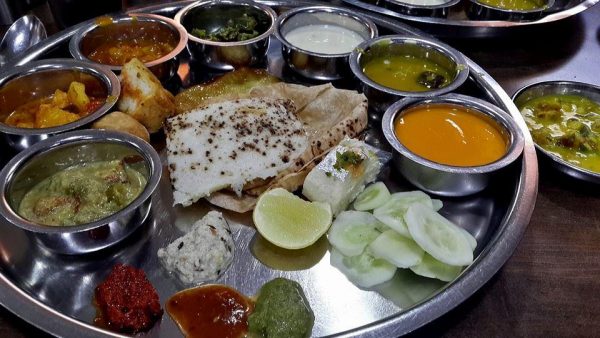 Die-hard fans of Gujarati cuisine swear by Golden Star Thali mainly for their perfect touch of sweetness to all the dishes. Their menu keeps on changing frequently, but expect lots of farsan, salads, chaas and sweets on any given day. Through the end of February 2018, they also have a special Gujarat and Rajasthan Rasoi Utsav going on, so try out their specials on the menu right away.
Where: Charni Road
6) Panchavati Gaurav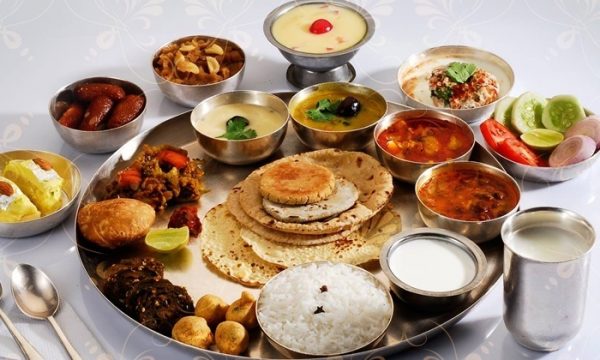 Panchvati Gaurav's popularity shows in the fact that all its branches across Mumbai stay packed on all weekends.Panchvati Gaurav indulges its guests with a generous platter consisting ofbatata wadas, dhoklas, dal bhaatichurma, dal and kadhi, rice, plain dal, khichdi, puris, rotis, and so much more – all served with a spoonful of ghee. While you have a hearty meal, their thali won't be very heavy on your pocket either.
Where: Thane, Marine Lines, Lower Parel,
7) Chetana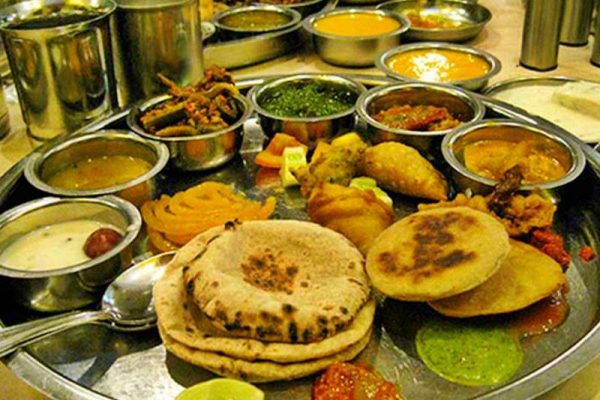 Started in 1946 only as a sandwich/coffee corner, Chetana now specializes only in thalis.
A classic mix of Maharashtrian, Rajasthani and Gujarati cuisine, Chetana's has different options of thalis, all of which might overwhelm you with their sheer variety of  dishes. A typical Chetana thali also follows the same template of serving multiple vegetables, pulses and farsan; the newer additionsto the menu are jaljeera, jalebis, aamras and undhiyu.
Where: Kala Ghoda
8) Friends Union Joshi Club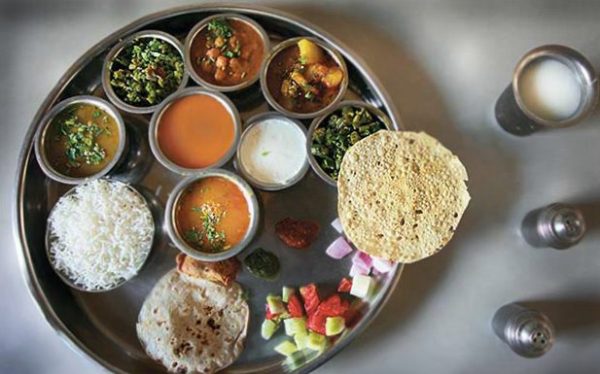 Friends Union Joshi Club has its priorities set right — no fancy décor, no fuss; just delicious Gujarati food. One of the oldest restaurants in Mumbai, here you will be welcomed with home-style cooked thali for a very affordable price. Its spread includes some of the best Gujarati dishes that other restaurants easily overlook — methimuthiya and laapsi are cases in point.
Where: Kalbadevi
9) Thackers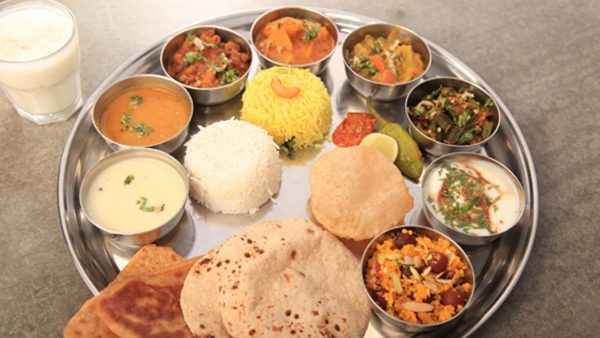 Thackers' has an edge above the rest of thali restaurants in the city; it offers a beautiful view of the sea. A fine-dine restaurant with great ambience, their thali offers great value for money. Begin with their soft and spongy dhoklas and then move on to the dal, kadhi, vegetables and other staples. Finish it up with a glass of buttermilk and a bowl of some sweet shrikhand; it's a hearty thali that'll leave you craving for more.
Where: Girgaon Chowpatty
There is so much to gorge on in Gujaratis thalis; it makes you wish you had an everlasting appetite. Have you tried any of these thalis before? Do let us know which Gujarati dishes you liked the most in them, in the comments section below! Also check out some of the most affordable buffets in Mumbai to find some great Rajasthani and North Indian thalis too.
Image Credits: Mumbai Foodie, Sofitel Mumbai, Gourmet India, Burrp, Zomato, Trip Advisor, Free Press Journal, Thackers, CNN Go
Latest posts by Vibha Sharma
(see all)