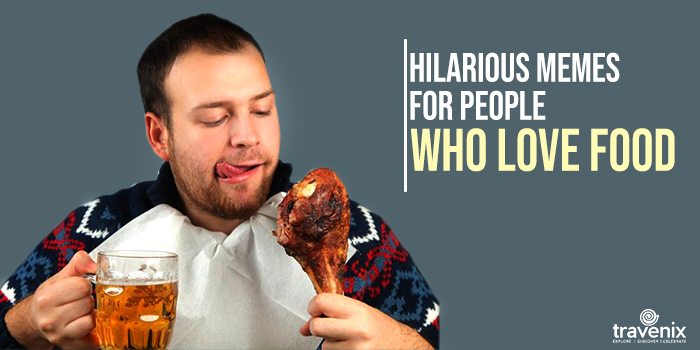 Hilarious Memes For People Who Love Food
If you're stuck up in office, daydreaming about food, you aren't alone. For all you know, your coworker who seems like he is forever zoned out may just be dreaming about his favorite burger. That's just how all foodies are. And obviously, in the age of the internet, such situations are fodder for hilarious memes.

Eat, Pray, Love & Laugh
We've compiled food memes that range from outrightly offensive to dark and casual ones which grabbed our attention. Read it, relate with it and go back to snacking on your favorite food. Food and humor are the best remedies to get through Monday blues, we promise!
"@Simpleware: Haha this is great. #foodmeme #foodie #pizza http://t.co/gsywTYZdDG pic.twitter.com/2p3nCAzYDD" @OfficialAle_ @Gabsiguenza :$

— Paola Meléndez (@paolamelendez8) February 19, 2014
messinascatering.com) instagram.com/p/BJ4FKlfhyeM/" data-instgrm-version="9″>
The Bible verse that always keeps me going pic.twitter.com/r7MDngyJ9O

— Because I'm a Guy (@CauseWereGuys) April 18, 2017
— Memes.com (@memes) June 6, 2018
Happy Sunday everyone!#sundayfunday #foodmeme #meme #jokes #haha #lol #donuts #makeup #mua #laughalittle #livewell pic.twitter.com/KHgvxsy28A

— Di's Bakery Catering (@DIsBakeryCater) January 21, 2018
Is this how all #foodbloggers feel? #foodmeme #catmeme #funny #eatlikeaDIVA #Delhi pic.twitter.com/5zbrPRvCDN

— DIVA Restaurants (@divarestaurants) May 20, 2015
Because normal water has way too many calories.#FunnyFail #DietFail #FoodFail #FunnyFood #humor #funny pic.twitter.com/ztbkFOm9Zk

— Cheryl Feeley (@CherylFeeley_1) February 19, 2018
Have a great Friday! #fridayfunny #funnyfood pic.twitter.com/I7DpnynR6M

— Connie Dorigan (@ConnieDorigan) June 15, 2018
Because the calories only exist in the soda!#humor #funny #funnyfood pic.twitter.com/16WnXvURCX

— Cheryl Feeley (@CherylFeeley_1) December 14, 2016
Do you feel like your waiter forgot about you? There are ways for restaurants to make sure they provide excellent service. https://t.co/ZjMcFE0Hn1 … #foodmeme #MemeMonday #restaurantmeme pic.twitter.com/NevQzaw2CG

— TAP Series (@TAPSeries) May 7, 2018
On a scale of 1 to 10, if you had to rate yourself as a foodie, where would you stand? Please tell us about it in the comments section below and also share with us your funny food stories.
Latest posts by Vibha Sharma
(see all)