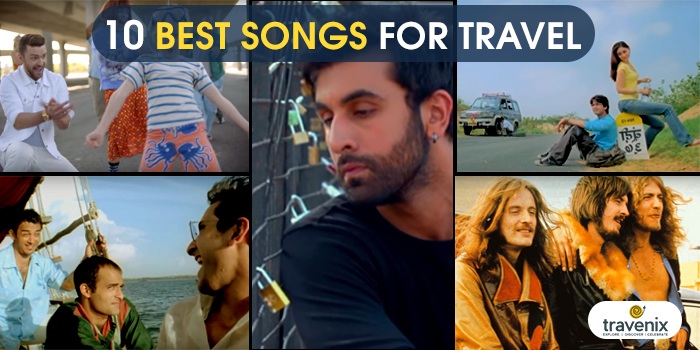 Top 10 Bollywood Songs while Traveling in India – Local Feel
Traveling is fun with friends and family or even all by yourself. Passing varied landscapes every second and discovering new regions of the world is an experience in itself and is sure to leave anyone in awe. Be it a simple walk, a vehicle, a train or airplane, each mode of travel is engaging and puts travelers in a state of trance where they are connected to their surroundings only. But what is it that makes this experience all the more enthralling? It's music, of course!
Music through the landscapes
Thanks to thousands of movies and music albums releasing every year, we get a fair share of travel music to listen to. These songs make you feel god when heard in the comfort of your home, but they give a totally different feel when heard while traveling, one that complements the whole experience and enhances it to heighten all your senses. Among this plethora of travel songs, there are a few masterpieces which deserve to be on your playlist for every trip. To make this choosing process easier for you, we have listed down the top 10 songs for travel.
1. Yuhi Chala Chal Rahi
This is the typical travel song for treading on the rural roads of India. Be it a tiny bus or a truck, this song is sure to lift your spirits up along the way.
Movie: Swades
Playback Time: 7min 26s
Composer: A.R Rahman
Singer: Udit Narayan, Hariharan, Kailash Kher
Genre: Bollywood Music
2. Dil Chahta Hai
The title track of this movie is the perfect song to play when hitting the roads with your friends or when making your dream trip to Goa! This song is sure to bring back fond memories of dreaming to go on a trip with your friends as depicted in the movie.
Movie: Dil Chahta Hai
Playback Time: 5min 10s
Composer: Shankar Ehsaan Loy
Singer: Shankar Mahadevan
Genre: Bollywood Music/ Mild Rock
3. Hum Jo Chalne Lage
This song definitely gets you in the mood of traveling with your special someone. It speaks of just how a boring journey can become exciting when you share it with someone.
Movie: Jab We Met
Playback Time: 5min 25s
Composer: Pritam Chakraborty
Singer: Shaan
Genre: Bollywood Music
4. Ilahi
This song is for all those who felt like traveling and seeing the world like Ranbir Kapoor aspired to in the movie. The song gives the feeling of trotting the globe and keeps you going on your travels.
Movie: Yeh Jawani Hai Deewani
Playback Time: 3min 49s
Composer: Pritam Chakraborty
Singer: Arijit Singh, Mohit Chauhan
Genre: Pop, Celtic
5. Musafir Hoon Yaaron
This is the classic traveler song from the past. Na ghar hai na, na thikana (Neither there is home, nor a base) is exactly what goes through every traveler's mind when jumping from one place to the other. This is definitely an all-time favorite for traveling.
Movie: Parichay
Playback Time: 3min 10s
Composer: R.D Burman, Gulzar
Singer: Kishore Kumar
Genre: Traditional Bollywood Music
6. Stairway to Heaven
This classic from Led Zeppelin is sure to give you the mood to drive your car on the highway. The song slowly progresses from low tempo and volume to hard rock and this makes it a perfect travel song.
Album: The Song Remains the Same
Playback Time: 7min 55s
Composer: Jimmy Page, Robert Plant (Led Zeppelin)
Singer: Robert Plant
Genre: Hard Rock
7. Can't Stop The Feeling
This bubbly and trippy song is sure to lift your spirits when you're out on the road. It makes you want to dance your way to the destination.
Movie: Trolls
Playback Time: 3min 56s
Composer: Justin Timberlake, Max Martin, Shellback
Singer: Justin Timberlake
Genre: Disco
8. Highway to Hell
This song is filled with energy and is sure to pump you up on your way to the destination. Simply singing this song along with driving is an amazing experience and being on the highway gives it an added feel as well.
Album: Highway to Hell
Playback Time: 3min 27s
Composer: AC/DC
Singer: Bon Scott
Genre: Hard Rock
9. I See Fire
This soft song is everything you need to cool yourself down from tiring travels. Ed Sheeran's soothing voice and the soft music just hit the right chords to help you keep going ahead in your journey.
Movie: The Hobbit – The Desolation of Smaug
Playback Time: 5min 00s
Composer: Ed Sheeran
Singer: Ed Sheeran
Genre: Folk
10. Take Me Home, Country Roads
This classic song is bound to make you miss home and is a perfect song to listen to when returning from a trip. The effect is only amplified when traveling on countryside roads while listening to this masterpiece.
Album: Poems, Prayers and Promises
Playback Time: 3min 08s
Composer: John Denver
Singer: John Denver
Genre: Country, Pop
We hope that after going through this list of songs, you've already started adding them to your travel playlist. Most of you must have heard many of these songs already on your travels, if so, do let us know your experience in the comments below. If you know any other great songs that give you company on your trips, do let us know so that we can share them with our readers.
Images and Videos Source: Youtube
Latest posts by Vibha Sharma
(see all)