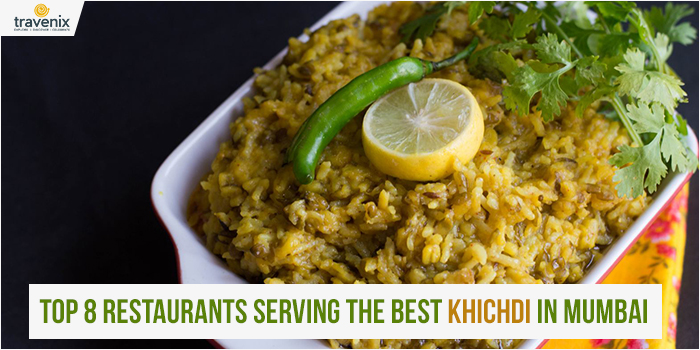 Top 8 Restaurants Serving The Best Khichdi in Mumbai
Recently, there was a lot of debate over whether khichdi could do justice to represent India's diverse food scene. Given its healthy quotient and its status as our ultimate go-to option when we're in a hurry or looking for some comfort food, we'd definitely give it a thumbs up!
Explore Its Infinite Varieties
In its most basic form, khichdi is a mix of rice and lentils, which is cooked with spices and ghee. The beauty of the dish is not only in its simplicity, but also because almost every state in India has its own spin and flavor added to the basic recipe. We've made you a list of restaurants you should visit if you want to try this versatile dish in its many different forms in Mumbai.
1. Khichdi — The Global Food
Khichdi has taken it upon itself to showcase the versatility of this dish to the masses; it has more than 25 different types of khichdis. From Bajra Moong Dal Khichdi, Hyderabadi Khichdi and Navratan Khichdi to its exotic variants like Italian Macroni Khichadi and Thai Khichdi, they have it all! They have some great Gujarati and Kathiyawadi food options.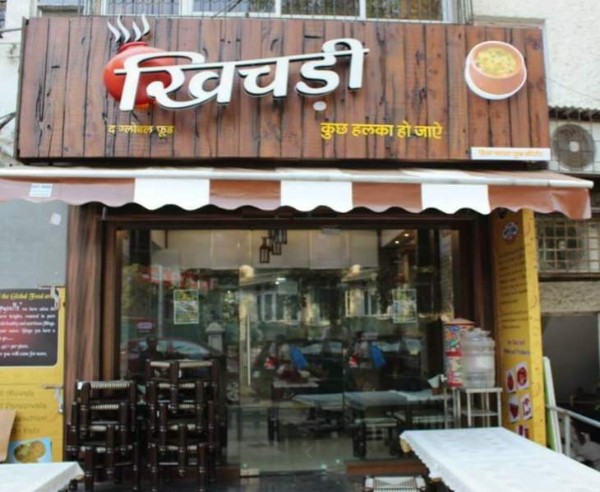 Where: Station Road, Vile Parle West, Mumbai
2. Khichdi Samrat
Following the bandwagon of fusion food, Khichdi Samrat has experimented by combining khichdi with cheese, dry fruits and even Schezwan sauce! While it is surely a new spin to the dishes, we prefer their spicy Kathiawadi Khichdi, Makai Paneer Khichdi and Vrindavan Khichdi. They have more than 10 variations of khichdi on their menu, so khichdi lovers should definitely drop in to try something new.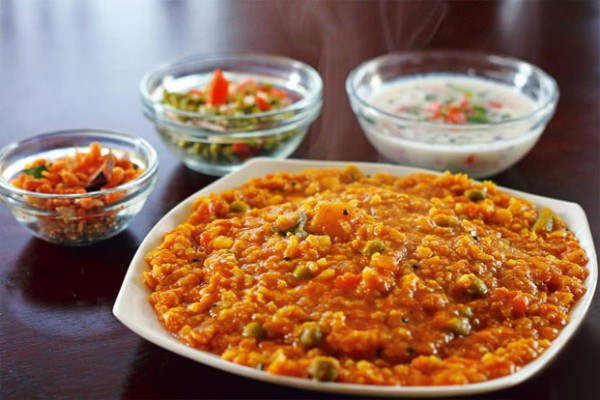 Where: 44/46, VP Road, CP Tank, Girgaum
3. Swati Snacks
Swati Snacks is popular for its homely Gujarati-style food. All their dishes have just the right amount of spices and flavor. Team up their fada ni khichdi or baked masala khichdi with panki chatni for a light and tasty lunch. While we absolutely love the food there, we only wish the prices were slightly more pocket-friendly.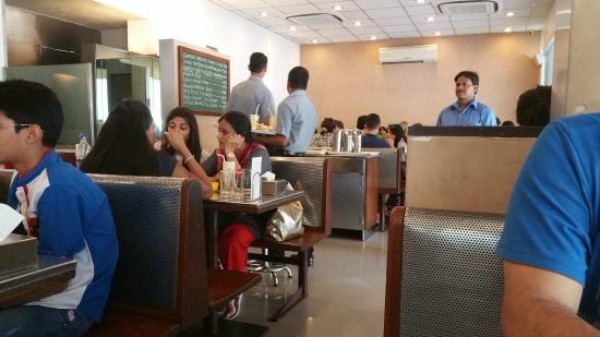 Where: Tardeo, Nariman Point
4. Soam
Specialising in Gujarati cusine, Soam loves to give them its own unique twist. Their special menu has faraali versions of sev puri, pakodi chaat and even masala dosa! We highly recommend their Masala Fada Khichdi With Kadhi and Sabudana Khichdi for a wholesome meal. Their Moong Dal Khichdi and Dal Dhokli are other great comfort food options.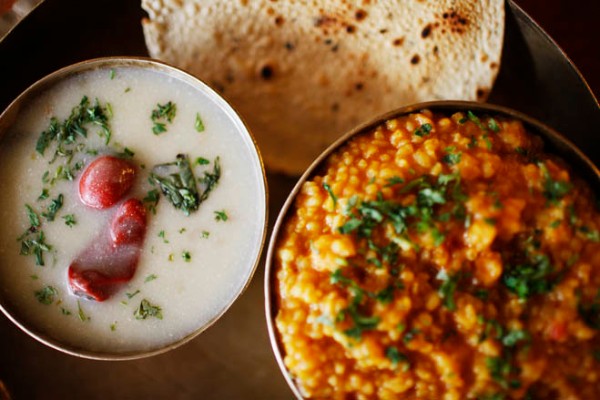 Where: Ground Floor, Sadguru Sadan, Opposite Babulnath Temple, Chowpatty
5. Papa Pancho Da Dhaba
Papa Pancho Da Dhaba's Chicken Khichdi has an explosive mix of spices, so make sure you are cooling yourself up with ample buttermilk while eating. For vegetarians, they have their own dhaba-style palak and moong dal khichdi which is again on the spicy side, but it is absolutely delicious!
Where: Gasper Enclave, St John's Road, Near Rupee Bank, Pali Hill, Bandra West
6. Banana Leaf
Banana leaf's predominently South Indian menu has quite a few new khichdi varieties. Soya Khichdi, Daliya Khichdi and Oats Khichdi are a must-have for all the health junkies who are constantly on the lookout for healthy eating options. The quantity there is quite filling, so you can finish up a wholesome meal in under Rs 250!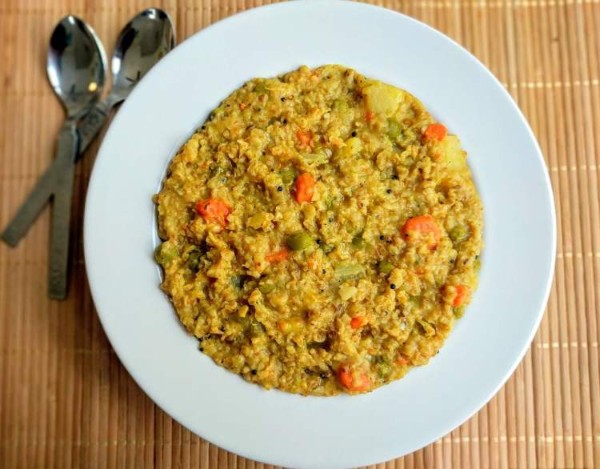 Where: Andheri, Kandivali, Ghatkopar, Thane, Dombivali
7. Aaswad
We can count on Aaswad to serve us delicious South Indian delicacies without really burning a hole in our pocket; it is one of the most affordable restaurants in Mumbai. While Misal Paav and Kothimbir Wadi are the popular dishes here, we absolutely love their Sabudana Khichdi. Team it up with their Butter Milk or Mango Lassi for a delightful combination!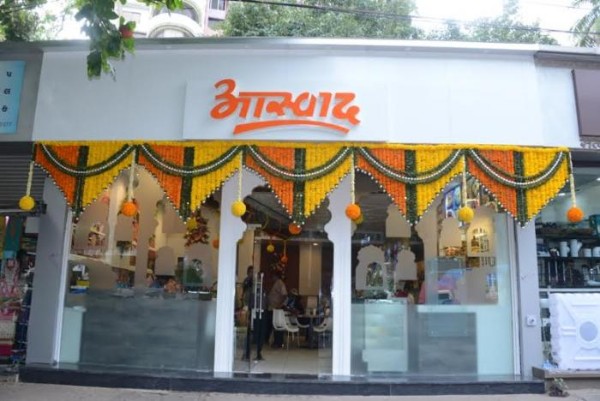 Where: Dadar West, Ghatkopar East
8. Hitchki
You wouldn't expect to order Khichdi at a restaurant like Hitchki which is known for modern Indian cuisine. While we absolutely love their popular fiery Bhut Jolokia Wings, Pav Bhaji Burger and Biryani, their Gratinated Dal Khichdi too deserves a special mention. The khichdi is smeared with ghee, giving it an ultra smooth texture. The flavors are quite balanced, but if your tolerance for spice is low, just mix it with ample amount of curd.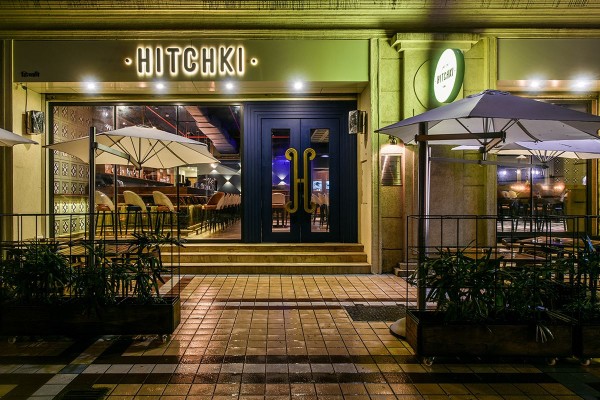 Where: BKC, Powai, Thane
Though there are quite a lot of different varieties of khichdi available at these restaurants, we think there is more scope for other restaurants to realise this dish's potential. We'll be on the lookout for more such restaurants. Do you know any other restaurants that deserve a spot on this list? If yes, do let us know in the comments section below.
Image Credits: LiveMint, Wall Street Journal, Hungry Forever, DNA India, TripAdvisor, VegeCravings
Latest posts by Vibha Sharma
(see all)