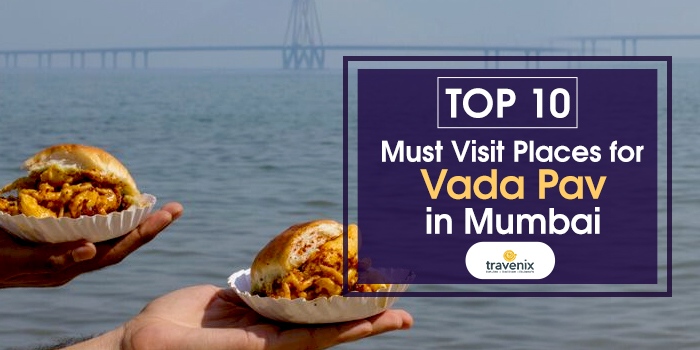 10 Must Visit Places for Vada Pav in Mumbai
Vada Pav and Mumbai go hand in hand. The popularity of this street side snack has only increased since its inception. With the fast life of Mumbai, Vada Pav is a favorite among every resident who wants to have something that fills their stomach and is readily available. This snack is so popular in the city today that it can actually be considered as a staple here.
Wadda Pav!
The Vada Pav mainly consists of a bun and a potato cutlet stuffed inside it. Along with this, several chutneys are added to give more flavor to the dish and it is eaten with fried chilies. Over the years, several places in Mumbai have become popular for this dish and we decided to cover them all for you!
1. Schezwan Grill Vada Pav – Aram
Located right opposite the iconic Chhatrapati Shivaji Maharaj Terminus, this shop has been here since more than half a century and is a favorite for many. The spicy vada pav here was stuffed generously and had a thick layer of schezwan sauce for added flavor. A layer of butter was applied on both the sides and it was grilled to perfection. We loved the zesty flavor that came with it and found it quite filling too! A must try for anyone going to Fort.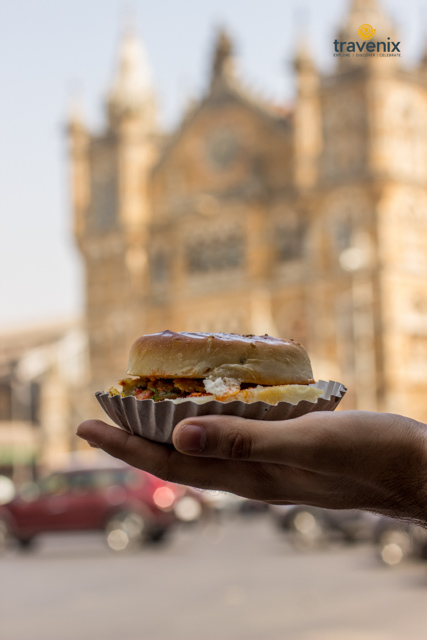 Rating: 4/5
Where: 42, Mint Road, Opposite GPO, Fort, Mumbai
Cost: Rs. 34/-
2. Vada Pav – Ashok Vada Pav
A small stall near the College, this place serves delectable vada pavs stuffed with lots of chutneys that make it a very flavorful affair. We also got many crumbs of vadas in the dish, which made the whole experience amazing with the crunchy element! We decided to go to Dadar Beach, and have this delicious dish and with the view of one of the sightseeing places in Mumbai – Bandra Worli Sea Link, this was the perfect thing to eat!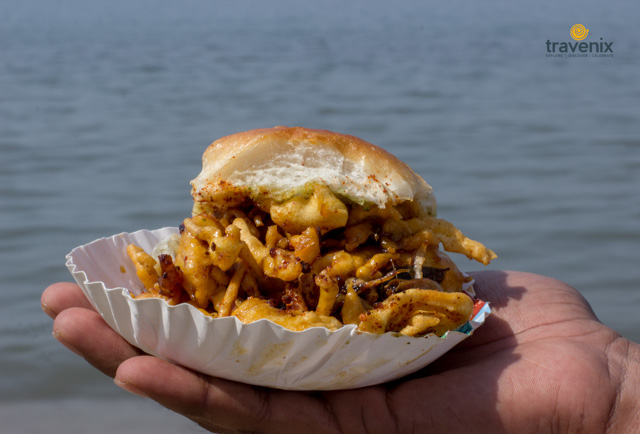 Rating: 4/5
Where: Kashinath Dhuru Marg, Dadar West, Dadar, Mumbai
Cost: Rs. 20/-
3. Vada Pav – Bhau Vada Pav
This shop located near the Mulund station has many competitors around but stands out among all of them. Large pavs and vadas here were enough to fill our stomachs for good many hours and the chutneys added to it took the flavors to the next level. Having it with fried chilies is a treat even though it may be spicy for many!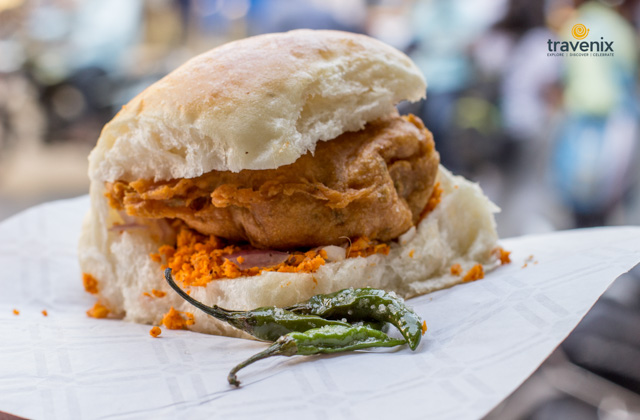 Rating: 4/5
Where: 1, Patil Bhavan, N S Road, Station Road, Mulund West, Mumbai
Cost: Rs.15/-
4. Schezwan Cheese Grill Vada Pav – Aram
Yet another dish at Aram, this Vada Pav was similar to the other one but had a thick slice of cheese in it that made us instant fans of this dish. The combo of cheese, vada and the schezwan sauce is great, and with each bite, there is a delightful explosion of flavors in your mouth!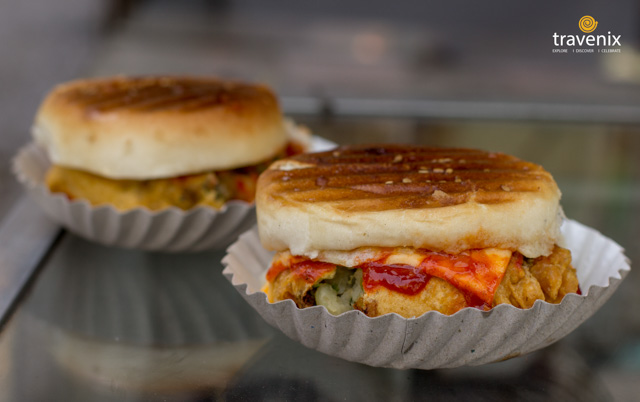 Rating: 4.5/5
Where: 42, Mint Road, Opposite GPO, Fort, Mumbai
Cost: Rs.40/-
5. Vada Pav – Shree Durga Snacks
This shop in Thane is famous for two things – Vada Pav and Lime Water. A glass of chilled nimbu paani with the spicy vada pav here is all you need to get refreshed. We loved the spicy flavors of the vada and the chutneys and these went really well with the nimbu pani, which helped us quench our thirst and gave us respite from the spiciness as well!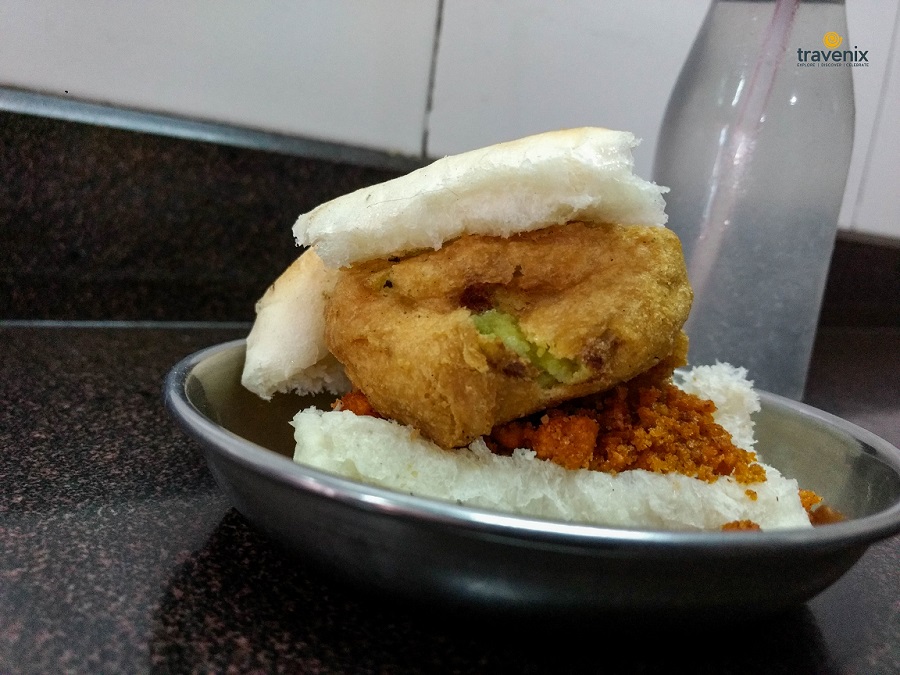 Rating: 3.5/5
Where: Ram Maruti Road, Thane West, Mumbai
Cost: Rs. 13/- for Vada Pav
Rs. 10/- for Nimbu Paani
6. Cheese Mayonnaise Vada Pav – Anand Stall
Located right opposite the Mithibai College in Parle, this stall is a hit for many reasons; vada pav being one of them. Loaded with an excess of mayonnaise and cheese, we were left licking our fingers after finishing it and were desperately craving for more. This stall is packed all day and it is common to see students and elders coming here to enjoy the delicious food.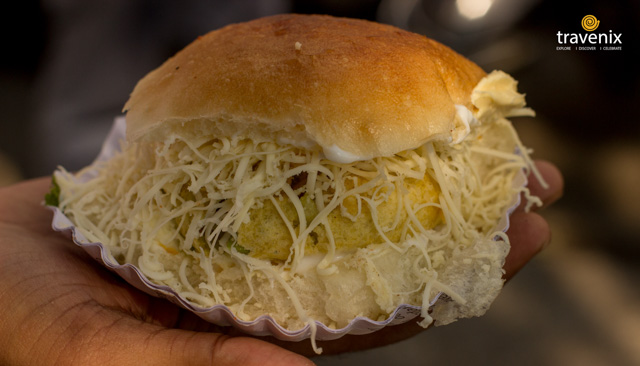 Rating: 4.5/5
Where: Opp. Mithibai College, Gulmohar Road No. 1, Vile Parle West, Mumbai
Cost: Rs.50/-
7. Schezwan Cheese Vada Pav – Dhiraj Special Sandwich
Located further down the street from Anand, this stall is a hit among the students too. The heavenly schezwan sauce went very well with the cheese slice and gave us a combination of cheesy and spicy flavors that left our tongues numb! The serving size too is good enough to fill your stomach for quite some time.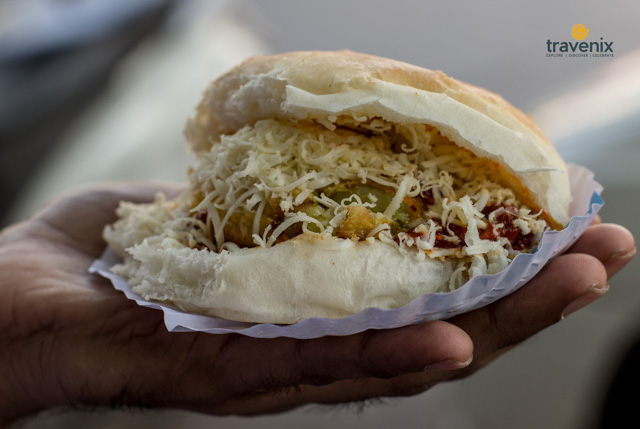 Rating: 4/5
Where: Opposite Mithibai College, Road 1, Vile Parle West, Mumbai
Cost: Rs. 50/-
8. Grill Vada Pav – Parleshwar Vadapav Samrat
Located near the Parle station, this stall has been operating for years and is a favorite among the residents of the area. Freshly fried vadas and soft buns make this dish a delectable affair, and the added grilling enhanced the flavors with ample butter applied on both the sides of the bun. Every dish here is worth a try, you won't be disappointed!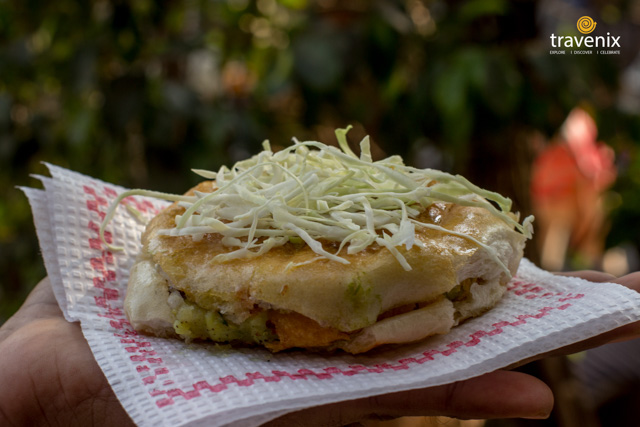 Rating: 3.5/5
Where: Nehru Road, Parleshwar, Vile Parle East, Mumbai
Cost: Rs. 20/-
9. Bombaiya Cheese Burst Vada Pav – Hungry JDs
Located in Borivali, this restaurant is themed after the Mumbai Suburban Trains and serves delicious fusion food. Served in a manner that would make most people drool just by seeing it, this dish was stuffed with melted cheese and potatoes, and it melted in our mouths instantly with each bite. The fries served along with it were an added bonus and we loved it! Two vada pavs are served in each dish and this is enough to complete your meal for the day.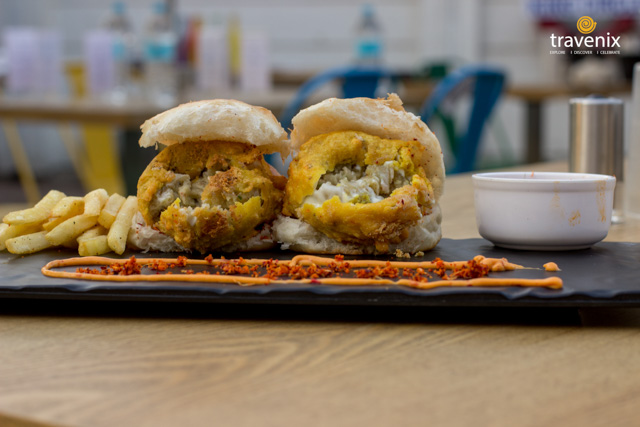 Rating: 3/5
Where: 2, New Link Rd, Eksar Village, Eksar, Borivali West, Mumbai
Cost: Rs. 150/-
10. Vada Pav – Gajanan Vada Pav
The dish here is served in a unique manner – on a leaf! You will be provided two chutneys with the main dish and one of the chutneys is actually the batter itself and it went reeeeally well with the vada pav. We loved the uniqueness of this dish and were satisfied with the quantity of the serving as well.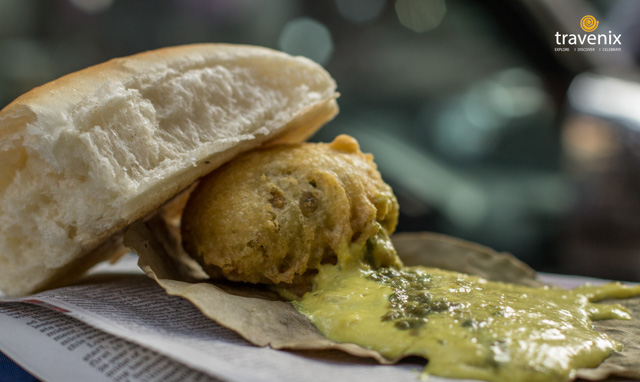 Rating: 3/5
Where: Chhatrapati Sambhaji Road, Naupada, Thane West
Cost: Rs. 15/-
If you're a fan of this staple food of Mumbai and haven't covered any of these places, it's about time that you hit the road and go try out these heavenly dishes. We'd love to hear your reviews!
Latest posts by Vibha Sharma
(see all)