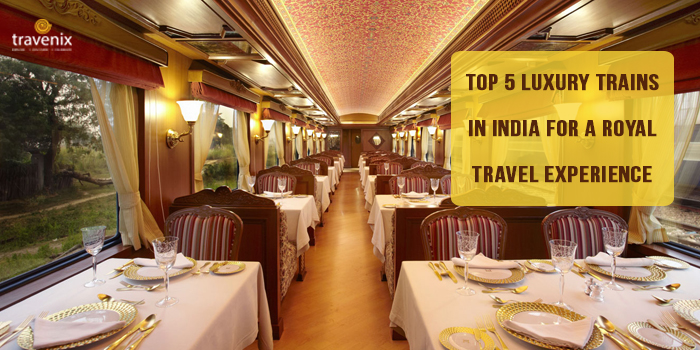 Top 5 Luxury Trains In India For A Royal Travel Experience
For the upper middle class, traveling in trains is somewhat of a hassle they'd rather avoid. The painstakingly long hours, the cramped up seats and the general discomfort make the experience pretty exhausting. But there are a luxury trains that give you a taste of royalty and luxury.
A Regal Touch To Travelling
Luxury trains take you back to the times of kings in India when grandeur in everything was the norm. With majestic interiors, extravagant meals and seamless luxury, these journeys are truly larger than large experiences that you must experience at least once. Next time you are planning a vacation, fit in one of these luxurious train journey and get an experience of the finer life out there.
1) Royal Rajasthan On Wheels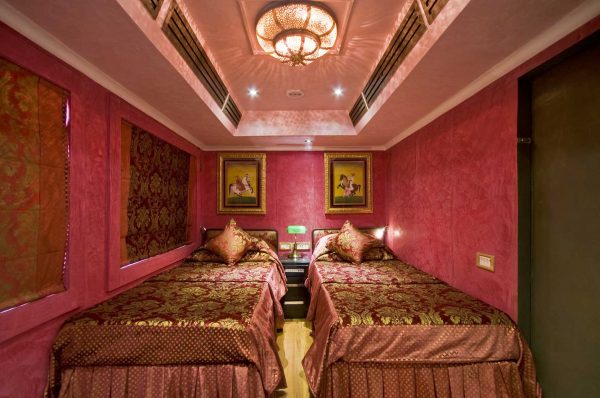 Starting from Delhi, Royal Rajasthan on Wheels takes you on a long journey to ancient forts and incredible palaces in Udaipur, to the wilderness of Ranthambore sanctuary, then diverts to give you a glimpse of art and sculpture at Khajauraho, and finally ends with a taste of spirituality at Varanasi. Embroidered in a contemporary royal style, the interiors of the train will ensure you travel back in time to experience the era of royal living. Inside the train, there are two restaurants that offer you a range of traditional Rajasthani delicacies along with other Continental and Chinese delights. Along with the finest of wines, the restaurants serve your food in customized handmade cutlery and specially designed crockery to give a taste of regal hospitality.
Number of days: 7 Nights/ 8 Days
Places covered: Delhi, Jodhpur, Udaipur, Jaipur, Khajuraho, Varanasi, Agra
Fare: Rs 5.6 Lakh onwards
Season: October- March
2) The Deccan Odyssey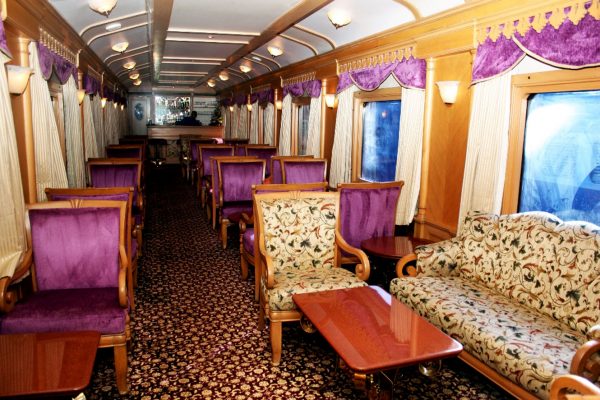 Equipped with state of the art amentities, The Deccan Odyssey takes you to experience India's rich cultural heritage, diverse wild life as well as its spiritual side. Managed by the Taj Group of Hotels, the Deccan Odyssey is built such that you get to experience the luxurious life of Maharajas from the 16th century. Though it offers a traditional experience, the train has added modern spas and gourmet-food serving restaurants to give you the best experience possible. (Cialis) It has various ours that trace the wild trail of Maharashtra, the hidden gems of Gujarat and the jewels of the Deccan in its week-long journey.
Number of days: 7 Nights/8 Days
Places covered: 1) Mumbai – Vadodara – Palitana – Sasan Gir & Somnath – Little Rann of Kutch – Modhera & Patan – Nashik – Mumbai
2) Mumbai – Aurangabad (Ellora Caves) – Pench (Ramtek) – Tadoba – Ajanta – Nashik – Mumbai
3) Mumbai – Bijapur – Aihole – Pattadakal – Hampi – Hyderabad – Ellora Caves – Ajanta Caves – Mumbai
4) Mumbai – Vadodara – Udaipur – Jodhpur – Agra – Sawai Madhopur (Ranthambore) – Jaipur – Delhi
5) Mumbai – Nashik – Ellora Cave – Ajanta Caves – Kolhapur – Goa – Ratnagiri – Mumbai
Fare: Rs 3.7 Lakh onwards
3) Maharajas' Express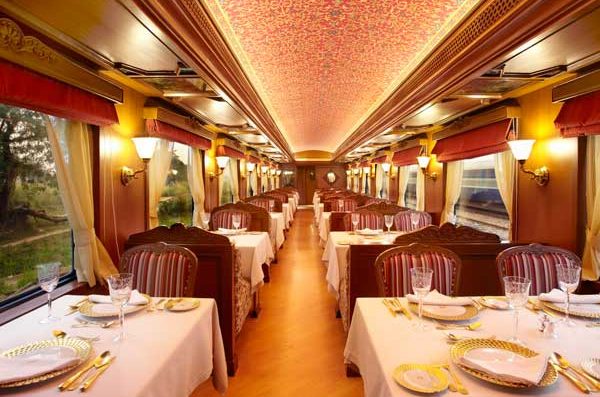 A pet project of the IRCTC, Maharajas' Express is touted as one of the most expensive luxury trains in the world. Emulating the splendor of colonial days, the train has various different tour packages that showcase the cultural heritage of the North, West and Central India. The journey immerses you in royalty; with fine food, drinks, elephant rides, palace-like cabins, it is an experience that will pamper you to the fullest. The Express also conducts special sessions occasionally where you can get a chance to interact with members of the erstwhile royal families.
Number of days: 7 Nights/ 8 Days or 3 Nights/4 Days
Places Covered: 1) Mumbai, Ajanta, Udaipur, Jodhpur , Bikaner , Jaipur , Ranthambore , Agra, New Delhi
2) Delhi, Agra, Ranthambore, Jaipur, Delhi
3) Delhi, Agra, Ranthambore, Jaipur, Bikaner, Jodhpur, Udaipur, Balasinor, Mumbai
4) Delhi, Jaipur, Jodhpur, Ranthambore, Fatehpur Sikri ,Agra,Gwalior, Orchha, Khajuraho, Varanasi, Lucknow, Delhi
Fare: Rs 2.57 Lakh onwards
4) Palace On Wheels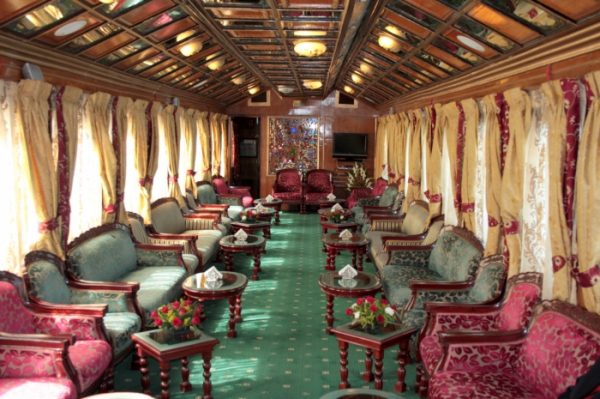 The concept for Palace On Wheels came into being as the Indian Railways wanted to put the personal coaches of erstwhile rulers of the princely states of Hyderabad, Gujarat and others. Each saloon in the train is designed to represented the cultural ethos of a particular state. Right from furniture to handicrafts and painting, everything is done up to follow the theme of the state.Palace On Wheels set a high benchmark for the other luxury trains in India as it was the first one of its kind. Combining Rajasthan's splendid forts and palaces with the timelessness of Taj Mahal, this train's itinerary is great for those who want to see the royal side of India in just a week.
Number of days: 7 Nights/ 8 Days
Places Covered: New Delhi, Jaipur, Sawai Madhopur, Chittorgarh, Udaipur, Jaisalmer, Jodhpur, Bharatpur, Agra
Fare: Rs 2.1 Lakh onwards
5) The Golden Chariot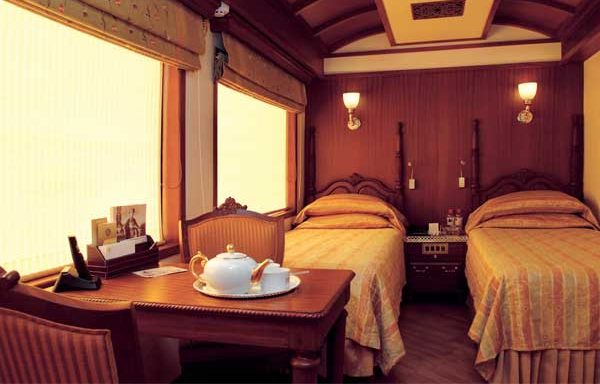 The Golden Chariot's scenic routes take you through the ancient temples of Karnataka, Tamil Nadu, the serene beaches of Pondicherry as well as the palaces and museums of Kochi. The interiors of the train are well-done, but the striking coaches painted with golden and purple colors take the cake. The train also has an Ayurvedic spa centre, two multi-cuisine restaurants, a gym, a lounge bar and a lot of other activities for entertainment; so you'll be assured a good time onboard. The train offers two itineraries: one covering only the main sites in Karnataka and Goa, while the second one has selected areas in Tamil Nadu and Kerala as well.
Number of days: 7 Nights/ 8 Days
Places Covered: 1) Bengaluru, Mysuru, Nagarhole National Park, Hassan, Belur, Halebidu, Hospet, Hampi, Aihole, Pattadakanal, Badami, Goa
2) Bengaluru, Chennai, Pondicherry, Thanjavur, Madurai, Thiruvanthapuram, Alleppey, Kochi
Fare: Rs 3.5 Lakh onwards
While these journeys do cost a fortune, they will guarantee a grand experience unlike any other. If you're adding luxury trains to your bucket list right away, do let your friends in your plan too. Tag them in the comments section below and get your plan rolling. But in case luxury trains are a little off your budget, you can still indulge in luxury at the best 5 star hotels in Mumbai.
Image Credits: The Deccan Odyssey, India Rail Online, Maharajas Express, Indian Luxury Trains, The Golden Chariot, The Luxury Trains
Latest posts by Vibha Sharma
(see all)