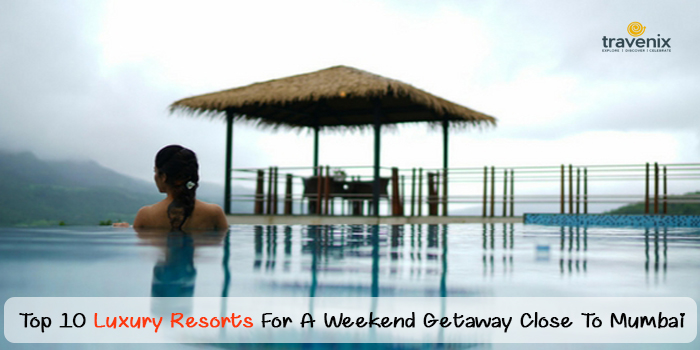 Top 10 Luxury Resorts Near Mumbai For A Weekend Getaway
If your New Year resolution is to travel more this year, you're in for a sweet treat. 2018 is blessing us all with 15 long weekends! You know you've got to make the most of this time to satisfy the travel bug in you, so start planning for your vacations already.
Pack Your Bags
If you live in or around Mumbai, you've got a whole list of hill stations and picturesque locations to hop over to for these weekends. While you're out there, we'd love for you to pamper yourself. So, we've picked out the best luxury resorts for a quick weekend getaway near Mumbai. Go ahead; start planning your trip already!
1) Aamby Valley City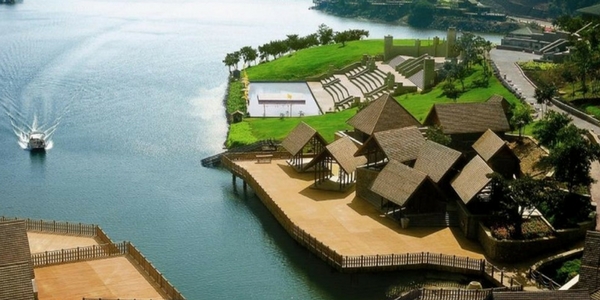 If you are in the need of weekend therapy right in the middle of nature, you need to head to Aamby Valley City in Lonavala. While you are being soothed by the greenery around, the resort ensures that you do not have to give up on luxury. Whether you want to stay at their traditional Burmese suite or want a modern Spanish villa experience, you have enough options here. To make your holiday exciting, they also have rappelling, golf, zip lining and other activities.
Where: Near Lonavala
2) The Machan Resort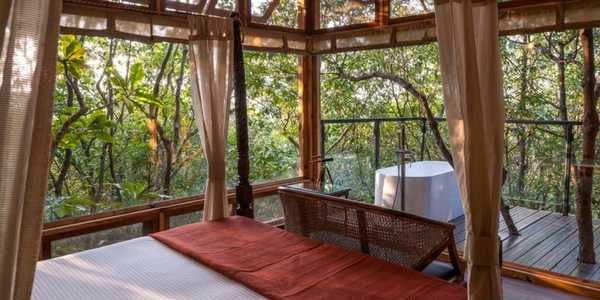 An eco-luxury resort, the Machan Resort runs completely on sustainable resources. Tucked away in the middle of a jungle, you can experience a unique tree-house stay here. Most of their tree houses, rising 30 to 40 feet above ground level, provide breathtaking views of the surrounding valley. For a grand experience, their Heritage Machans are perfect- the room is situated at the end of cliff and provides the best of luxury and comfort.
Where: Lonavala
3) Soma Vineyard Resort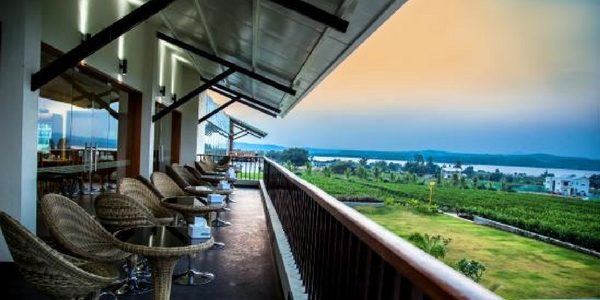 Slightly offbeat, the Soma Vineyard Resort is an ideal weekend gateway for those who are looking for a fun activity. Be a wine connoisseur as you sample different blends of wine, while learning how to make your favorite drink yourself at this boutique winery. After their guided tour, indulge yourself in their swimming pool and sophisticated villas. This resort is great for a group vacation – they provide a seven bedroom villa that can accommodate up to 14 people. Smaller groups can also opt for their three bedroom villas.
Where: Nashik
4) Radisson Blu Resort & Spa, Alibaug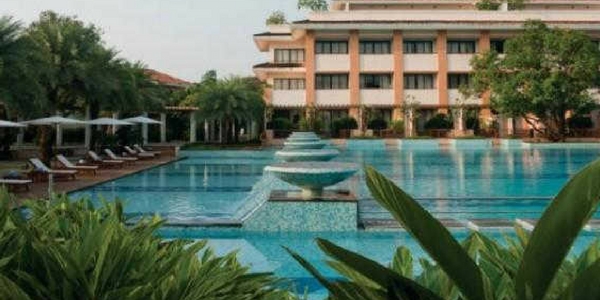 Just 110 kms from Mumbai, Radisson Blu Resort in Alibaug offers a lavish retreat for you to unwind in luxury. Its manicured lawns and sparkling pools are enough to invite you for a peaceful getaway. Pamper yourself at their spa and sauna or participate in a fun filled karaoke evening; either way they'll make sure you have a memorable experience.
Where: Alibaug
5) Della Adventure Resort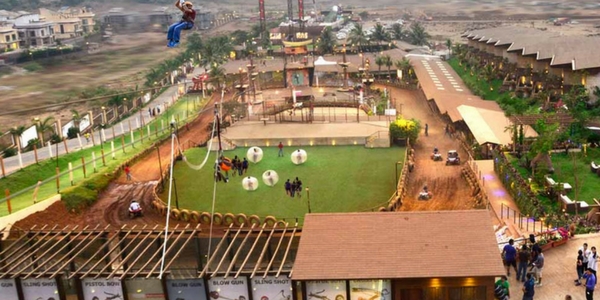 Combining the love for adventure sports and luxury, Della Adventure Resorts provides a one-of-its-kind experience right in the middle of an adventure park. Choose from an array of more than 50 adventure activities including paintball, zorbing and bungee jumping and feed the adventure junkie in you. While you're out having fun, Della Adventure Resort will also indulge you with the choicest dishes from Indian, Malwani and Oriental cuisines. Their exuberant suites will ensure that you get the best of luxury too.
Where: Lonavala
6) Dune Barr House – Verandah in the Forest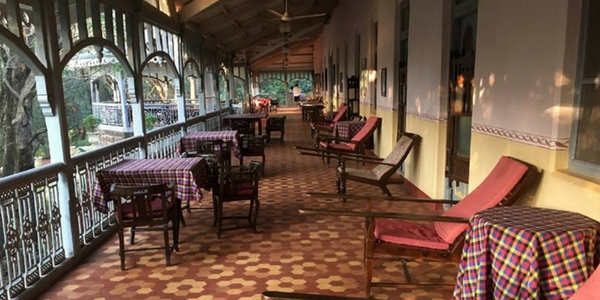 Boasting of the elegance of a bygone era, the Verandah in the Forest is one of the finest heritage hotels in India. Surrounding by greenery, this resort is only a minute's walk from the famous Lord's Point lookout in Matheran. Built in the 19th century, the property has been refurbished to give you the best of opulence. Their tastefully done interiors as well as the architecture, all have a vintage vibe. They also have a tiny shop on their premises where you can buy some fine souvenirs.
Where: Matheran
7) Prakruti Resort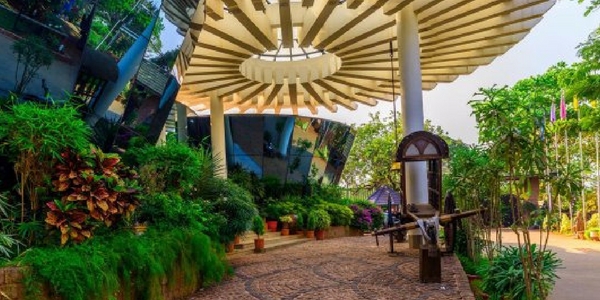 Nestled against a backdrop of rugged forest and a splendid sea offering a breathtaking view, Prakruti Resorts provides the perfect ambience for relaxation. Located in the sea-village of Kashid, Prakruti Resort owns a lush 100-acre property that is ideal for a weekend getaway from Mumbai's maddening rush. Enjoy a leisurely stay while you indulge in some water sports or play a game of mini-golf with your friends at the Prakruti Resort. To make the eveningslivelier, they also have live music performances and DJ nights.
Where: Kashid
8) Mystica Resort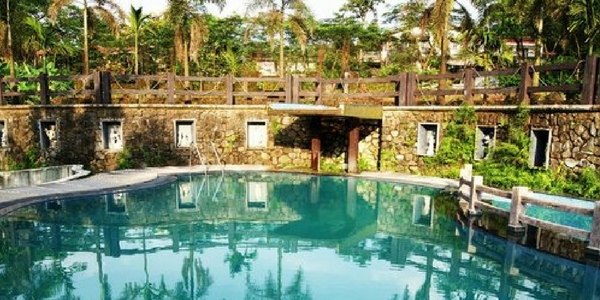 If you're looking to spend some quiet time, Mystica Resort, nestled between the valleys of Khandala and Lonavala might be for you. Sprawling across an area of five acres, the resort has 150 tastefully designed rooms that are meant to serve you a taste of luxury.
If you'd fancy a terrace party of your own, you can also request for a penthouse. For a leisurely time, you can take a dip in their sparkling pool, which features its own stunning waterfall. For an exclusive experience, you can also try out their private boating facility at the resort.
Where: Khandala
9) Fariyas Resort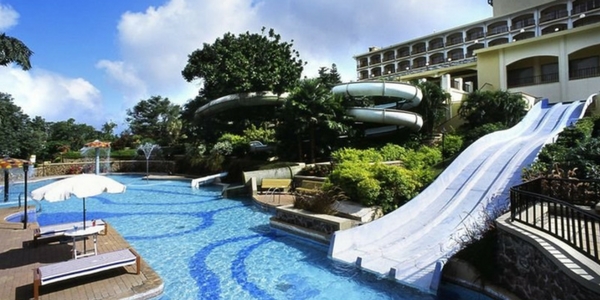 Located in the scenic Fricheley Hills in Lonavala, the Fariyas Resort is apremium five-star resort known for its brilliant service. Whether you go their deluxe, premium or executive suites, you are guaranteed a splendid experience. For a complete re-energizing experience, you can head to the Saloon, which is the spa at the resort. From holistic massages to unique Ayurvedic therapies, they have everything on offer. The resort also has a large kid's play area and a water park to add some extra fun to your stay.
Where: Lonavala
10) Atmantan Wellness Centre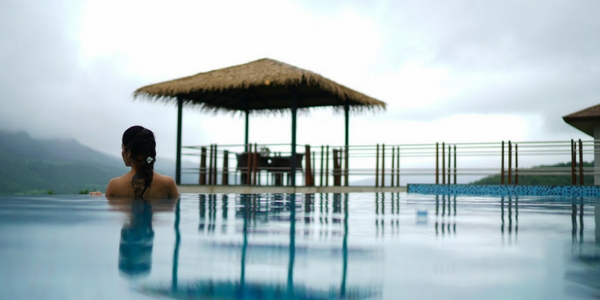 For a good spiritual holiday, Atmantan Wellness Centre's holistic health programs and Ayurveda therapies are just right. One of the best luxurious yoga retreats in India, this resort offers programs that aim to restore your physical and mental well being. For a relaxing cleansing experience, their spa offers daily massages, body polishes, as well as various detox processes.
Where: Mulshi
Head off for a cooling weekend getaway and pamper yourself at these luxurious resorts near Mumbai. Did we miss out on your favorite resort? Do let us know about it in the comments section.
Image Credits: Trip Advisor, The Machan Resort, Atmantan Living, MakeMyTrip, BookMyShow, Media India Group
Latest posts by Vibha Sharma
(see all)