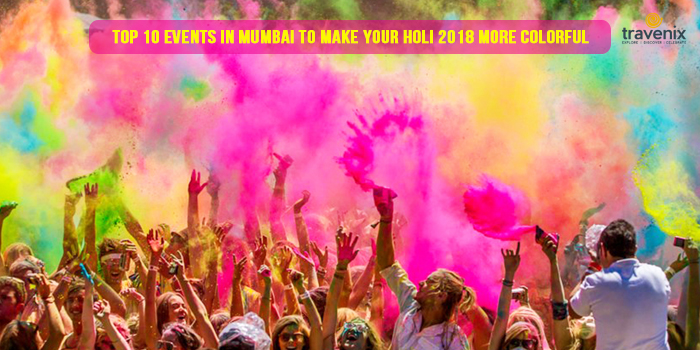 Top 10 Events In Mumbai To Make Your Holi 2018 More Colorful
Get all your water guns and colors ready, Holi is just a few days away! While we can't wait to indulge in the festive fervor and hog on some delicacies, we thought we could celebrate Holi this year a little differently.
Let the festivities begin!
For those of you who love Holi but also want to make use of the long weekend that it's bringing along, we've got you covered. Check out the best of the most happening parties, outdoors camps and other fun activities to attend in Mumbai this Holi season.
1) Holi Special Camping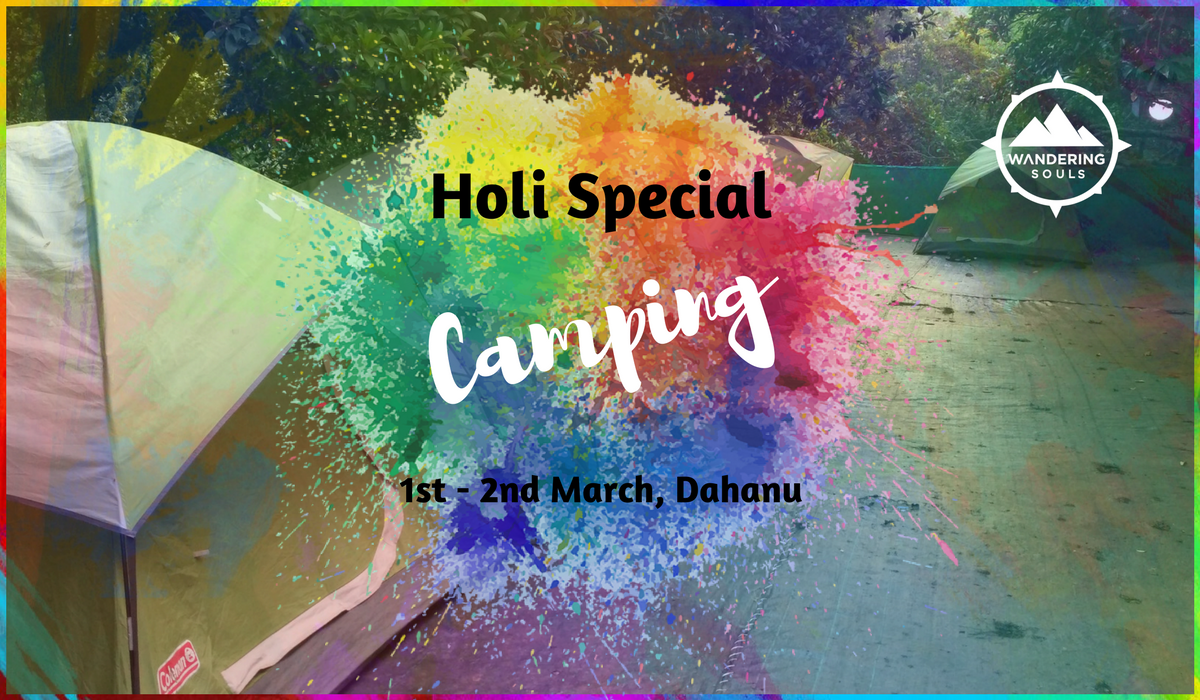 Pitch your tent under a blanket of stars and enjoy a fun campfire as the DJ pumps up the evening. Expect a night of camaraderie as you play some games and share stories with all your camping buddies. While the first night will ensure you get a good time to party, the second day is all about enjoying the festival with organic colors, some DJ music and lots of delicious food.
Where: Dahanu
When: 1st and 2nd March
Cost: Rs 2200
2) Rang De – Holi Festival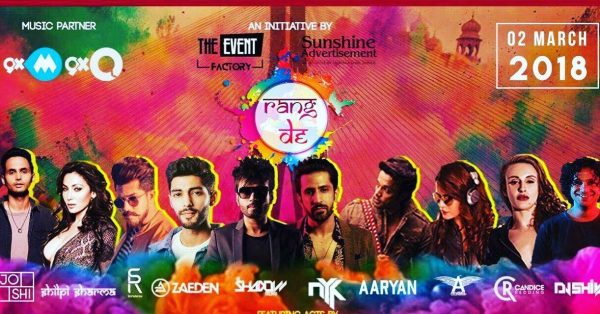 Rang De Holi Festival is for those who want to sing, dance and make the most of this colorful festival. With a lineup of some amazing DJs and singers, this Holi Party promises to enthrall you with power packed performances. Head out with your group of friends or go solo and mingle with all the party people there — either way, it'll be a blast!
Where: Mahalaxmi Race Course
When: 2nd March; 9.30 am to 6.00 pm
Cost: Rs 499 onwards
3) Holi Festival Pure Veg, Picnic & Party
Every year, Pali Beach Resort gets a funky makeover during Holi; the resort transforms itself into a discotheque with DJs doling out popular EDM and Bollywood numbers. If you are tired of the dancing, you can head over to their water park or sample some scrumptious food. Also don't miss out on the festival favorites — thandai and farsan. You can have all the Holi fun at the resort, but without any colors. They are not permitted inside the premises.
Where: Pali Beach Resort, Bhayander
When: 2nd March
Cost: Rs 800 onwards
4) Color Splash — Biggest Holi Festival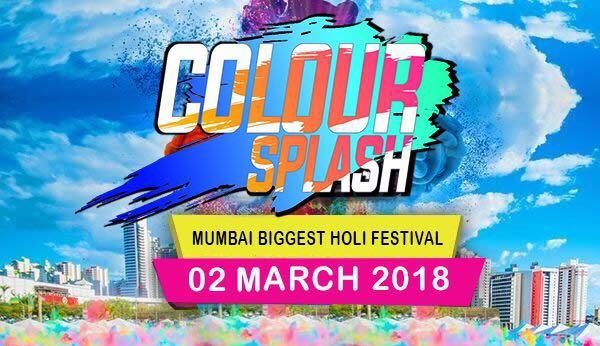 Holi at Maitri Lawns is a cut above the rest; they've arranged for amazing music, rain dance and lots of organic colors to get the party started. The artist line-up is going to be interesting, so keep an eye out for it; it will be announced shortly. The music is going to go non-stop for eight hours; so make sure you are pumped enough to match the energy level at this party!
Where: Maitri Lawn, Kandivali
When: 2nd March
Cost: Rs 499 onwards
5) Holi Bash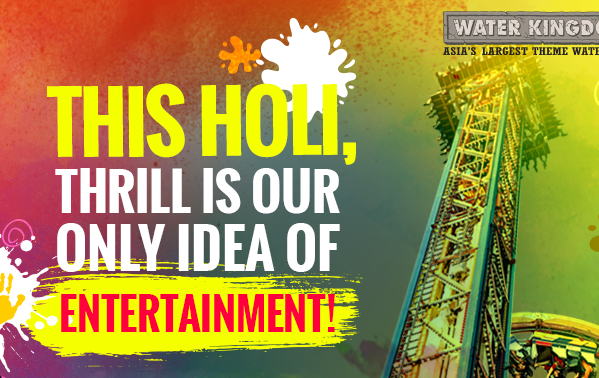 Holi Bash at Essel World may be a strict no-colours festival, but that doesn't mean it's any less fun. Their idea of fun is about chills and thrills, so get ready to celebrate this Holi unlike any other. The three day extravaganza will have music, dance and food, but that's not all. Expect an absolutely freaky Friday as they are set for a complete blackout. They aren't spilling any more beans on the surprises that await you there!
Where: Essel World, Gorai
When: 2nd to 4th March
Cost: Rs 275 onwards
6) Holi Celebration — Eggsplore Rang Barse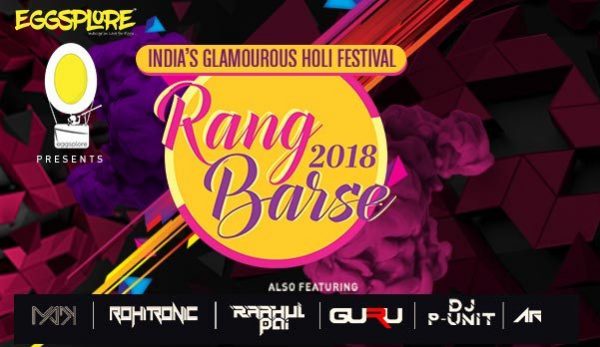 Borivali is set to witness a massive Holi celebration that includes DJ performances, celebrity guest appearances, rain dance, belly dance performances, traditional holi food and free-flowing liquor. Zareen Khan and NavvInder are two celebrities who are going to spruce up the glamour quotient at the party; while the DJ line-up has some popular names too.
Where: Kutchi Ground, Borivali
When: 2nd March; 10:00 am to 6 pm
Cost: Rs 500 onwards
7) Adventure Holi Fest 2018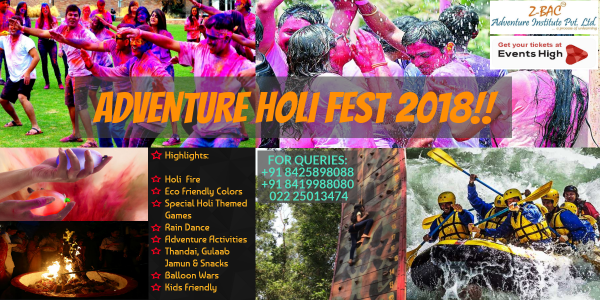 If you're done and dusted with just the colors and water guns, and are seeking something more daring, head over to the Adventure Holi Fest 2018. Along with eco friendly colors, they are adding in a dash of adrenaline pumping activities like wall climbing, rappelling and more. They have some special holi games and rain dance planned too, all by the serene lakeside with thandai and snacks; so you'll have a blast, we promise!
Where: Z-Bac Adventure Campsite, Kolad
When: 2nd and 3rd March
Cost: Rs 1140 onwards
8) Holi Party & Slum Tour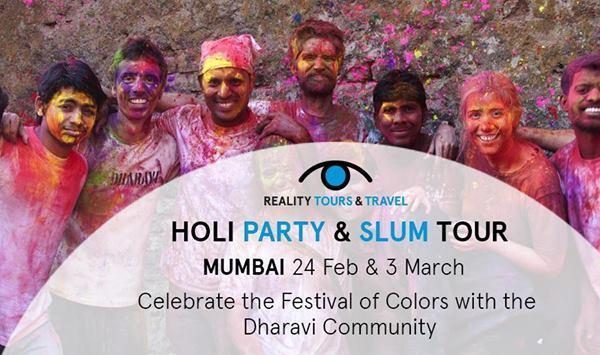 Ever wondered how life must be like in a slum? With Holi Party & Slum Tour, you can actually interact with the locals in Dharavi and feel their community spirit as you join them in Holi celebrations. An experiential tour, it is for those who are friendly, and would love to mingle with the locals.
Where: Starts at Churchgate Railway Station
When: 3rd March; 1:45pm
Cost: Rs 1400 onwards
9) Somshiva Color Festival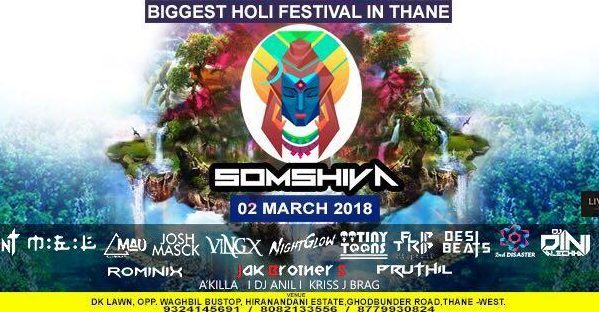 Somshiva Color Festival is dedicated to all the psychedelic music lovers in town. Expect some fancy colorful lights and fancy décor too — they are going to have a design with40 foot high fabrication of Lord Shiva! At this festival, you can indulge in food and drinks; they promise to have a very cheap bar. Go over to celebrate with organic colors and dance your heart out in their rain dance arena.
Where: DK Lawns, Waghbil, Hiranandani Estate, Thane
When: 2nd March; 9.00 am
Cost: Rs 300 onwards
10) Bollyboom Holi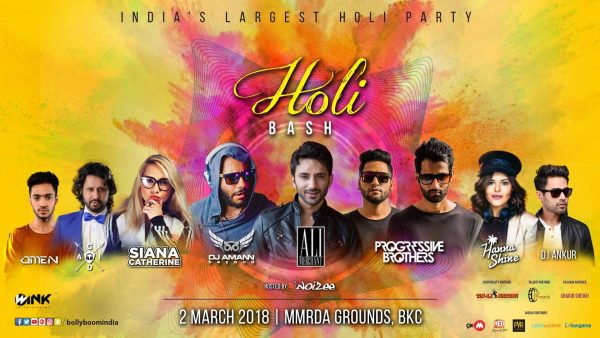 Mix your love for Bollywood and Holi at this holi bash in BKC. They promise to enthrall with some incredible music and food. With popular names like Ali Merchant, Siana Catherine and Progressive Brothers taking over the DJ console, we're sure you'll have a blast!
Where: MMRDA Grounds, BKC
When: 2nd March; 10:00 am
Cost: Rs 500 onwards
With so many different activities happening in Mumbai, we're sure you'll have a great time this Holi. What's your plan for the festival? Do let us know in the comments section below. But if you're a person who'd rather get away from the maddening city rush during the long weekend, check out some of the best weekend getaways near Mumbai, and give yourself a peaceful holiday.
Latest posts by Vibha Sharma
(see all)