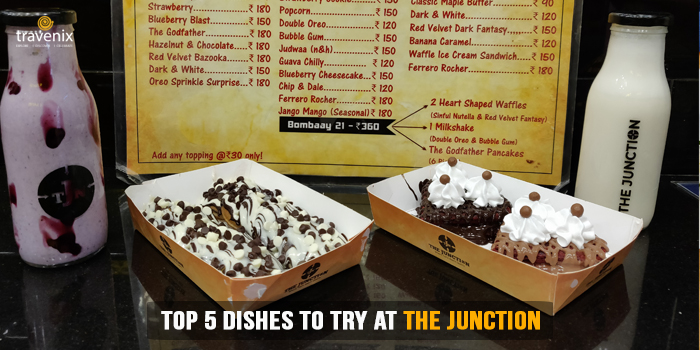 Top 5 Dishes To Try At The Junction In Matunga
A small shop in the lanes of Matunga, The Junction packs a punch with their Pancakes, Waffles, and Milkshakes. With cozy interiors and peppy music in the background, this place is the ultimate destination for all your dessert cravings!
One Stop Junction!
The Junction has expanded its wings with two more outlets in Shivaji Park and Ghatkopar in a mere six months which speaks for their popularity. Serving the best pancakes, waffles with a twist and unique milkshakes, they are one of the best in the business. Let's dive into the world of desserts and check out some of the best dishes The Junction has to offer!
1. The Godfather Pancakes
One of their best selling pancakes and an all-time favorite for everyone is The Godfather. Made with little pancakes and loads of chocolate drizzled on top, this will teleport you into another world. With layers of white, dark and hazelnut chocolate sauces, which is topped with whipped cream on each pancake, four types of chocolate dressings and ending it with another layer of chocolate, The Godfather is a monster! It is a pancake you simply cannot resist!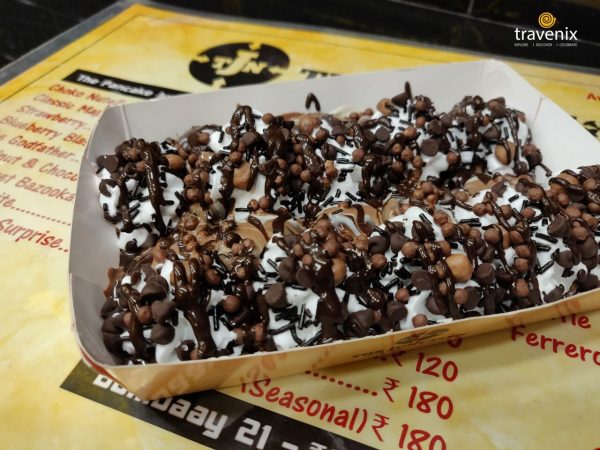 2. Dark and White Pancakes
The Dark and White is a simple pancake that will drown your taste buds in the world of chocolate with every bite you take. As the name suggests, Dark and White Pancakes have a topping of dark and white chocolate sauce, with dark and white chocolate chips on top. The sweetness of the white chocolate gets balanced by the bitterness of the dark chocolate and brings out a rich chocolate flavor. This heavenly dessert is bound to satiate your sweet tooth!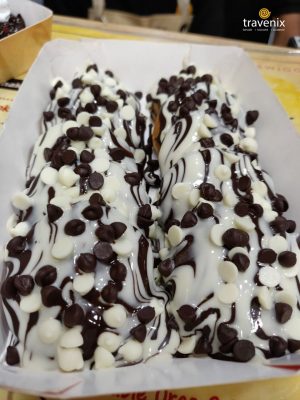 3. Valentines Waffles
Valentines Waffles started out as an offer for valentines day, but they received so much popularity that they got a permanent spot on the menu! Valentines Waffles are two heart-shaped waffles; Sinful Nutella and Red Velvet Fantasy, each made for you to fall in love with waffles. The Sinful Nutella is packed with Nutella and has a topping of whipped cream with butterscotch chips. The Red Velvet Fantasy is made with Red Velvet waffles and loaded with dark chocolate with whipped cream on top as well. If you have a sweet tooth for waffles, then Valentines Waffles is the perfect dessert for you!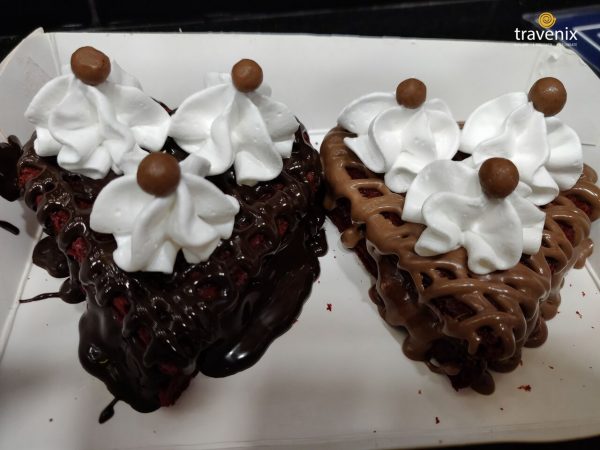 4. Popcorn Milkshake
There are a lot of new milkshakes in the town to try, but the one that stands out is the Popcorn Milkshake from The Junction. One of their best milkshakes, the Popcorn Milkshake saves you the hassle of eating popcorn from a tub and drink it directly instead! The Milkshake has a very smooth texture to it tastes like butter popcorn. The flavor of the corn and butter will tingle your taste-buds with every sip you take and that makes it a perfect drink after a hectic day!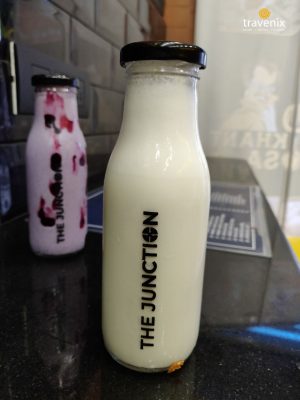 5. Blueberry Cheesecake Milkshake
The Blueberry Cheesecake Milkshake brings together two of the most delicious desserts to make an ultimate drink. Made by crushing blueberries along with cheesecake, this milkshake is topped with digestive biscuits. It tastes like a blueberry cheesecake in milkshake form. With every sip, it will transport you into a totally different world altogether.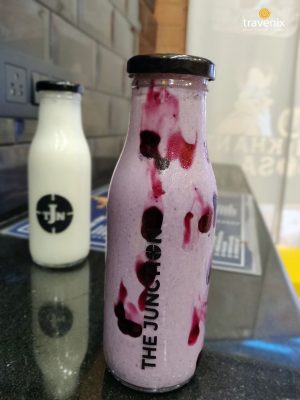 The Junction is the perfect place for you to head over and try something new. So get your friends over to The Junction to try out their Waffles, Pancakes, and Milkshakes! (hitechgazette) Do let us know about your experience there in the comments section below.

You can find them at 362/2, Mohanlal Mansion, Dr. Babasheb Ambedkar, Opposite Maheshwari Udhyan, Next to Amar Petrol Pump, Matunga East, Mumbai
Other branches are located at:
97 Jehangir Baug, Near Bombay Scottish School, Shivaji Park, Dadar Shivaji Park, Mumbai
Shop 1. Sky Enclave, Tilak Road, Ghatkopar East, Mumbai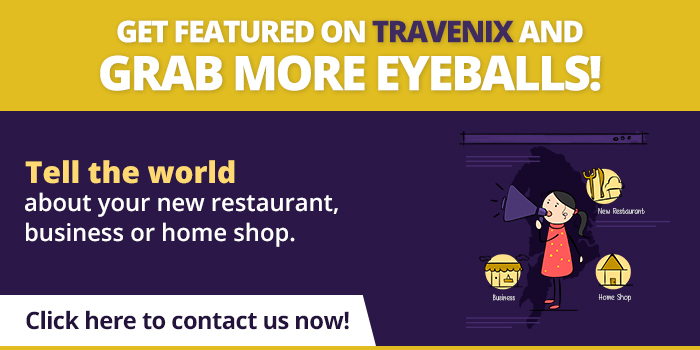 Latest posts by Vibha Sharma
(see all)