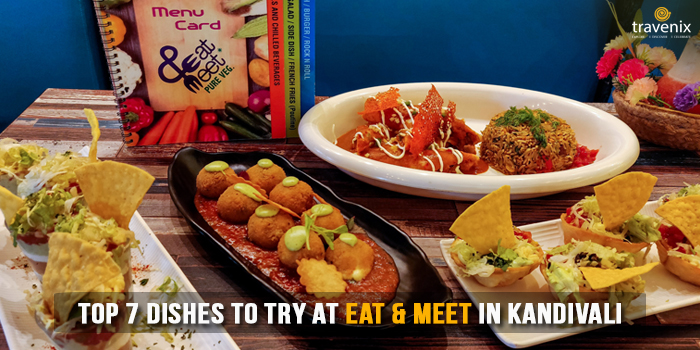 Top 7 Dishes To Try At Eat & Meet In Kandivali
Vegetarian foodies in Mumbai, listen up! Eat & Meet is an all-veg restaurant in Kandivali that's dishing some amazing Italian, Mexican, North Indian, and Chinese food. The restaurant believes in experimenting with food, so you can expect to be surprised by the combinations on their menu.
Eat, Meet & Try Something New
They've taken some of the most popular dishes out there and turned them around to come up with some absolutely unique. If you're a foodie who loves fusion food, you have to check out some of the best dishes we tried there.
1. Say Cheese
Can't stop drooling over cheese? Try Eat & Meet's Say Cheese Appetizer. These cheese balls are filled with different types of cheese, which makes them melt-in-your-mouth delicious! It's served with their special in-house sauce which adds a dollop of flavor to this dish's cheesy goodness. It's one of those dishes that you just can't have enough of.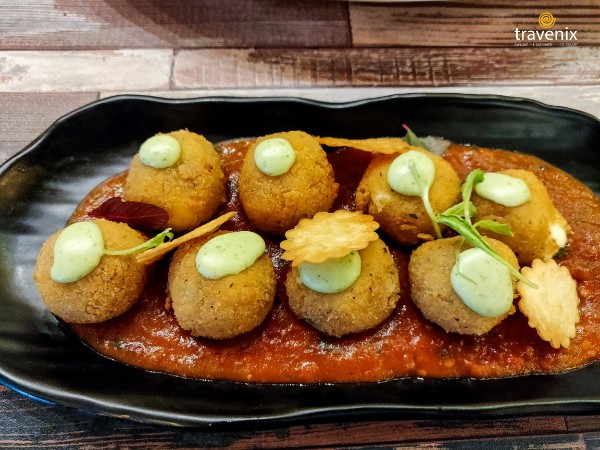 2. Nachos Cup
Nachos & Salsa? Nah, that's too mainstream. Eat & Meet presents the dish in an absolutely new avatar. Their Nachos are served in tiny cups which are filled with paneer bhurji, chilly mayo, salsa, sour cream, and cheese. If you take all of it together in one bite, it's a burst of flavors in your mouth. We love this new nacho combination and genuinely hope it will soon become a mainstream dish that's available in other restaurants too.
3. Mexican Shots
This savory dish comes in tiny shot glasses that can satiate your craving for spicy food. The glasses are filled with three different layers. Beans, salsa, jalapenos, olives, chilly mayo, and sour cream are filled in the cup and topped with cheese. It tastes a lot like the Nachos Cup, but it's slightly tangier.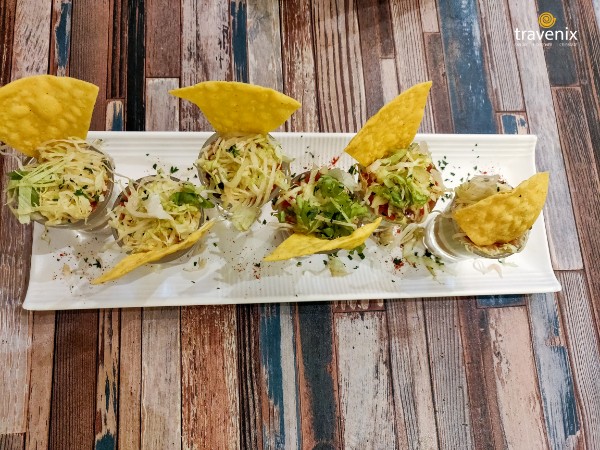 4. Mexican Enchiladas
Their Mexican Enchiladas are basically corn tortillas that are stuffed with exotic veggies and Mexican spices. It comes with a serving of rice which has a slightly burnt aftertaste. Full marks to it in the taste department, but we would have loved the portion size to be slightly bigger because it's one of the main course dishes.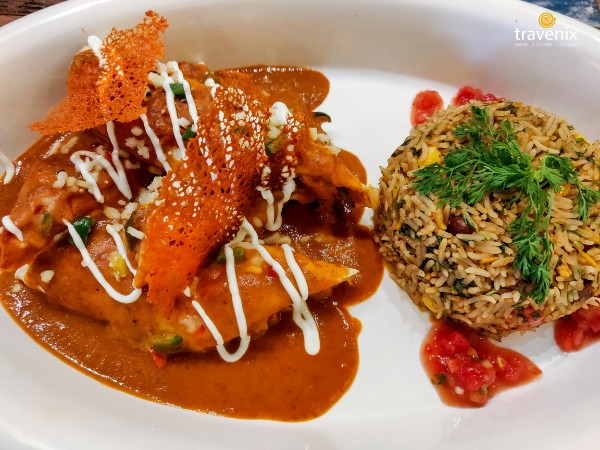 5. Twisted Miloni
This is one of the most refreshing beverages we've ever tried. Also, one that has many different flavors combined into one. It features watermelon mixed with guava, pineapple, mint, basil, lime, and some soda. It's citrusy and sweet, both the flavors are well balanced. We absolutely loved this one!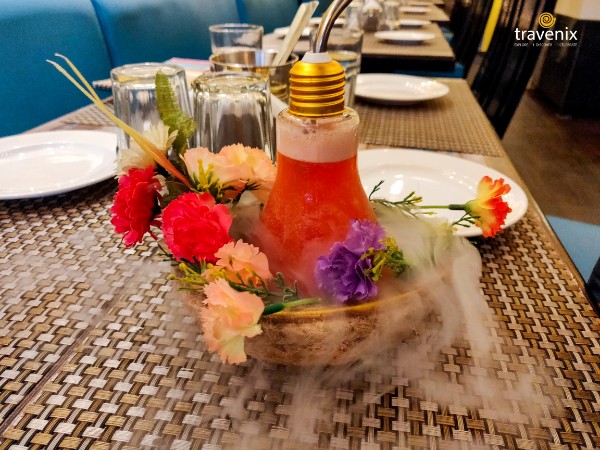 6. Grilled Exotic Panini
This panini comes stuffed with lots of veggies. Zucchini, bell peppers, tomatoes, and baby corn are all tossed in ranch dressing. It's garnished with feta cheese and is served with spicy mayo, coleslaw dips, and some fries. With so many elements in the dish, your taste buds will be in for a ride.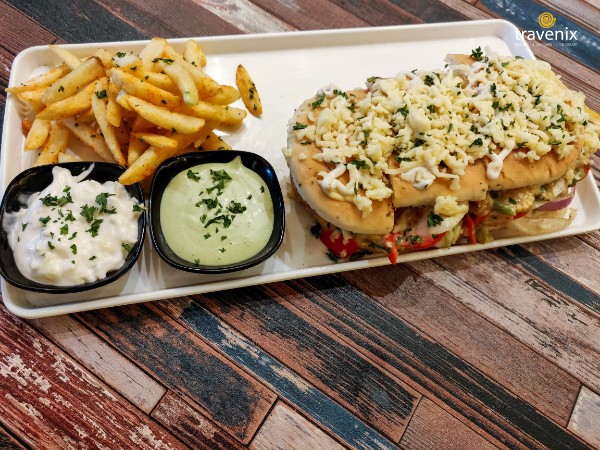 7. Chocolate Soil
This dish is presented in an interesting way. It comes in a garden spade! Crumbled fudge brownie makes up the 'chocolate soil' for this dish, hence the name. It is topped with vanilla ice-cream which isn't very visible at one glance. It's a regular dish, but the presentation makes all the difference.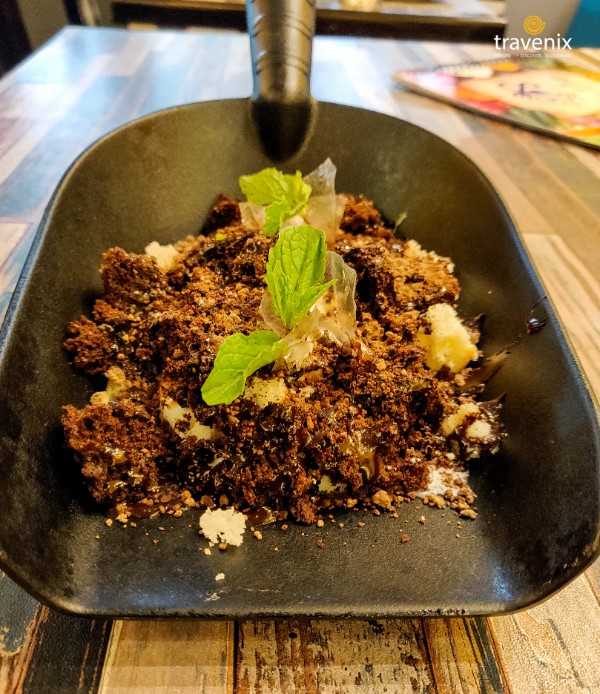 If you want to try these dishes, head over to Shop 2, Praful CHS LTD., Opposite Mhatre Park, Dahanukar Wadi, Kandivali West, Mumbai. If you've already been there, let us know about your experience in the comments section below. We'd love to hear from you!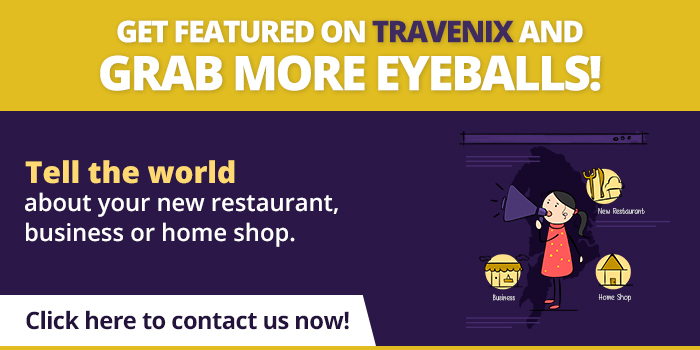 Latest posts by Vibha Sharma
(see all)