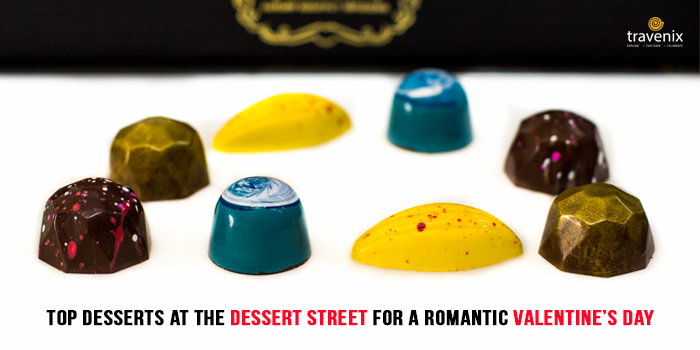 Top Desserts at The Dessert Street for A Romantic Valentine's Day
Located in the posh locality of Lower Parel is The Dessert Street. A brainchild of Chef Dhawal Shah, this place offers customized desserts for all the sweet lovers out there. If you are expecting it to be just another dessert shop, you are mistaken, for this is indeed a dessert kitchen!
Chocolate Overdose!
The Dessert Street specializes in all things chocolate. Whether you are looking for a cake or even bonbons for sheer chocolate love, you can find it all here. (thedentalspa) They create the most authentic cookies, tarts, chocolates, bonbons, pastries and cakes; in short, you name it and they have it. You can choose from a variety of shapes, flavors and colors of the desserts and personalize them to fit your requirements. They happily prepare dishes which blend into the theme of your special occasion too.
We had a chance to have a look behind the scenes into the hard work that is required to prepare your favorite delicacy. What we loved the most about their preparations is that no sugar is added for sweetening the desserts; they just let the natural flavors bring out the sweetness. So cool, right? If you are looking for typical fondant cakes, this is not the place for you; they create the most exotic glazed cakes that you will ever come across in Mumbai. Here are some of the dishes that were prepared right in front of our eyes.
Grape Jelly with White Chocolate Ganache
These tiny bonbons look very alluring and take equal amount of effort to prepare as well. If you think that this is going to be just another bonbon, you are wrong. All you need to do is take a single bite of this dessert and we kid you not; you will be transported into chocolate heaven, with a delightful explosion of white chocolate and grape jelly in your mouth. Don't forget to close your eyes to get the best out of this dessert. We feel that this is definitely one of the best desserts in Mumbai. These bonbons are actually hand painted to give the final finished look. Quite some art, eh?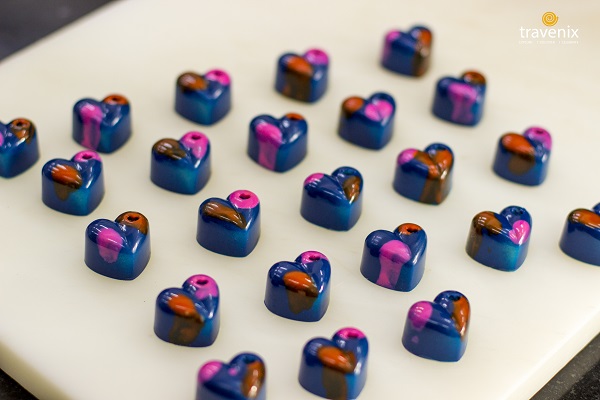 Dark Raspberry Entremet
If you are looking to have something this Valentine's, there is nothing better than this Dark Raspberry Entremet. This red-colored heart-shaped dessert is essentially chocolate sponge cake covered with raspberry jelly and dark chocolate mousse. To top it off, white chocolate glazing and crunchies are added to give it the final look. The sponginess of the cake and the sweetness of chocolate combine to give you an exotic experience with tiny bursts of raspberry flavor. If you are looking for something smaller, the Petit Gateau is a great option. It's the same as the Dark Raspberry Entremet but cylindrical in shape.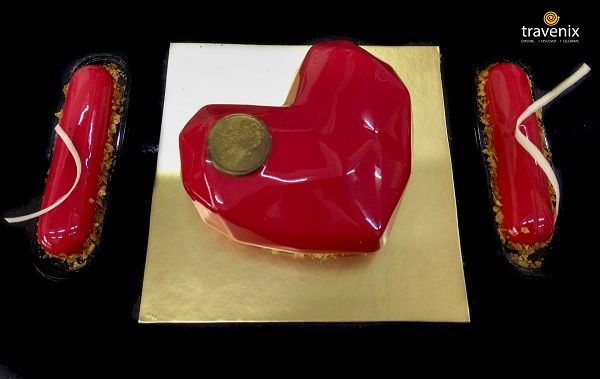 Apart from these, they have another special for Valentine's Day in the form of chocolate hearts. These hearts are filled with marshmallows, dark chocolate ganache and chocolate sponge. They are finished with a red glazing to give you the perfect Valentine's Day dessert.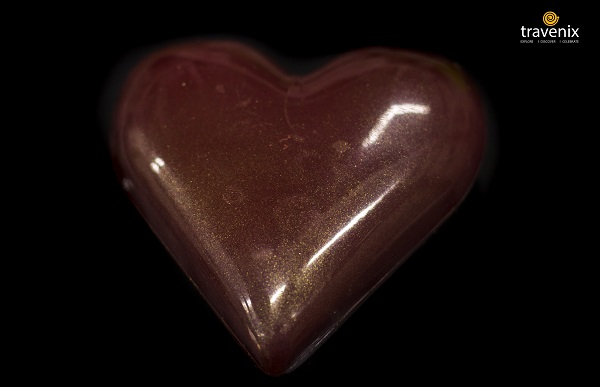 We also had a chance to see the Crunchy Chocolate Cake as well as the Plain Dark Chocolate Cake, which simply blew our minds before even tasting just by their sheer looks. You could have your own custom-made cake here with prices starting at Rs.1175 for half a kilo and Rs. 2350 for 1 kg. If you prefer bonbons, a collection of eight bonbons starts at Rs. 575.
However, being a Travenix reader, you're in luck. Between 10th and 13th of February 2018, on a purchase of Rs. 1199 and above, you'll get a box of Artisan Bonbons worth Rs. 280 FREE! All you need to do is like our page on Facebook and follow The Dessert Street on Facebook and Instagram. Make this Valentines blissful with The Dessert Street!
Latest posts by Vibha Sharma
(see all)