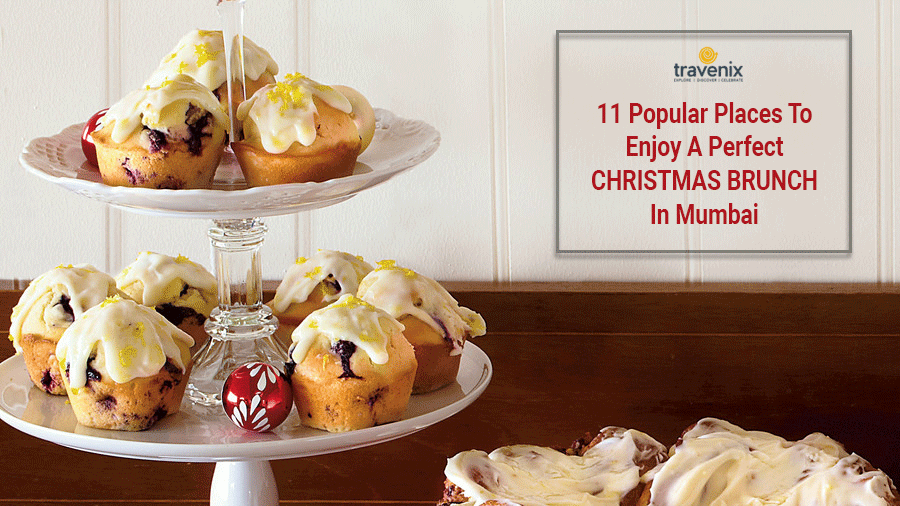 11 Popular Places to Enjoy a Perfect Christmas Brunch in Mumbai
The bells are ringing and the reindeers are on their way — well, Christmas is only a few days away! It is time to get those bright lights out, decide on some last-minute gifts for your loved ones and get ready for the merriment.
Jolly Times Ahead
Red ribbons, shiny stars and dressy Christmas trees are all sprawling across Mumbai's streets and malls. The spirit of the holiday is definitely infectious! Add to that the excitement of shopping, enjoying sumptuous food and spending some quality time with your loved ones. To make your Christmas Eve more exciting, we've listed out a few brunch places that you can try out. Be your own Santa this festive season and pamper yourself with delicious food.
1) Pre-Christmas Brunch — Hyatt Regency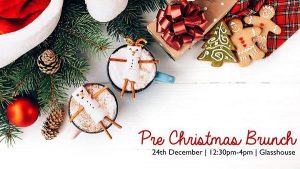 The Hyatt Regency comes out with an elaborate Christmas menu to give you a kickass experience. Devilled duck eggs, roasted turkey, chicken stroganoff, barbecued pork spare ribs, salmon wellington, dundee cakes and lots of wines and sparkling champagne to team it all up with — you are going to be spoilt for choice here!
When: 24 December, 12:30 PM
Where: Hyatt Regency, Andheri East
2) Christmas Eve Brunch — The Korner House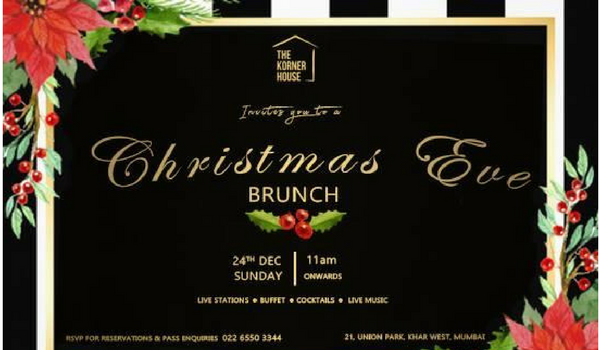 The Korner House promises to smother you in abundance with an inclusive buffet of cocktails, Christmas treats and exciting live food counters. With live music to jive up the vibe, this brunch is for those looking for a cheerful time.
When: 24 December, 11:00 AM
Where: The Korner House, Khar West
3) Sunday Christmas Brunch — 1Above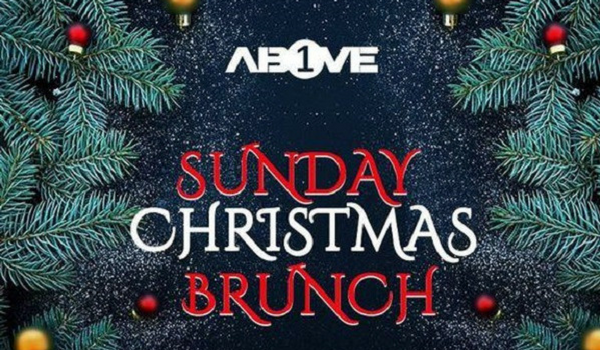 Indulge yourself this festive season with 1Above's vast party-wide spreads and grab a fancy cocktail to lighten yourself up. The atmosphere is cozy; so huddle up with your family and friends and tuck in some delightful Christmas grub at this brunch.
When: 24 December, 12 PM
Where: 1Above, Lower Parel
4) Unapologetically Italian Christmas Eve Brunch — Grand Hyatt Mumbai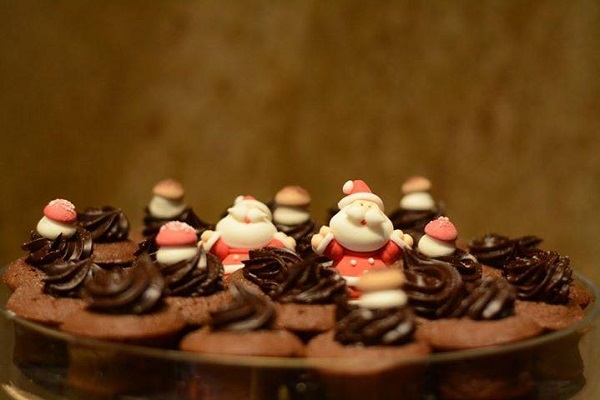 Usher in the celebrations in advance with Grand Hyatt's Italian Christmas Brunch as soon as your weekend begins. Revel in a homely ambience as you sample recipes from Chef Alessandro's family recipe book straight from Italy. From mouth-watering appetisers to sinful desserts, this buffet will ensure you are pampered to the core.
When: 23 December, 12:30 PM
Where: Grand Hyatt Mumbai, Santacruz East
5) Traditional Xmas Eve Champagne Brunch — Savor Experiences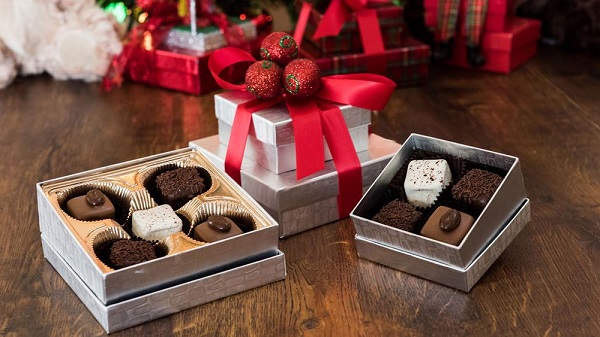 Get those Christmas socks out, Santa is here! This brunch at Savor Experiences is all about the excitement for the season — you get to pick a gift for your Secret Santa. The gifts exchange hands, and if your gift happens to be the best in the lot, the restaurant becomes your Santa. You'll win a free dinner for two people at the restaurant. All this thrill, along with a gorgeous serving of Christmas goodies. Sounds like a good plan, doesn't it?
When: 23 December, 1:00 PM
Where: Savor Experiences, Parel
6) Christmas Brunch — Radisson Mumbai, Goregaon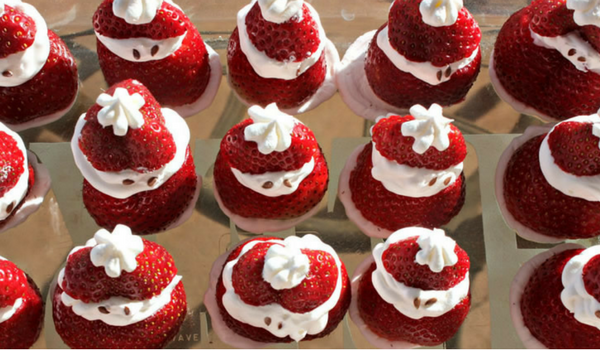 As the Sarovar Premier is soon to be converted to Radisson Mumbai, the celebrations are getting grander too. Don't just enjoy the traditional plum cake this Christmas; be ready to pick from a variety of options at their brunch. The hotel has a classy ambience, so you are guaranteed a wonderful 'Christmassy' experience.
When: 25 December, 12:00 PM
Where: Grand Sarovar Premier (Soon to become Radisson Mumbai Goregaon), Goregaon
7) The Sassy Christmas Brunch — The Sassy Spoon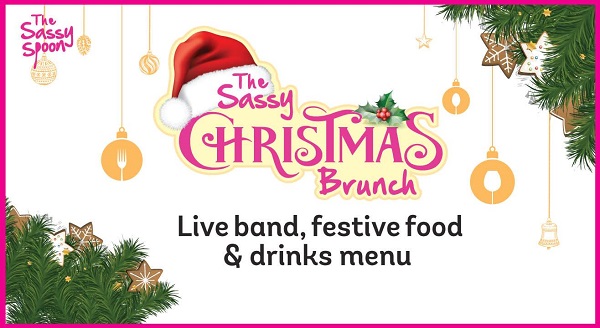 Expect live music, an extravagant buffet spread and some heady cocktails at The Sassy Spoon's brunch. While you have the usual eggs, pancakes and waffles, the real star of the event is its festive menu. Options in it include traditional roast turkey with stuffing, maple mustard glazed ham leg, roast turkey, pumpkin bao and lots more. The restaurant is also known to serve some of the best desserts in Mumbai, so do give their red velvet cake a try to satisfy your sweet tooth.
When: 24 December, 12:00 PM
Where: The Sassy Spoon, Nariman Point
8) The Perfect Sunday: Christmas Edition — Out Of The Blue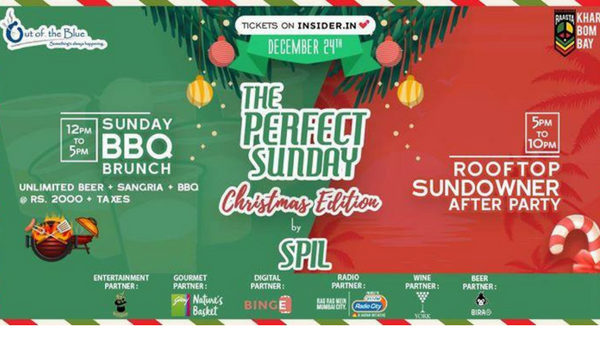 Out Of The Blue is set to give you the perfect weekend with its day-long celebration that begins with a fancy BBQ brunch. With their special décor and special festive menu, the Christmas spirit is sure to get you soaring high. Enjoy a game of beer pong with your friends or grab a board game, this brunch is all about having fun with your loved ones. And if you just can't get enough of the fun, fret not! (hotcanadianpharmacy.com) Their perfect Sunday plan also features a night of dancing on the latest techno and house music on the rooftop at Raasta Bombay.
When: 24 December, 12:00 PM
Where: Out Of The Blue, Khar
9) Christmas Brunch at Geoffreys — Hotel Marine Plaza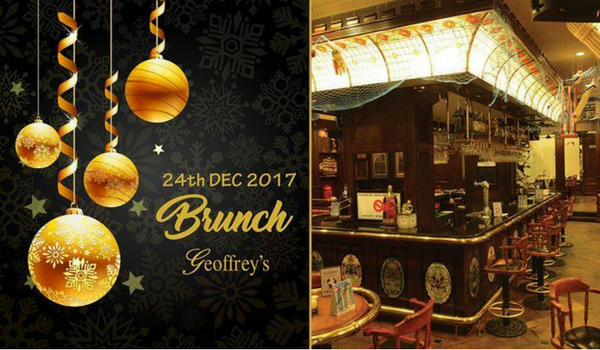 Promising an all-English vibe at the brunch, Geoffreys offers a range of delectable Christmas specials to choose from. Options include the trademark holiday plum cake, roast turkey, cookies and lots of alcohol to keep the celebratory mood high and not so dry.
When: 24 December, 12:30 PM
Where: Hotel Marine Plaza, Churchgate
10) XMAS Brunch — Versova Social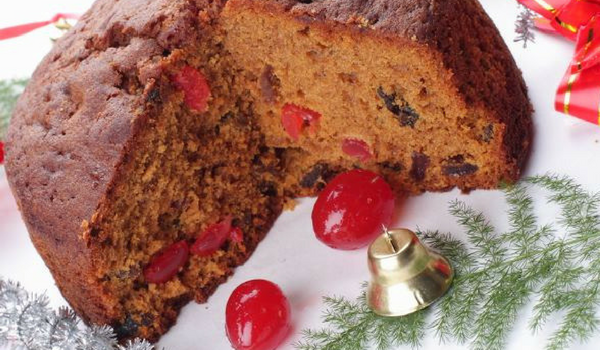 It's the holiday season, and Versova Social believes there should be no holding back. Inviting everyone for a day of debauchery, the Xmas brunch is all about indulging without guilt in its sinful plum cakes and mulled wines.
When: 24 December and 25 December, 12:00 PM
Where:Versova Social, Versova
11) Breakfast of Horrors Christmas Special — Cuckoo Café Mumbai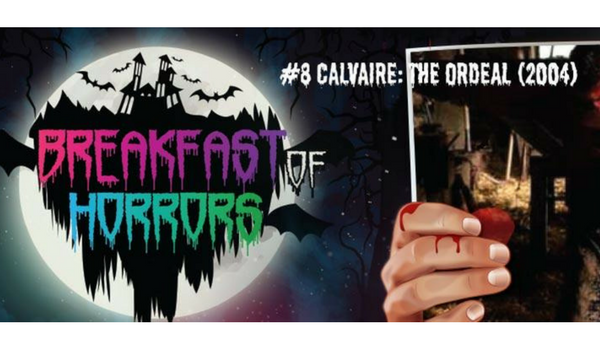 Cuckoo Café is calling out all the movie buffs in town to celebrate this Christmas in an unconventional way. Join Marc Stevens in his holiday adventure as his van gets stuck at nightfall in remote woods. Get ready to sit at the edge of your seat with the twists and turns that Calvaire: The Ordeal (2004) will take you through. Don't forget to snack on some popcorn. Oops, we mean, the special Christmas delights!
When: 24 December, 10:00 AM
Where: Cuckoo Café, Bandra West
Now that you've enough options to plan your brunch, also take a look at the best places in Mumbai for a romantic Christmas date to get your holiday sorted completely. Do let us know about your plans in the comments section!
Image Credits: Palm Beach Post, Boldsky, Easyday, Eventshigh
Latest posts by Vibha Sharma
(see all)