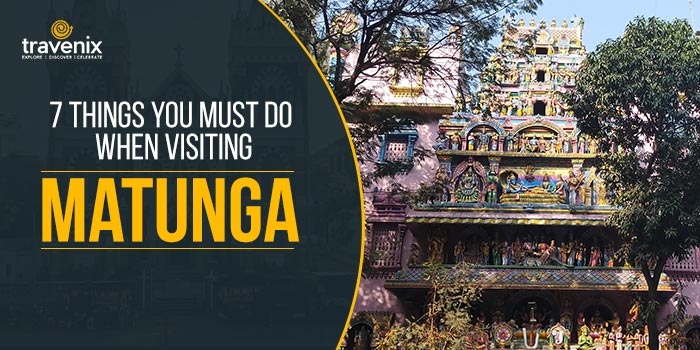 Top 7 Things To Do In Matunga
Matunga is a residential suburb and is one of the busiest areas in town. It owes this to the railway stations that lie in the area. It has 3 major railway stations that connect it to the rest of the city from the Western, Central and Harbor lines. Matunga is popular for its food and shopping areas and is a peaceful area by night and this makes it a popular residential area too.
Explore Matunga!
While there are loads of restaurants in Matunga and a lot of street food places, there is a lot more to this area than just food options. Let us explore Matunga and see what it has to offer!
1. Matunga Market
Matunga Market has been here for years together and is today as popular as it was before. It is situated centrally in the area and you can get some of the finest fruits and veggies here along with flowers. There are loads of restaurants around the market where you can get delicious South Indian food and there are a few temples around as well. Shopping in this market is an experience in itself.
Location: Near Matunga Station, Mumbai, Maharashtra
Timings: Mornings: 10:30 a.m. to 12:30 p.m. Afternoons: 5:00 p.m. to 7:00 p.m. All days except Mondays.
Travenix Rating: 4.8/5
2. Dumpling Delights
Momo lovers in Mumbai, you can not afford to miss this place. With over 20 varieties of Momos, you are literally spoilt for choice. This food truck serves about 300 to 400 momos everyday to hungry souls that are mostly college students from nearby areas. It has the normal steamed momos, deep fried momos, tandori momos, momo soup; and their speciality, Chocolate Momos is a must-try for all the sweet-toothed. Tandoori Cheese Momo and Chicken Chilli Momo are the hottest selling varieties of momos at Dumpling Delights. These delightful momos will satisfy your craving without burning a hole in your pocket.
Location: Moreshwar Building, 10, Dadar, Lakhamsi Napoo Road, Matunga Railway Colony, Matunga, Mumbai, Maharashtra 400019
Timings: Around 4 PM to 7 PM.
Travenix Rating: 4.6/5
3. B N Maheshwari Udyan
This garden is situated right between the roads and below a bridge. All around this garden are popular restaurants and shops but this place provides a peaceful place to get away from all the hustle-bustle around with a lush green cover and loads of benches to sit back and relax in the shade of trees. This garden is a great place to hang out during evenings too when people come here for walks.
Location: Kings Circle, Matunga, Mumbai, Maharashtra
Timings: 6 AM to 9 PM
Travenix Rating: 4.5/5
4. The Asthika Samaj Kochu Guruvayoor and Sree Ram Mandir
The Sree Ram Mandir is the oldest South Indian temple in the area and is tucked away in the midst of the area near the Matunga Market. This ancient temple is nearly a century old and you can see its marvelous architecture and seek blessings from the Almighty here. The rituals here are carried out daily strictly based on the scriptures too.
Location: Bhandarkar Road, Matunga East, Mumbai, Maharashtra 400019
Timings: TEMPLE TIMING
Morning                                         Evening
Sunday          5.00 – 12.00              4.30 – 9.00
Monday         5.00 – 11.00              4.30 – 9.00
Tuesday         5.00 – 11.00              4.30 – 9.00
Wednesday   5.00 – 11.00              4.30 – 9.00
Thursday       5.00 – 12.00             4.30 – 9.00
Friday             5.00 – 11.00             4.30 – 9.00
Saturday         5.00 – 12.00            4.30 – 9.00
Travenix Rating: 4.2/5
5. Aurora Talkies
Aurora Talkies is the place you should visit if you love South Indian films. The theater is pretty old and you can enter a completely different era as you walk through the doors of this cinema hall. You can go back to the 80s and 90s and enjoy a good old movie in a single-screen theater instead of the popular multiplexes we have today.
Location: Near Maheshwari Udyan, Dr. Baba Saheb Ambedkar Rd, King Circle, Matunga, Mumbai, Maharashtra
Timings: 12 PM to 9:30 PM
Travenix Rating: 3.5/5
6. The Book House
This is one of the most iconic places at Matunga that you must visit if you are a bibliophile, and is over 60 years old. It is nothing short of heaven if you love books, since it sells second hand books at a minimal price. From school books, college books to famous fiction books by renowned authors like Khaled Hosseni, Chetan Bhagat, Preeti Shenoy and many others, you can find all these books under one roof at The Book House.
Location: Maheshwari Udhyan, Circle House, Telang Cross Rd Number 3, Brhmanwada, Matunga, Mumbai, Maharashtra 400019
Timings: 9 AM to 8 PM
Travenix Rating: 3.2/5
7. Ram Ashraya
Fans of South Indian cuisine will have a gala time at this simple but extremely popular restaurant that is located right next to the Matunga railway station. This place has been here for decades now and has a loyal fan-following. It opens as early as 5 AM and you can see people flocking here for breakfast before dawn too! Do give their Idli Podi a shot.
Location: 24, Shreeji Sadan, Bhandarkar Marg, Opposite Matunga Kabutar Khana, Matunga, Mumbai, Maharashtra 400019
Timings: 5 AM to 9.30 PM
Travenix Rating: 3.0/5
Conclusion
Have you been to any of the above-mentioned destinations in Matunga? If so, do let us know how your experience was in the comments section below. Do you have any tips or place recommendations for tourists visiting Matunga? Do write them in the comments so that they can explore these places when visiting Mumbai.
Latest posts by Vibha Sharma
(see all)