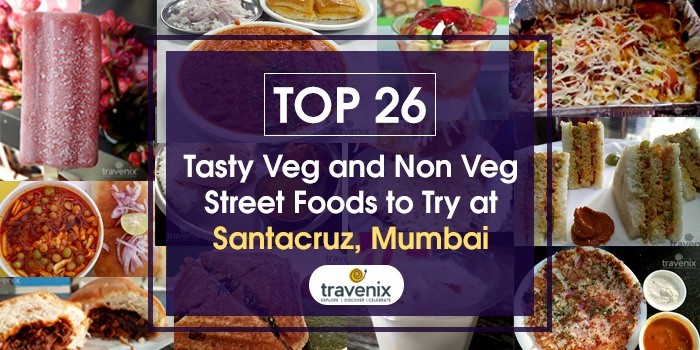 Top 26 Tasty Veg and Non Veg Street Foods to Try at Santacruz – Mumbai
The word 'Santacruz' originates from Portuguese, and means "Holy Cross". This is a reference to a 150 year old cross located in this area. The area has one campus of Mumbai University and is in proximity to the Domestic Terminal of The Mumbai Airport. It is densely populated, and to cater to this huge market, there are lots of street food stalls and restaurants. The area is flooded with people during the day and boasts of a few of the most famous street food joints of the town, most of which are quick service food joints that enable people to grab food on the move.
Cruise through the food of Santacruz!
Santacruz is dotted with street food stalls– many of them in the proximity of the Railway Station, which is always full of life. It is very rare to find any of these stalls empty for a while. Most of these places are very reasonably priced and the food quality in most cases surpasses one's expectations. Here, we've compiled a list of few of the best stalls in the area specially for you!
1. Chili Garlic Nachos- Cheelizza
The nachos here make you fall in love with them right from the first bite. These crunchy, tangy nachos topped with masala make your taste buds jump with each bite. My god, the flavor is just splendid. Melted cheese is generously spread uniformly over the nachos and is topped with finely chopped capsicum, tomatoes and onions. The sauce used is appropriately spicy and the garlic flavor leaves a lasting impression. The overall combination is one that will be loved by one and all.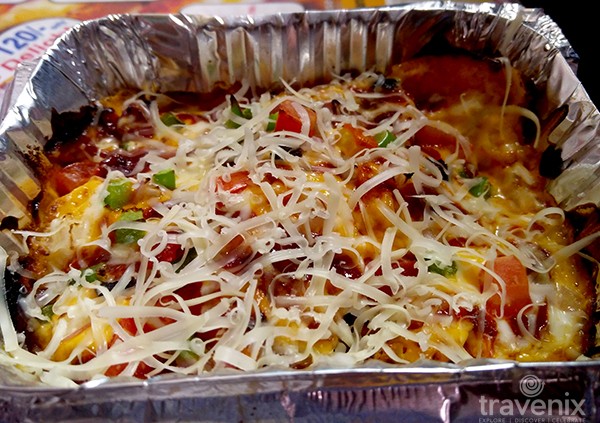 Where: Shop 1&2, Pratap Society, opp Jain Mandir, Shivaji Nagar, Santacruz East
Price: ₹ 99.00
Rating: 4.5/5
2. Samosa- Radha Krishna
The crunchy samosas here hit your taste buds bang on. The secret lies in its masala which is quite different from the rest, and gives the flavor a different twist. The potato and peas filling is mashed properly and cooked well, making each bite soft and satisfying. These samosas are served sizzling hot with sweet and spicy chutneys which have their own strong flavors and go along very well even if mixed together. Available for just INR 12, you won't be able stop at one!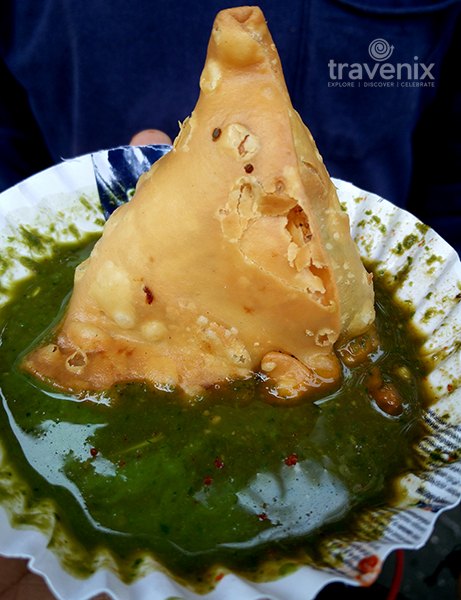 Where: Nehru Road, Opposite Dena Bank, Santacruz East
Price: ₹ 12.00
Rating: 4.3/5
3. Sweet Lassi- Radha Krishna
If one is asked to describe this lassi in one word, the word would be divine. Thick and smooth, smothered with a thick layer of Malai, this is the perfect Punjabi lassi that one would find at the dhabas. The taste is a perfect balance of sweet and sour, and the grated almonds as toppings enhance the taste and give it a royal look. This lassi gives off a homely feeling and is made so well that one would actually have to put in some effort to not like it!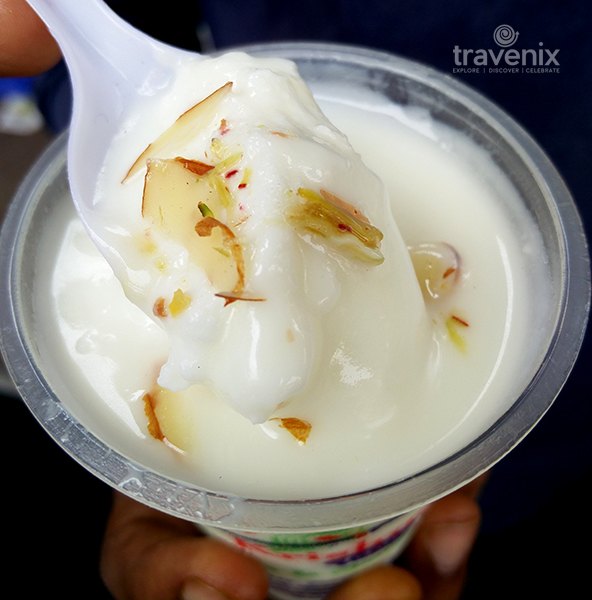 Where: Nehru Road, Opposite Dena Bank, Santacruz East
Price: ₹ 35.00
Rating: 4.3/5
4. Spinach Corn Sandwich- Sandwizzaa
This decade old sandwich chain started off right here and is still a small stall that serves swelling crowds. The interesting combination of spinach, corn and cheese in a sandwich makes this worth trying, and oh boy, they make this so well! The soft cheese and the bursts of juices of the corn fill your mouth with each bite. The well-cooked spinach has a mild taste and combines well with other ingredients to deliver an amazing flavor. The sandwich is served with garlic and coriander chutneys that go well with the dish. Every sandwich here is unique and worth a try, probably the reason why it's crowded all the time.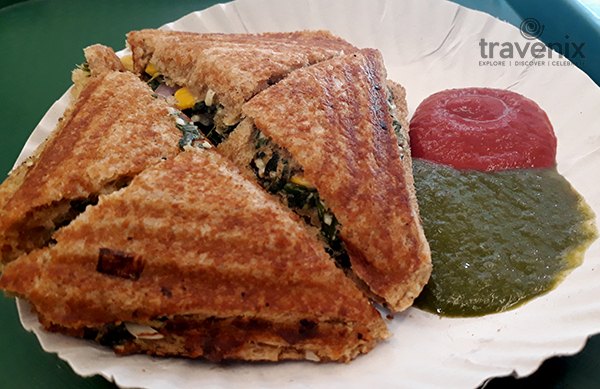 Where: Station Road, Willingdon, Santacruz West
Price: ₹ 90.00
Rating: 4.2/5
5. Pink Grape Fruit Popsicle- Avarya
What better way is there to beat the summer heat than a Popsicle? The taste of real pink grapefruit can be felt with each lick. The Popsicle has a grainy texture and is made from the real fruit as one can actually see the seeds in it! The quantity of sugar added to this is quite less, yet it is perfectly sweet.  This simple dessert ensures a heavenly experience and helps you cool off.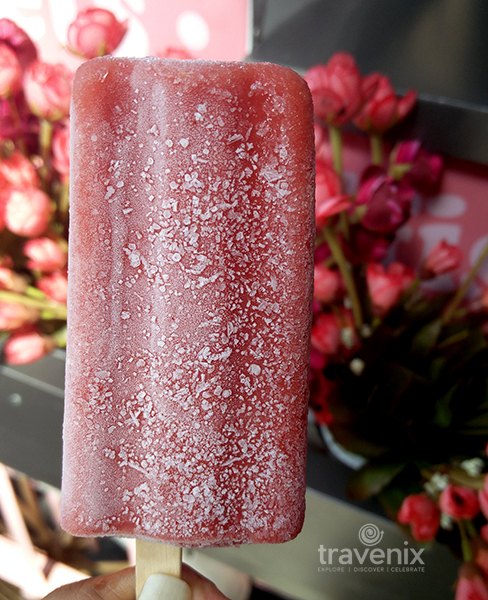 Where: 8, King's Acres CHS Ltd, Saraswati Road, Near Podar International School, Santacruz West
Price: ₹ 50.00
Rating: 4/5
6. Gadbad- Tender Fresh
Gadbad turns out to be rather the opposite of what its name means. It consists of three layers of ice cream- Malai, Mango and Dry fruit, and has dry fruits, tutti-frutti and jellies as toppings. Fresh fruits like Watermelon, Mango and Papaya are also added to give this a very fruity feel. With such an exciting blend of ice creams, toppings and fruits, how can the taste buds not feel satisfied? Even though they have 21 branches in the city, this dessert is ONLY available at the Santacruz branch, which makes it all the more special.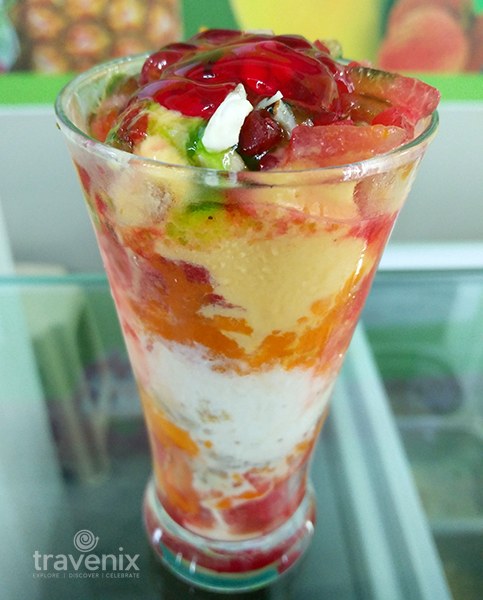 Where: 71-A/B, Saraswati Rd, Santacruz West
Price: ₹ 100 (half)
Rating: 4/5
7. Chicken Shawarma- Hot Seekh
The pita bread is soft and melts in one's mouth. The marinating of the chicken is done extremely well here, which is reflected in its taste. Accompanying the chicken are cabbage and beetroot, which are then topped with mayonnaise and fiery red chili-mayo sauce, which makes it spicy yet delicious. The quantity of each ingredient is such that it doesn't overshadow the taste of others. The serving size is well worth the cost of the dish, and the place is extremely crowded during evening hours. All the chicken lovers out there, this one is for you!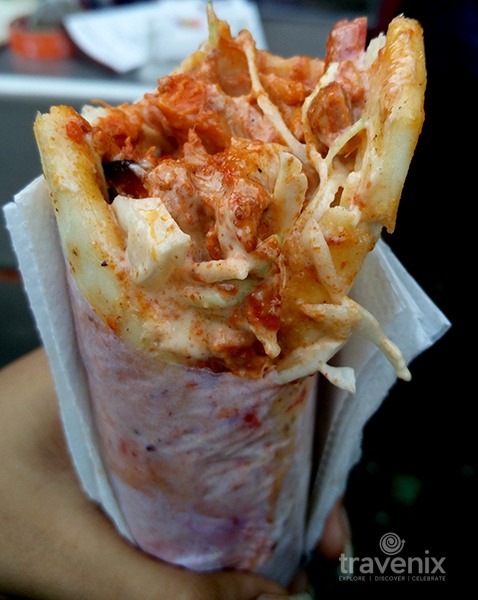 Where: Near Nani Bungalow, opp Gulab Nabi Manzil, 2nd Hasnabad Lane, Santacruz West
Price: ₹ 110.00
Rating: 4/5
8. Vada Pav- Maharashtra Vada Pav
This is the typical Vada Pav that one can find all across the city. The filling of the vada has mashed potato and green chilies. The differentiating factor here is the chutney used, white coconut chutney is used instead of the coriander chutney, and this gives you the best of both worlds. The chutney enhances the taste of the dish by giving it a South Indian twist. It has a very homely feel attached to it, which stands out as the USP of this place and is probably the reason for its popularity.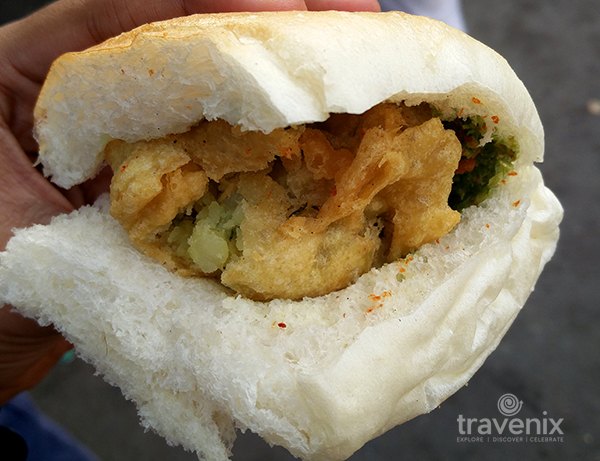 Where: Om Sai Maharashtra Vada Pav, Santacruz East
Price: ₹ 13.00
Rating: 3.8/5
9. Sev Puri- Ram Shyam Bhelwala
This stall is present here since the past 57 years. It's definitely a favorite among all 4 generations of people. The puris are crisp and the chutneys have strong flavours that linger in your mouth for long. Chaat masala and "kachha" mango are sprinkled on the puris and add the perfect amount of sourness and spice to the dish. The rest of the ingredients are all regular, but the proportion of the chutneys is such that it feels sweet at first and spicy later. All puris are homemade and this sets them apart from others. Surely, a dish relished by thousands for over 50 years can't be bad, can it?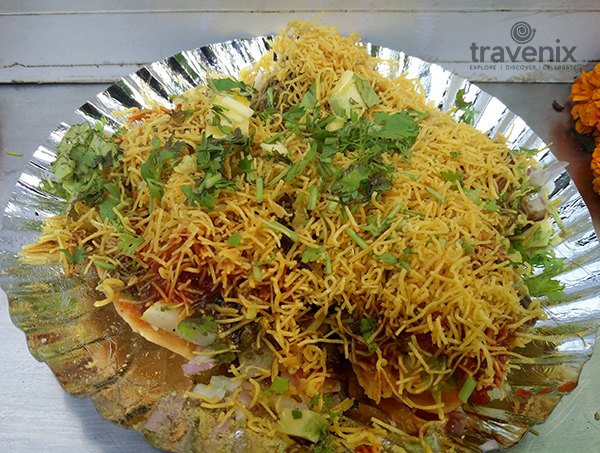 Where: North Avenue, Santacruz West
Price: ₹ 70.00
Rating: 3.7/5
10. Silly Chilli Sandwich- Bhatia's Kreazy Kreams
Only a silly person won't like the Silly Chili Sandwich. The sandwich bread is fresh and soft and melts with every bite taken. The filling of the sandwich includes the standard set of vegetables that can be found in most sandwiches, with the exception of capsicum – which isn't found everywhere. The sauce used in the sandwich is chili mayo sauce, which is really hot. The chutneys here are unique; one is the standard coriander chutney while the other one is a mixture of red chili and jeera – a combination that is rarely seen. Individually the sauce and the chutneys are not that spicy, but if the sandwich is dipped in the chutneys, your mouth will definitely demand water. The onion flavor is quite prominent but doesn't overshadow that of the other vegetables. The overall taste is savory but spicy.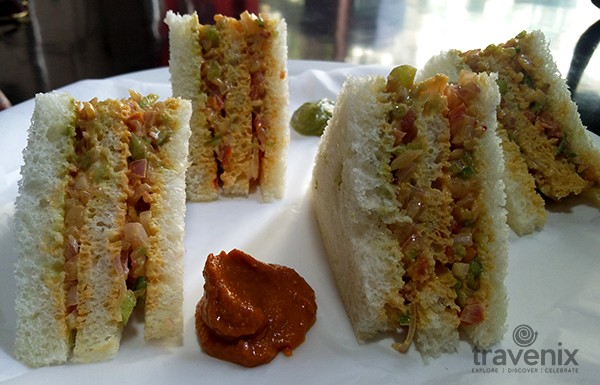 Where: St Anthony Church Road, Santacruz East
Price: ₹ 70.00
Rating: 3.5/5
11. Cheese Toast Sandwich- Jai Maharashtra Sandwich Center
Everything here is unique, right from the sandwich to the chutneys. One chutney is made from mint leaves, which isn't found often, and the other is made from garlic and is spicy. This combination of cool mint and hot garlic is great. The sauces used in the sandwiches are not the ones typically used and give a different twist to the sandwich flavor. The potato filling is well cooked and adds up to the overall experience. This place is well loved, and the crowds show it.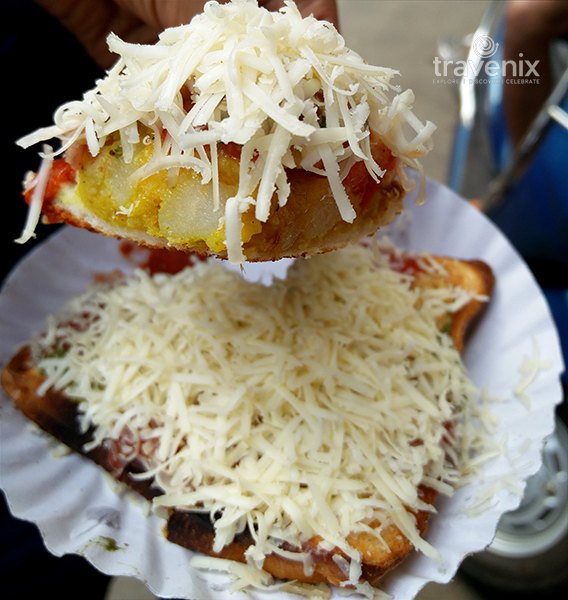 Where: Shivaji Nagar, Beside Jain Mandir, opp Chilliza, Santacruz East
Price: ₹ 25.00
Rating: 3.5/5
12. Pav Bhaji- Laxmi Sweets
The Bhaji is very well made and is a perfect concoction of all vegetables, which are properly mashed and sprinkled with spices to make it a fiery experience that goes perfectly with the utterly butterly delicious Pav. The Pav is fried on the tava in butter with special masala added to it, which gives it a lip smacking flavor, even if eaten without the bhaji. Go ahead and try this typical Mumbai dish!
Where: Modi Chawl, opp Shagun Showroom, Station Road, SV Road, Santacruz West
Price: ₹ 70.00
Rating: 3.5/5
13. Mango Juice- Ramji Solkar
The mangoes used for this juice are Badami mangoes. The juice is made fresh and feels so natural that it gives you the feel of eating a real mango. The sweetness of the juice is the natural sweetness of the mango due to the low sugar content. A glass of this juice is cooling and very refreshing, it helps beat the summer heat. The consistency of the juice is similar to that of aamras, which makes it a delightful experience. The pricing and the taste are such that you just can't stop with one glass.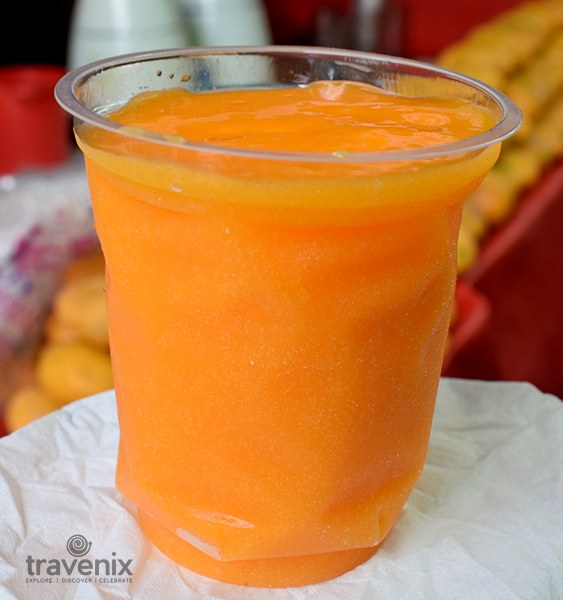 Where: Datta Mandir Road, Vakola, Santacruz East
Price: ₹ 10.00
Rating: 3.5/5
14. Onion Uttapam- Shabari Veg. Restaurant
The highlight of this dish is the fresh coconut chutney which has the right amount of spices added to it and gives off a homely feel that makes you instantly fall in love with it. The traditional sambhar has great consistency and flavor. Drumsticks and other vegetables present in it add to the aroma of this dish. The uttapam is so well cooked that it is crispy when you bite it, but is soft on the inside, it's just perfect. It is topped with onions, coriander and green chilies and despite this, is not very spicy. The onions actually add a hint of sweetness to it and ensure that it can be relished by one and all. This dish is great value for money and the quality is top notch, which can usually be found only in South India.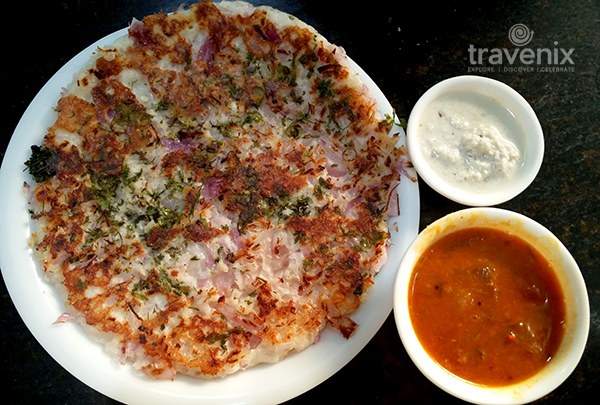 Where: Shop No. 4 & 5, Balaji Darshan, Tilak Road, Santacruz West
Price: ₹ 85.00
Rating: 3.4/5
15. Chicken Croissants- Vienna Snacks Bar
This bar is present here since 1959 and is loved by thousands of customers. You just can't go wrong with the food here. The chicken pieces are so tender that your teeth will hardly have to put in any effort to bite. The taste is slightly sweet and salty, with a hint of herbs. The chicken is cut into strips and served, and tastes a lot like Butter Chicken. It goes perfectly well as a snack with a cutting chai. The quantity is more than what one can bargain for at this price.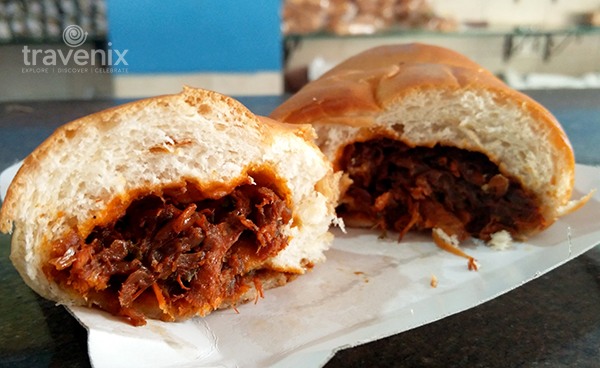 Where: 125, Vakola Pipe Lane, Behind St. Anthony Church, Siddharath Nagar, Santacruz East
Price: ₹ 28.00
Rating: 3.2/5
16. Delhi Chaat- Sharma Fast Food
Patties, curd and lots of vegetables make up this delicious chaat. The fresh and cold curd has perfect consistency and makes the whole experience delightful. The dish is topped with sev, which makes each bite crunchy as well. The patties here are made to perfection with the perfect blend of masala, spices and well cooked potatoes, with minimal oiliness in spite of being fried. The additional taste of coriander enhances the overall taste of the dish. The serving size is worth the money spent, and this place adored by people around.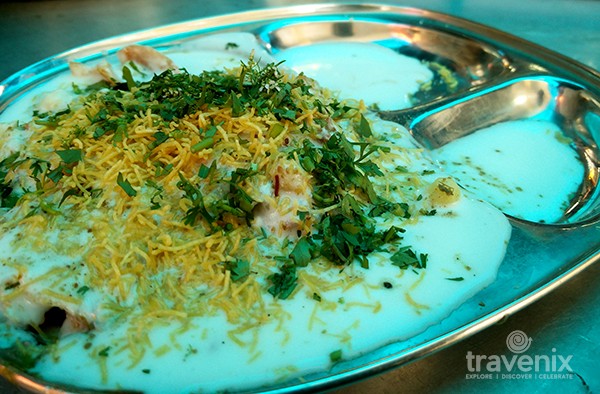 Where: Station Road, opp Mahavir, Santacruz West
Price: ₹ 50.00
Rating: 3/5
Recommended Combination: Dishes Related to Dahi
17. Chinese Dosa- Sai Krupa Dosa Center
This fusion of the famous South Indian dish with noodles is slightly sweet. The best part, however, is that you get to decide the quantity of sauces added according to your requirements! The noodles here are cooked well, and the vegetables are cooked on the dosa itself! The vegetables can be served stuffed inside the dosa or separately. The masala is very mild here and gives it a true Chinese taste which almost completely depends on the flavor of the vegetables. Along with dosas, this stall also serves Vada Pav.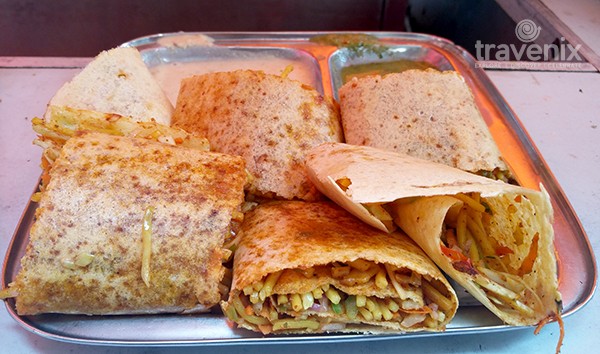 Where: Station Road, opp Bata, Santacruz West
Price: ₹ 70.00
Rating: 3/5
18. Sweet Lassi- Energy Center
This chilled lassi gives you much needed relief from the scorching summer heat. The lassi is sweet but not very thick in consistency. A thick layer of malai on top makes the lassi smooth and gives it a proper Punjabi feel. It is topped with various dry fruits which are sure to give your taste buds a variety of flavors with each sip! This is the perfect savior in this season.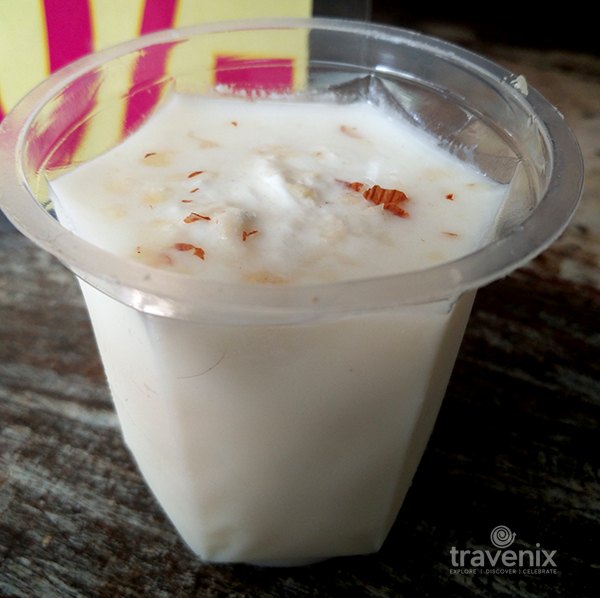 Where: opposite Raymonds, Santacruz West
Price: ₹ 25.00
Rating: 3/5
19. Chilled Pani Puri- Shyam Lal Gupta
The puris here are crunchy and perfectly round, and truly irresistible. The filling, made of chick peas and potatoes, is very well cooked and complements the taste of the puri. The pudina water is chilled and spicy here too, with a hint of coriander. It gives off an overall cooling effect and leaves you wanting more. After all, we all love Pani Puris, don't we?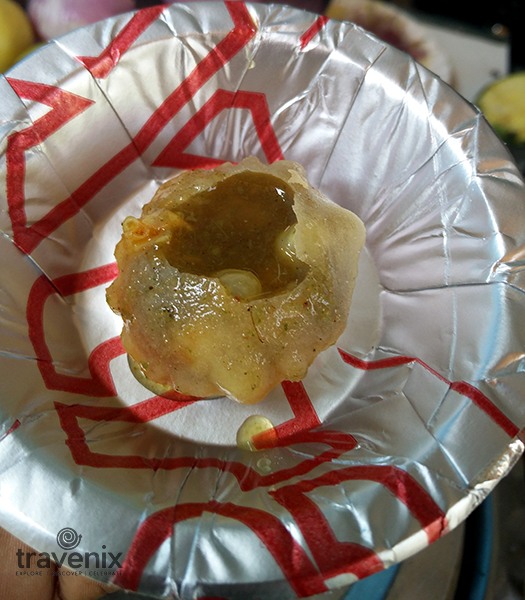 Where: Modi Chawl, opp Season Showroom, Station Road, SV road, Santacruz West
Price: ₹ 30.00
Rating: 3/5
20. Chicken Thali- Sai Food Center
The chapatis here are large, thin and very well cooked; they simply melt in your mouth. The chicken is very well marinated and has strong flavors of masalas. The gravy can be improved as it seems to be very thin, but doesn't affect the taste and can be neglected to a certain extent. The dal isn't really upto the mark and lacks flavor though. The rice is very well steamed and its combination with the chicken is delicious. Overall, it's a pretty good thali that's very reasonably priced; this price tag is perhaps able to lure more customers here.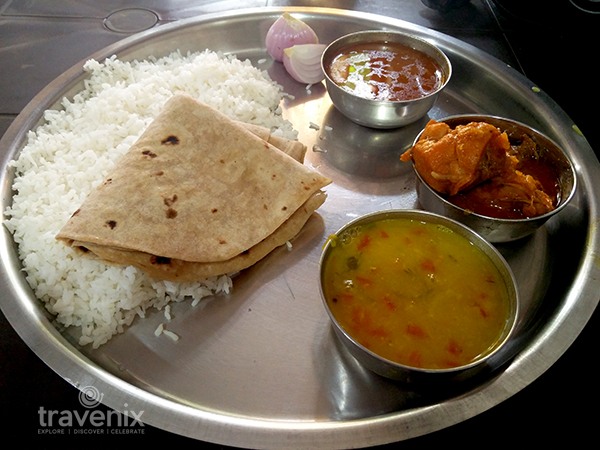 Where: Nehru Road, Santacruz East
Price: ₹ 70.00
Rating: 3/5
21. Misal Pav- Hotel Priyanka
The gravy here has an excess of misal and lacks usal. The flavor is very mild in the beginning but the overall taste is spicy. The misal is crunchy and the excess quantity makes the whole dish a crunchy affair. The Pavs used here are fresh and soft; they add to the overall experience. The combination of Pav and Misal is great but individually, the misal is a disappointment. One serving should be enough to satisfy your hunger pangs.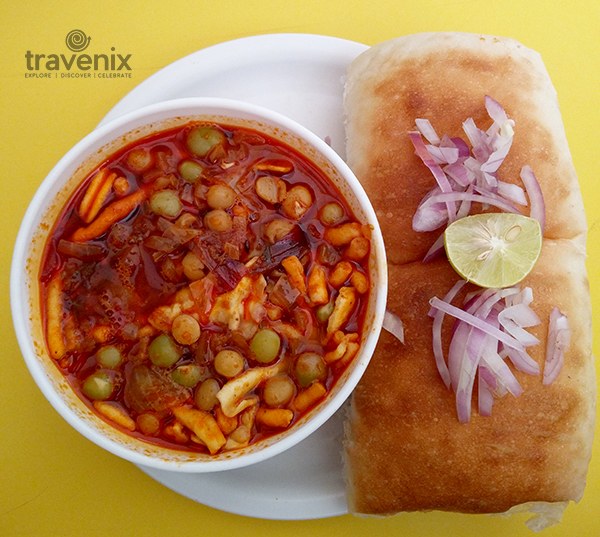 Where: Nehru Road, Santacruz East
Price: ₹ 45.00
Rating: 3/5
22. Pav Bhaji- Tiffany Veg. Restaurant
The Pav is fried so well that it soaks in all the butter and has a smoky flavor in the first bite. Beyond this, the masalas take hold of your taste buds and make you crave for more. The combination of Pav and Bhaji is awesome thanks to the masalas used that give this regular dish a very different and delectable flavor.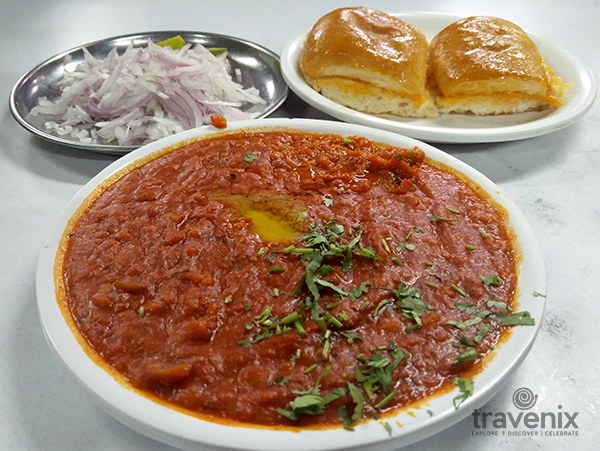 Where: Station Road, Santacruz East
Price: ₹ 90.00
Rating: 3/5
23. Vada Pav- JP Vada Pav
Fresh Pav along with a delicious filling of Vada is the highlight of this simple dish served here. The Vada isn't very oily, but requires better cooking as one can feel the raw potato in a few bites; however, it doesn't spoil the overall experience.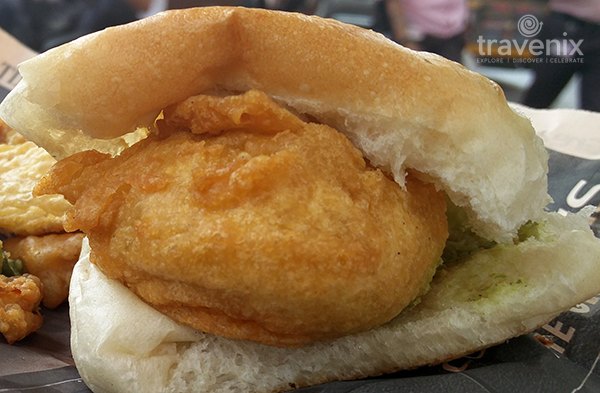 Where: Shop No. 1, 2nd Gaothan Lane, Station Road, Near Sarswat Bank, Santacruz West
Price: ₹ 15.00
Rating: 2.5/5
24. Bhajji- JP Vada Pav
The spinach used in this is fresh and feels good when eaten. The proportion of the batter and spinach is just perfect. The fried onions are well cooked and give a mildly sweet flavor to the dish. The potato bhajji includes thick potato slices which are coated with gram flour mix and are very tasty, but can be better if served warm. Go ahead and try the wide variety of bhajji available here!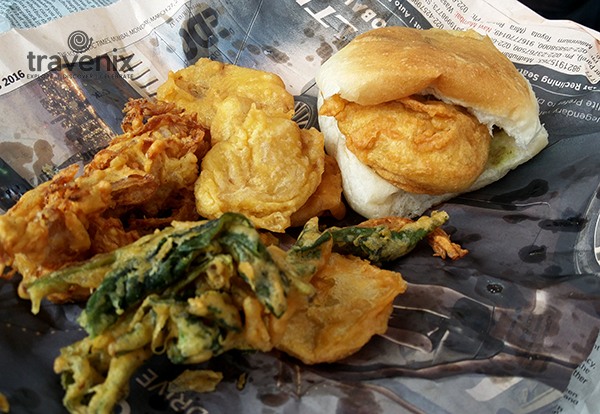 Where: Shop No. 1, 2nd Gaothan Lane, Station Road, Near Sarswat Bank, Santacruz West
Price: ₹ 15.00
Rating: 2.5/5
25. Spicy Burger- Burgbite
Fresh home-made buns at a small street side stall? Yes! Everything is made by them here.  The patty is thin but has an interesting stuffing of peas, tomatoes and corn and exceeds expectations. Lettuce is replaced with cabbage here and reduces the overall bitterness but doesn't really impact the taste.  The mayo sauce is smooth and has a hint of lemon that goes well with the tomato sauce. The burger is slightly on the spicy side and is worth the money spent. In addition to all this, you get to see your burger being prepared right in front of you. Cool, right?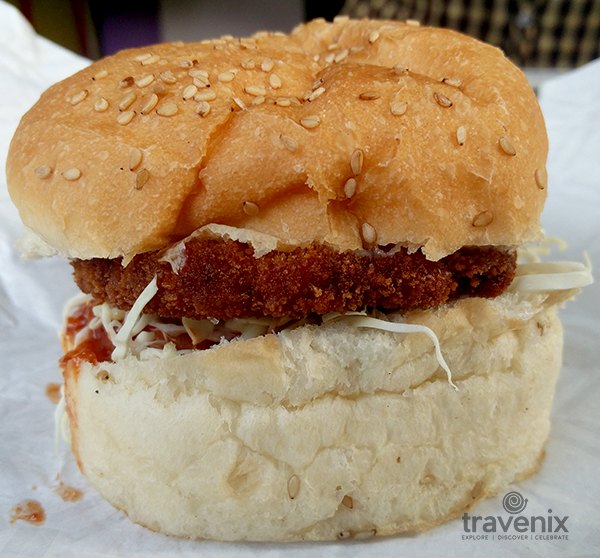 Where: Tilak road, near Station 4th Shop, Santacruz West
Price: ₹ 40.00
Rating: 2.5/5
26. Dhokla- Rajput Sweets
Ah! Give a man some soft and juicy Dhoklas with sweet and spicy chutney and he won't ask for anything else. The Dhoklas here look fresh and soft, but aren't really as fresh as they appear to be. The taste is the standard and there is nothing out of the ordinary. The sweet chutney that accompanies the Dhoklas though, is fresh and delicious. If the Dhoklas are made fresh and served, perhaps the overall experience would be much better.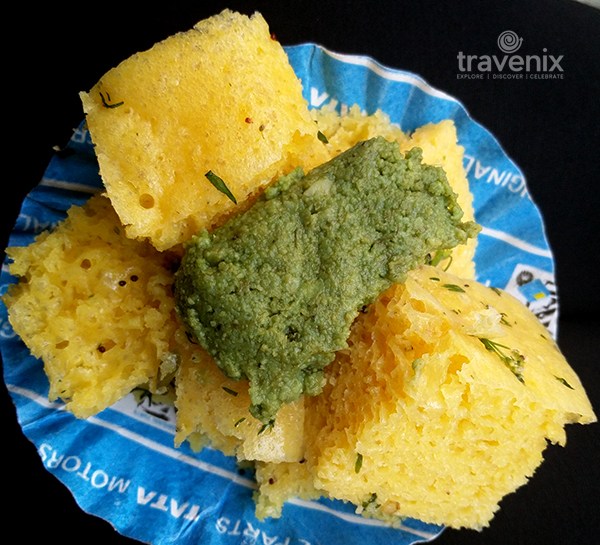 Where: Datta Mandir Road, Vakola, opp Krishna Galaxy, Santacruz East
Price: ₹ 20.00
Rating: 2.5/5
We're sure that after going through this list, it'll be very difficult for you to resist the temptation to proceed to Santacruz right away and try the amazing variety of dishes that this area has to offer. If you have visited any of the aforementioned places or do visit them after reading this article (Which we're pretty sure you will) and if you think that we have missed out on a place in this area which stands out and would like to share information about it with your fellow readers, then please share your feedback on the same in the comments below.
Latest posts by Vibha Sharma
(see all)