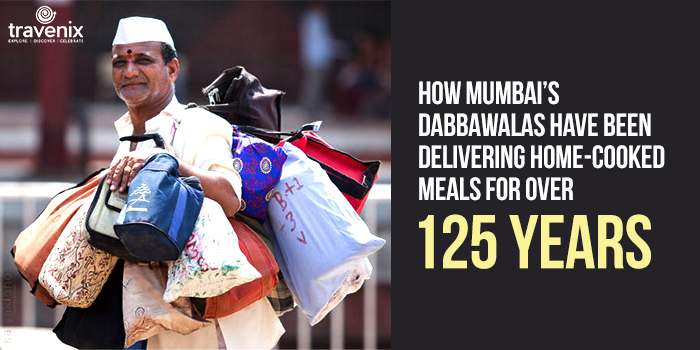 How Mumbai's Dabbawalas Have Been Delivering Home-cooked Meals For Over 125 Years
Much before Swiggy and Zomato came to the national scene, Mumbai's dabbawallas had their own lunchbox delivery service. This 125-year-old lunch delivery service takes home-cooked meals to more than 200,000 Mumbaikars. They've garnered praise from Prince Charles and have been studied by FedEx and Virgin Atlantic. So, what makes Mumbai dabbawallas so popular?
Delivering Excellence
If you've seen the movie The Lunchbox, you're probably familiar with how they work. Dabbawallas collect lunch boxes from home and deliver them to offices. In a city like Mumbai, where office-goers have to leave at 6 or 7 am to reach office on time, Dabbawallas ensure that everyone gets home-cooked meals on time. They are known for their precision, efficiency and are termed as masters of logistics. They've even been the subject of a Harvard case study, and are often considered as a six sigma organization.
When And How Did Mumbai's Dabbawallas Start Operations?
In the 1890's, Mahadeo Havaji Bachche, a banker who had just moved to Mumbai was looking for a way to get his home-cooked meals delivered to his office. His office was in Mumbai's old business district, Fort which is at the South of Mumbai. His home wasn't close, so he couldn't return home during the lunch hour.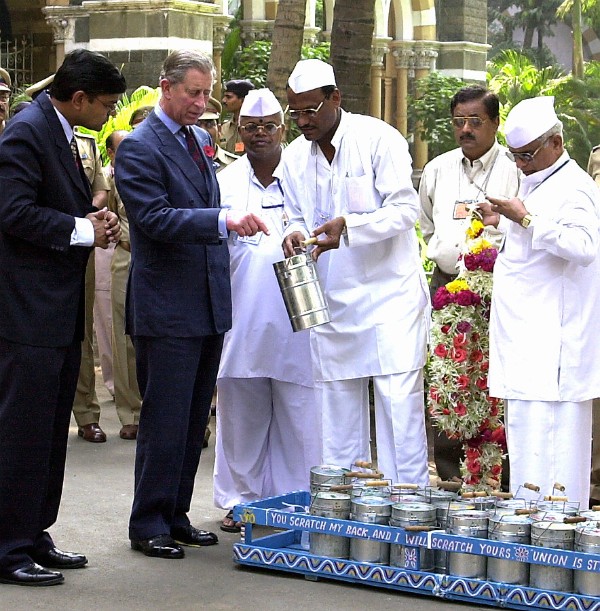 To solve this problem, he hired a man to deliver his lunchbox from his home to his office every afternoon. He just paid a few annas for that at that time. But as the idea caught the fancy of others, the concept turned into a full-fledged business. Today, their business is worth Rs 40 crores. Their organization employs 5,000 people who deliver 2,00,000 lunch boxes every day!
How Have They Sustained For So Many Years?
They have never put up advertisements or done any kind of publicity. Their business runs only because there is a genuine need for the service that they provide. Mumbai is home to big corporate offices and most of the office-goers have to catch early morning local trains. It's inconvenient to prepare meals so early, so the concept just solves a daily problem.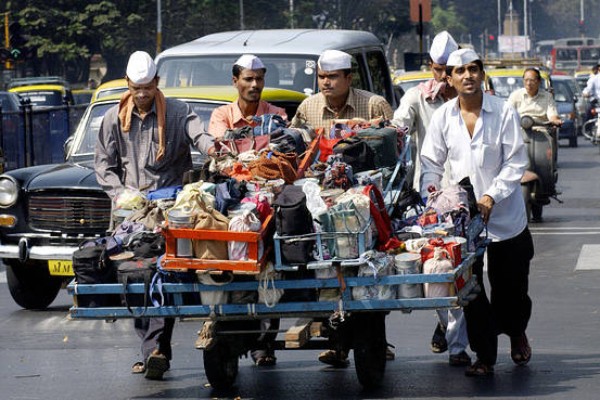 Also, most people cannot afford to eat out every day. Even for health reasons, many people prefer to get food from home. So, even with restaurants and cafes cropping up in the city, their business has not really been affected.
The dabbawallas charge only Rs 450 per month for their service, so it's definitely an affordable alternative. Those who stay alone or do not have anyone at home who can cook food for them can get food delivered from their in-house kitchen.
What's Unique About Their Management?
Even though most of the dabbawallas are not very well-educated, their delivery system is very systematic. It is low on technology but high on managerial perfection.
All the dabbawallas use only Mumbai's local trains to get all the lunch boxes delivered. All the three railways networks — Western, Central, and Harbour — cover areas from the farthest suburbs to the southern tip of the city. Each dabbawalla makes 35 deliveries every day.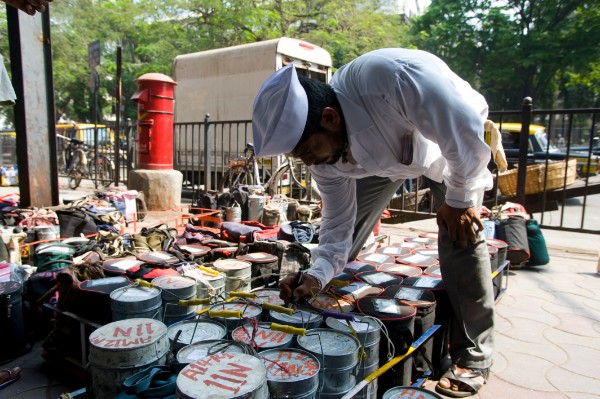 Each lunchbox is taken to the nearest railway station and handed over to a local dabbawalla. The lunchbox is taken from there to the office on a bicycle. After lunch, or on the next day, the lunch boxes are collected and sent back.
The lunchboxes are marked with unique color codes to indicate the delivery addresses. At the center of the lunchbox, a number is mentioned in bold. This indicates the neighborhood that the lunchbox is to be delivered in. Color and motifs indicate the railway station of origin for the lunchbox. On the lid, a few characters are marked which show the exact office address with details like floor number and name of an office building.
They pride themselves in delivering lunchboxes on time without any misplacements and efficiency. They have earned a near six-sigma perfection. They make just one error per 16 million deliveries!
Who Are The Dabbawallas?
It's easy to spot a dabbawalla from a distance. A white uniform paired with a white cap has been their uniform for years.  You are most likely to find them on a bicycle or in a train carrying several lunch boxes.

Most of these dabbawallas come from villages near Pune. They all belong to the Maratha community and call themselves the soldiers of the Maratha King, Chhatrapati Shivaji Maharaj. They are highly motivated and are extremely dedicated because they view their job as a service to God.
Most of them haven't studied beyond class 10 but they are taken into the organization because of their strong work ethic. They are all equal shareholders in the company, so there is a powerful sense of ownership among them.
If you are interested in knowing more about them, you can actually go for their special 'A Day With Dabbawalla' scheme where you can understand the nitty-gritty of their business up-close.
What do you think about Mumbai's dabbawallas? Please give us your views in the comments section below.
Image Credits: India Travel Info, Time, BombayJules, Mukesh Parpiani 
Latest posts by Vibha Sharma
(see all)