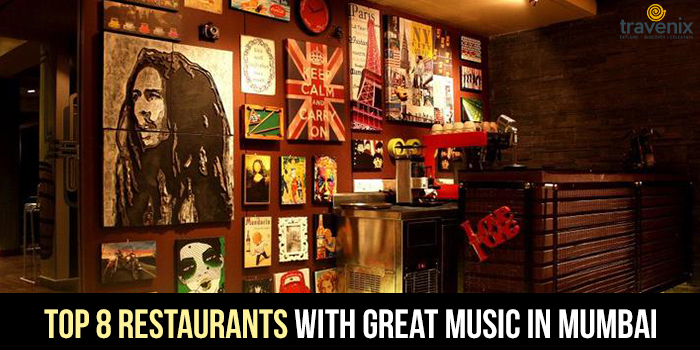 Top 8 Restaurants With Great Music In Mumbai
For a lot of us, eating out isn't just about food. It's about having fun and enjoying the ambiance in the restaurant. Restaurants with great music automatically earn themselves some brownie points for keeping the atmosphere lively.
It's Music To My Ears!
Many a times, we've been lured by the promise of an exciting evening complete with the best of rock music, only to be greeted by loops of awful records. But you don't have to go through it ever again. We've listed down some of the restaurants in Mumbai that are known to play great music. Whether you're a fan of rock, jazz, pop or indie rock, there is something for fans of each genre on this list.
1. Toto's Garage
This watering hole in Bandra plays only classic rock music. If you consider Jimi Hendrix, Pink Floyd and AC/DC as the ultimate Gods of music, you will definitely love Toto's Garage. Also expect a mix of alternative rock music as well as metal music to surprise you from time to time.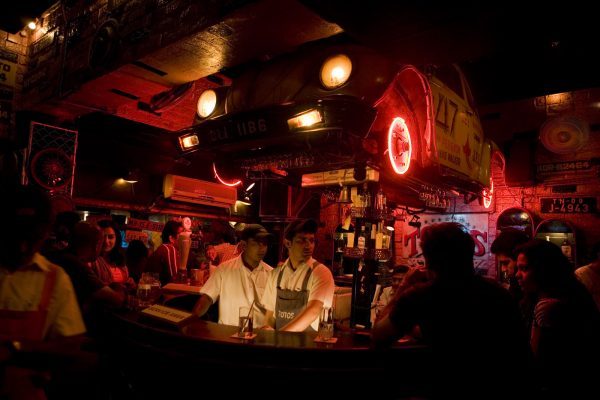 The showstopper at this garage-themed bar is the iconic Volkswagen Beetle on display which is toppled upside down. Beer and great music is what keeps the atmosphere lively at Toto's Garage, but be ready to wait in queue to get inside on weekends.
Where: 30, Lourdes Heaven, Pali Junction, Pali Hill, Bandra West Pali Hill, Pali Hill, Bandra West
2. Doolally Taproom
Doolally Taproom in Bandra and Andheri is the epitome of all good things together: fine beers, lip-smacking food, a comfortable space for pets and some amazing music.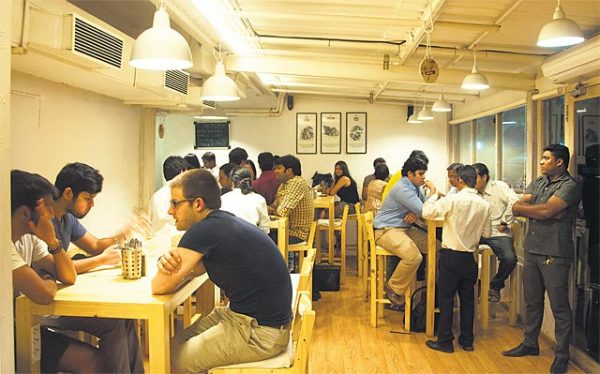 Doolally Taproom's outlets across the city have some event always going on: from painting workshops to live music performances, it's always a happening place. If you are a pet lover, keep an eye out for their adoption drives too.
Where: Bandra, Andheri
3. Cafe Mondegar
Cafe Mondegar or Mondy's, as locals call it, is covered in quirky murals that lend its otherwise retro look a modern uplift. Painted by the renowned artist Mario Miranda, these murals tell a story — they depict everyday scenes from the life of Mumbaikars and show what a good evening at the restaurant looks like.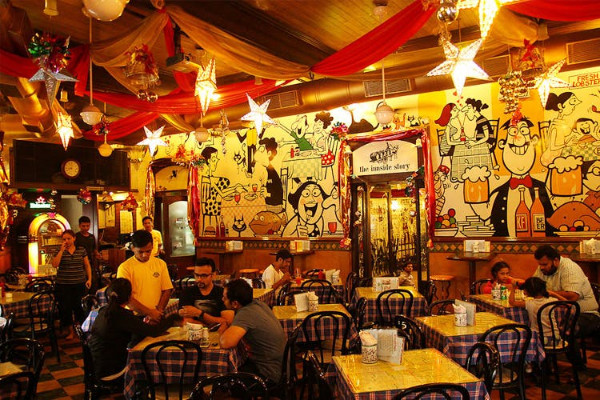 It is one of the oldest restaurants in Mumbai and also the first restaurant to house a jukebox in the city. Expect a great mix of classic rock numbers to pep you up while you sip some beer or dig into their kheema pav.
Where: 5A, Metro House, Shaheed Bhagat Singh Road, Colaba
4. Cafe At The NCPA
NCPA is a cultural beacon that is one of the best places to watch plays in Mumbai. In its premises, there is a small cafe as well which is known for its delicious food and great music. Enjoy falafel gyro rolls, pita pockets or a cup of coffee with some classical music playing in the background.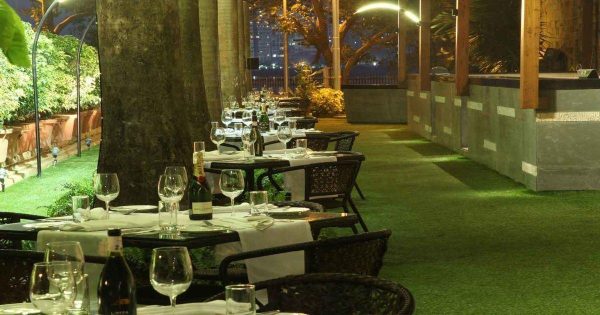 Apart from fans of Liszt and Rachmaninoff, jazz lovers too will enjoy the music collection at this open air restaurant.
Where: 2, Dorabaji Tata Rd, Nariman Point, Mumbai
5. Hard Rock Cafe
If you're talking about music and geat food, you can't really skip Hard Rock Cafe ever! All across India, Hard Rock Cafe's outlets are known for rock band performances and a lively atmosphere.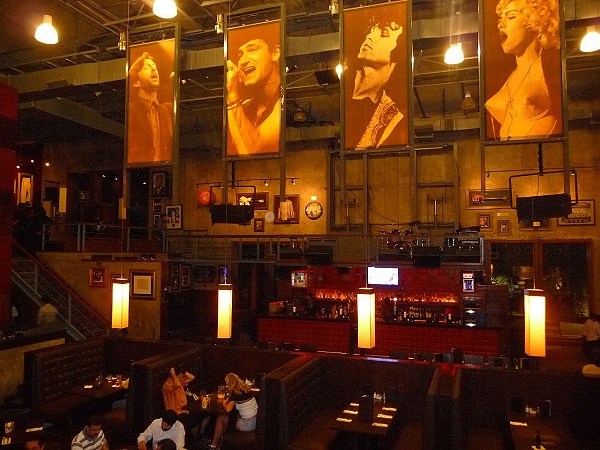 Hard Rock Cafe's Worli branch also has karaoke nights on Wednesdays where you can sing all your favorite songs too. It is also one of the best places for live music performances in Mumbai.
Where: Wadia International Center, Bombay Dyeing, Pandhurang Budhkar Marg, Worli
6. Bonobo
This rooftop pub in Bandra is one of the places that gives Mumbai a tag of offering a happening nightlife. You'll always find some people on the dance floor swaying to the best of new songs, but Thursday nights are special.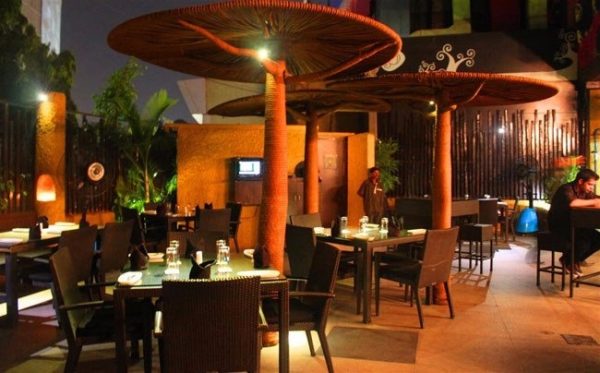 They are dedicated to the goodness of retro music. Sit back, sip on your favorite cocktails and let the music take over you!
Where: 2nd Floor, Kenilworth Mall, Phase 2, Off Linking Road, Behind KFC, Bandra West
7. Cafe Delhi Heights
Fridays and Saturdays are the best days to visit this casual dining restaurant in Lower Parel. Retro House and EDM music rules the playlist here, but sometimes they even host some local bands for live music evenings.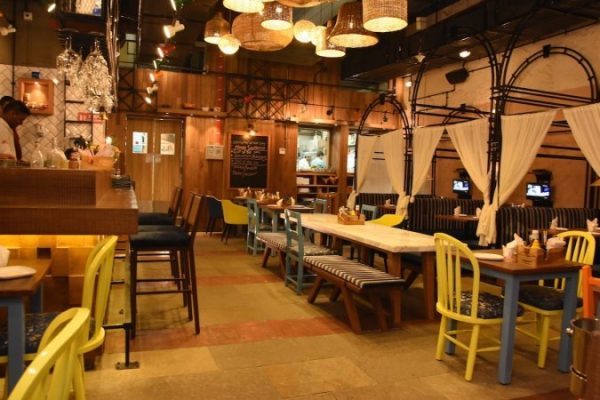 Apart from delicious quick bites, they also have signature coffee mugs and polo shirts that you can buy from their in-house shop.
Where: Unit 2, C.S. 448, Ground Floor, Kamala Mills Compund, Senapati Bapat Marg, Lower Parel
8. Road House Bluez
Road House Bluez's playlist is all about classic rock, pop and alternative rock. It's like a complete time-machine: an attractive red wall flaunts posters of music icons and bands, while the dim lighting only adds to the retro theme.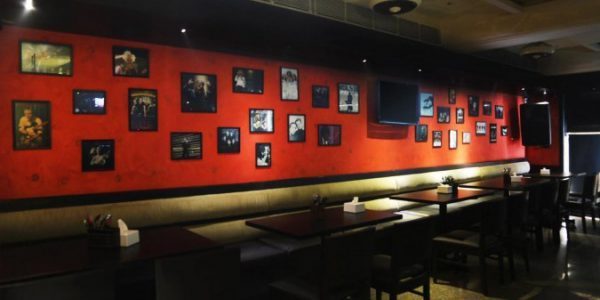 They also have special live performances as well as screening of matches; so if you're planning to go there, check their event schedule beforehand.
Where: Ground/1st Floor, Tokyo House, Next to Andheri Sports Complex, JP Road, Azad Nagar, Andheri West
Image Credits: ScoopWhoop, HighApe, LBB, Hindustan Times, WhatsHot Delhi NCR, Beat's Hard Rock Cafe, Zomato
Latest posts by Vibha Sharma
(see all)