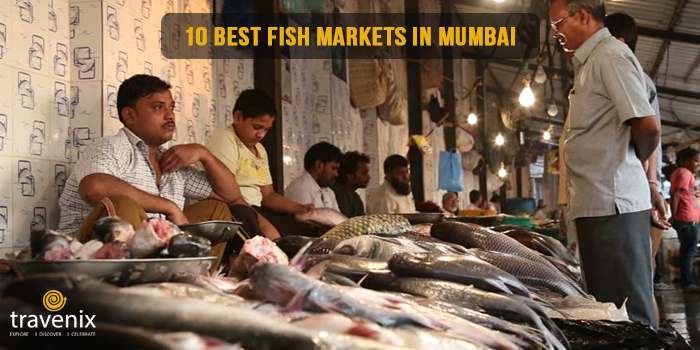 10 Best Fish Markets in Mumbai
Seafood is one of the most important elements of the human diet, and is commonly found in coastal cuisines. Mainly consisting of various types of fish, this section of food also includes various mollusks and crustaceans. The best place to buy this is the fish market where you can get fresh catch from the sea every day.
Food From The Sea
Mumbai is located on the Arabian Sea, and thus is a city where you can get fresh seafood daily. Various markets have opened up across the city, where fisherfolk come to sell their catch. Here, we have listed down the best places in the city to buy fish and other seafood.
1. Malad Fish Market
Located in the bustling area of Malad, this fish market is located very close to the Malad Station and can be accessed easily. Whether you are looking to buy pomfret or bombil, this market has it all. Do keep in mind that you will need to bargain in order to get a good deal.
Where: Near Malad Railway Station, Sainath Marg, Vijaykar Wadi Industrial, Vijaykar Wadi, Malad West, Mumbai, Maharashtra 400064
Timings: 6 AM – 10 PM
2. Dadar Fish Market
Located very close to the BMC building in Dadar, this fish market is the go to place for all the fish lovers of Dadar. While it is difficult to find freshwater fish in this market, you can find many of the common ones from the Arabian Sea here. You could also shop for vegetables nearby.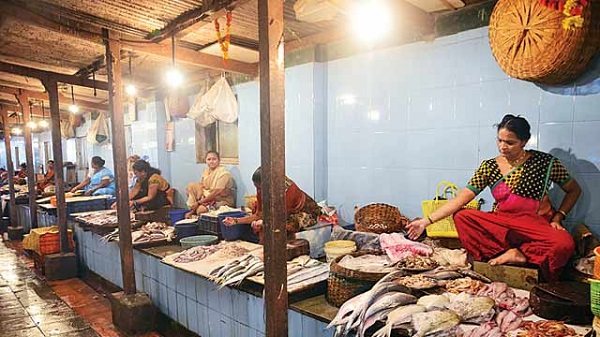 Where: Ranade Rd, Dadar West, Dadar, Mumbai, Maharashtra 400028
Timings: 6 AM – 7 PM
3. Khar Danda Fish Market
This market opens later than the others but is very famous among seafood lovers. The market is located in a building that resembles an old mill, and has fisherfolk coming here to sell their catch on a daily basis. The sellers are mainly women and you can get pomfret, sardines and even stingrays! Keep your bargaining skills handy as you shall need them here.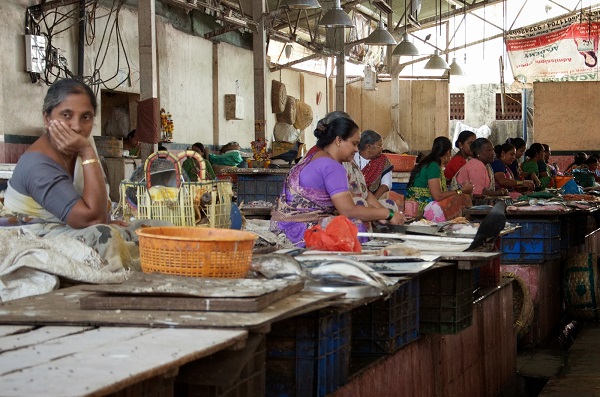 Where: Mumbai, Koliwada, Khar Danda, Mumbai, Maharashtra 400052
Timings: 8 AM – 6 PM
4. Sion Fish Market
This market is located in proximity to the Sion suburban railway station and is thus always crowded throughout the day. You can find almost all kinds of fish here at affordable rates along with other seafood like crabs. However, you will need to sharpen your bargaining skills to get a good rate.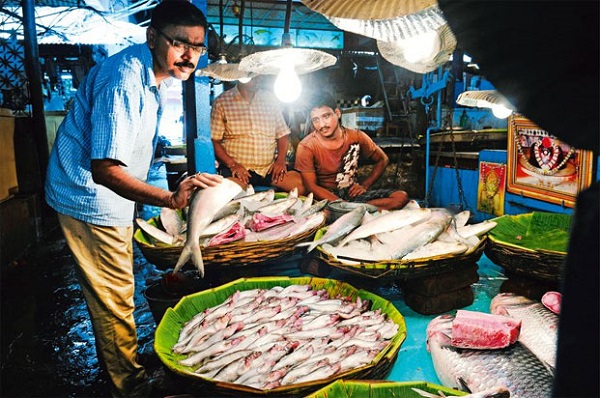 Where: Sion Flyover, Joglekar Wadi, Sion East, Sion, Mumbai, Maharashtra
Timings: 7 AM – 10 PM
5. Machi Market
Located in Jogeshwari, Machi Market doesn't start off its day as early as the others but provides fresh fish on every Friday and Sunday. The good part is that all the food is available at affordable rates so that you can enjoy your meal without shelling out too much. There are many butcher shops around as well that sell chicken and other meat.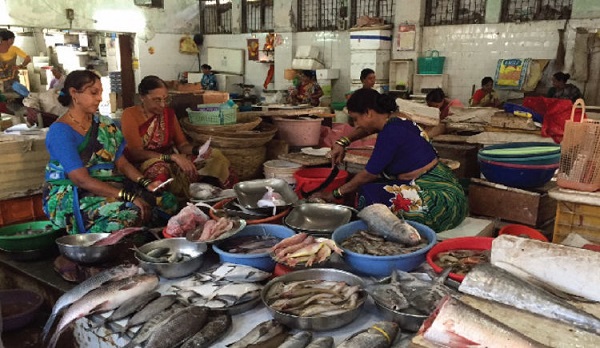 Where: Squatters Colony Rd, Saraswati Baug, Prem Nagar, Jogeshwari East, Mumbai, Maharashtra
Timings: 10 AM – 10 PM
6. Wadala Fish Market
Located near the Wadala Church, this market is great for those living in Wadala. All fish are available at a reasonable rate here and you can get fresh catch on a daily basis. Nearby, you can find places to buy your grocery and fruits along with meat and poultry. Needless to say, you should be good at bargaining to get a good deal.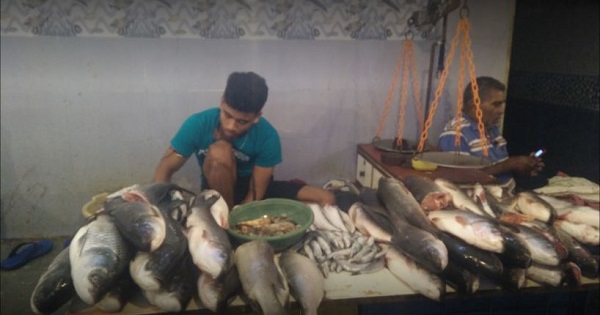 Where: Wadala West, Wadala, Mumbai, Maharashtra
Timings: 9 AM – 9 PM
7. Masli Market
Located in Vikhroli, this market is mainly open from morning to evening and has various types of raw seafood available. You can get great quality seafood at cheap prices if you know how to bargain well enough. You may also be lucky enough to find some rare creatures here.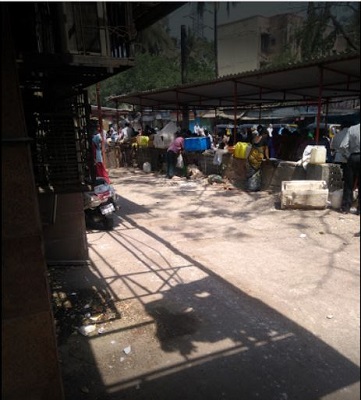 Where: Ram Hajare Marg, Bagrat Nagar, Tagore Nagar, Ashok Nagar, Vikhroli East, Mumbai, Maharashtra
Timings: 8 AM – 8 PM
8. Bhaucha Dhakka
The biggest fish market of Mumbai, Bhaucha Dhakka is filled with fishermen right from the break of dawn and you can see the flourishing market throughout the day with thousands of fish being sold. Not only will you get fresh catch here but also a very wide variety. You can even find bigger fishes for sale here.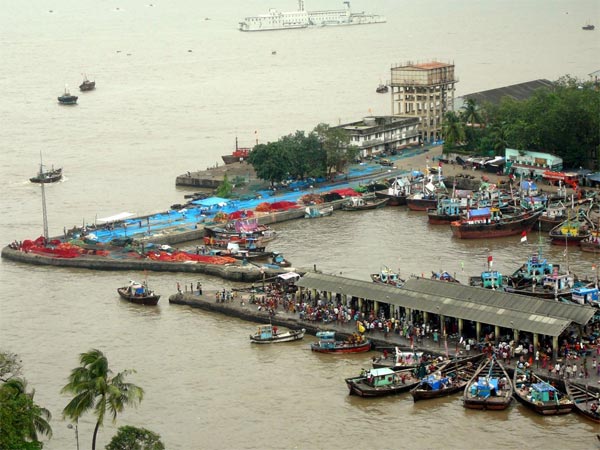 Where: Princess Dock, Mumbai Port Trust, Mazgaon, Mumbai, Maharashtra
Timings: 6 AM – 10 PM
9. Crawford Fish Market
The first building of the country to be lit up by electricity is also a fish market. Right from wee hours, this place is bustling with activity and you can see a bunch of sellers stocking up their fish for day's sale. Everyday, you can get the fresh catch of the day at great rates. Do not forget to bargain to get a fair deal!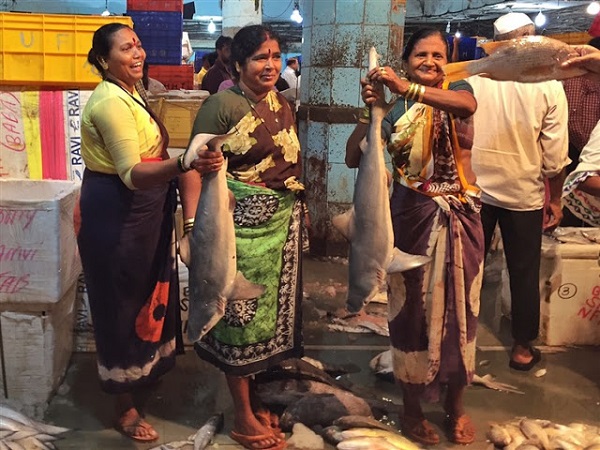 Where: Dhobi Talao, Chhatrapati Shivaji Terminus Area, Fort, Mumbai, Maharashtra 400001
Timings: 6 AM – 8 PM
10. Sassoon Docks Fish Market
Every day, this market is filled with people who come to buy fresh catch from the sea. Loads of birds can also be seen flying around, eagerly waiting to steal some fish from the piles scattered around. You can get the best of daily catch here and can take your favorite fish back home for a hearty meal. Did we mention that you can get baby sharks here too?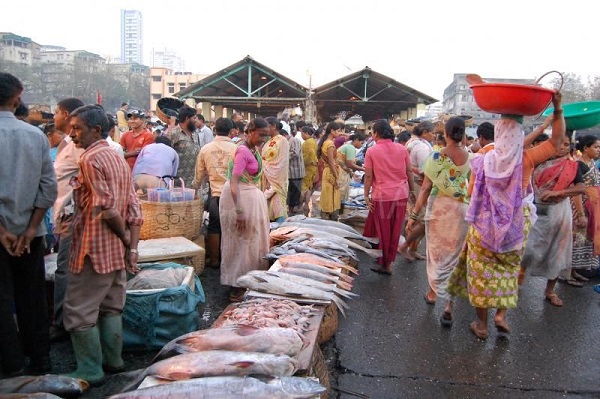 Where: Azad Nagar, Colaba, Mumbai, Maharashtra 400005
Timings: 4 AM – 12 PM
If you have made a visit to any of these markets for your daily dose of seafood, do let us know your experience in the comments below. If you haven't, just for the sake of an experience, visit these places and come a step closer to discovering Mumbai!
Image Credits: Shutterstock, Tour.Zizzie, Sid The Wanderer, Native Planet, Dipak Patil, SK Chattopadhyay, Eazy Diner, Livemint, Bombay Jules, DNA, YouTube
Latest posts by Vibha Sharma
(see all)