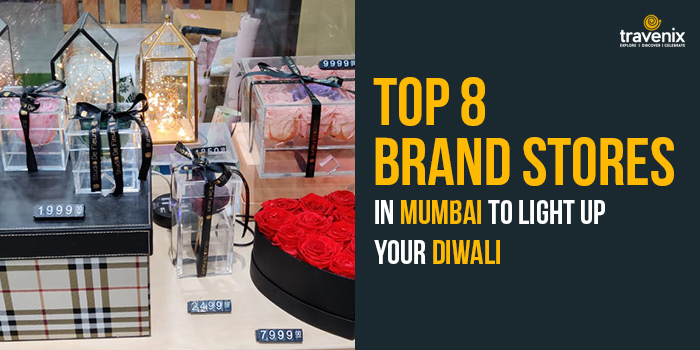 Must Visit 8 Brand Stores In Mumbai For Diwali Shopping
Diwali is known as the festival of lights, it is celebrated with much fanfare all across India. If you live in Mumbai, you might've experienced the grand scale of celebrations. Being a cosmopolitan city, you can expect the best of the best celebrations, especially during Diwali.
This also includes some of the best shopping deals that come up during Diwali. Diwali is the perfect time to get your hands on your favorite clothes, accessories, electronics and more. With high demand comes the need to attract consumers, and Mumbaikars don't hold back while shopping for Diwali and it shows with the busy market streets all over Mumbai.
Sales And Offers In Mumbai For Diwali Shopping
Sales And Offers In Mumbai For Diwali Shopping
There is no dearth of offers during Diwali. It is only a matter of finding the right deal that is perfect for you. Have a look at some of the best shopping deals in Mumbai this Diwali. We've gone through the best deals available in Mumbai and compiled a list of the ones that are highly useful for you this festive season. Be it watches, eyewear clothes or home decor, we've got you covered!
1. Just Watches
Just Watches
This is the perfect time to buy a new watch or gift it to your loved ones. Just Watches is giving up to 50% off on international brands and a branded watch free. A branded watch is the perfect accessory for your Diwali OOTD and you should hurry to your nearest Just Watches store to get your hands on one now!
Location: Malad, Mindspace, Malad West, Mumbai, Maharashtra 400064
Sale Date: Until 31/10/19
2. MacV Eyewear
MacV Eyewear
We've spotted a good deal at the MacV Eyewear stores this Diwali. Add a chic collection of eyewear to your wardrobe with this killer deal. Buy 2 Fashion Eyewear for just Rs.3,100. What more does one need? Trendy, fashionable and top of the line glasses that help you stand out, that are also a deal, what's not to like?
Location: Infiniti Mall, Malad. R-City Mall, Ghatkopar
Sale Date: Until 31/10/19
3. MINISO
Miniso
Miniso is one of our favourite stores to get your hands on some cute accessories, clothes, and bags. This Japanese brand has won our hearts with the quality and overall aesthetic. They're giving a free gift this Diwali on a purchase of Rs.999 and above. Now, who wouldn't want to bag this deal?
Location: F – 65, LBS Rd, Kamani, Kurla West, Kurla, Mumbai, Maharashtra 400070 and Multiple Outlets
Sale Date: Until 31/10/19
4. Shoppers Stop
Shoppers Stop
Shoppers Stop has been a classic shopping destination for many people in Mumbai. With its trendy collection and affordable prices, it is the preferred shopping place for Mumbaikars. They have an ongoing Flat 50% off sale on their collection which one should definitely make use of for their Diwali shopping!
Location: SUBURBIA MALL (INDIA) PVT LTD, OLD BANDRA TALKIES, Linking Rd, Bandra West, Mumbai, Maharashtra 400050 and Multiple Outlets
Sale Date: Until 31/10/19
5. Selected Homme
Selected Homme
Who doesn't love some trendy western wear in their wardrobe? Especially if it is from Selected Homme. The brand is well-known for its quality and best prices. They're going all out this Diwali with their sale. With a "Buy 2, Get 2" offer, you're guaranteed a good deal for yourself and your loved ones this festive season.
Location: Unit no.s, West, 4B, Tulsi Pipe Rd, Lower, Parel, Mumbai, Maharashtra 400013
Sale Date: Until 31/10/19
6. Esbeda
Esbeda
The only baggage you need to carry this festive season is the luxurious one from Esbeda. They are offering a flat 50% off on their latest collection. The trendy accessory is bound to enhance your style quotient and finish your festive look.
Location: Esbeda, Kemps Corner
Sale Date: Until 31/10/19
7. Envi Salon and Spa
Envi Salon and Spa
Treat yourself to a relaxing spa day or a festive makeover at Envi Salon and Spa. If you avail their services worth Rs.7,000 you get services worth Rs.9,100, isn't that a sweet deal? The offer is valid all throughout October and is the perfect excuse for getting a new look this Diwali.
Location: Envi Salon and Spa, Malad
Sale Date: Until 31/10/19
8.The Chic Pad
The Chic Pad
Diwali calls for upping your home decor game. The Chic Pad is the perfect destination to get your hands on some classy home decor items that look like they're straight out of a movie set. Not only are they trendy, but the Diwali sale is the perfect excuse to get them at a bargain. Everything in the store is at a flat 20% off! This is enough reason for you to buy those pretty wall hangings or lamps that you've been eyeing for a while.
Location: Santacruz West
Sale Date: Until 31/10/19
In Conclusion
Diwali has always been the festival where people splurge on buying things for themselves and their loved ones. From clothes, electronics to home decor items. It is the season of new, wholeheartedly welcomed by all and is one of the most anticipated festivals in India.
This often meant jacked up prices and buying overpriced items, not anymore. With widespread demand comes the opportunity for sellers to attract as many consumers as possible. Diwali sale is the perfect excuse for both consumers and brands alike. Over the past few years, consumers get the best deals during the festive season and there are many good deals available all across Mumbai.
No one can say no to a good deal, especially if it comes from top international brands. You can get your entire Diwali shopping done without burning a hole in your pocket and get some of the best products and gifts for our loved ones. Nothing beats the smile on the face of your loved ones after they receive their Diwali gifts and that's what makes the festival of lights brighten up to a new level. It brings families and loved ones together to celebrate happiness, love, and joy. Whether its while shopping together or eating out, Diwali holds a place close to everyone's heart in India and rightfully so. How do you like to celebrate Diwali? Let us know in the comments below!
Is there a deal that we've missed? Or is there a deal that you think would be really beneficial to readers? Feel free to leave a comment down below, we'd love to hear you out!
Latest posts by Vibha Sharma
(see all)