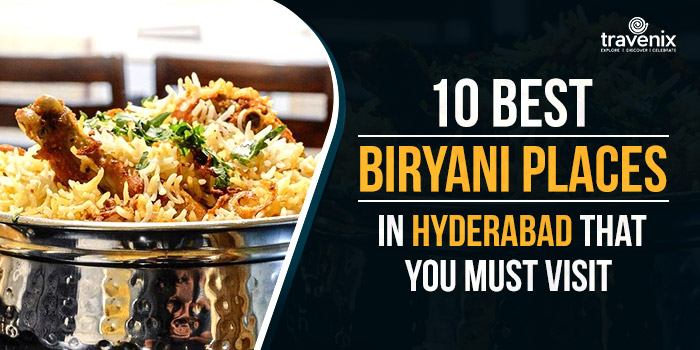 10 Popular Biryani Places In Hyderabad That You Must Visit
The City of Nizams boasts of many architectural marvels and a rich culinary heritage. Perhaps, it is one of the reasons why Biryani instantly comes to our mind when we hear of Hyderabad. Hyderabadi Biryani is one of the most popular dishes of India that has taken the world by storm.
Regal fare – Hyderabadi Biryani
While there can be endless arguments on which city in India serves the best biryani; Hyderabadi Biryani is surely one of the culinary treasures of Hyderabad loved by most of the people.
The aroma of the biryani is sure to increase your appetite even before the handi of biryani appears on your table. The white and saffron-coloured long-grain rice gracefully conceals the succulent meat pieces, which are often considered to be the real treasures of a biryani. Mirchi ka Saalan and raita are the perfect accompaniments to this iconic dish.
We have spotted some of the best places to eat biryani in Hyderabad and curated a list of restaurants that ranges from some of the best fine-dining restaurants to casual dining restaurants and budget restaurants in the city.
1. Bawarchi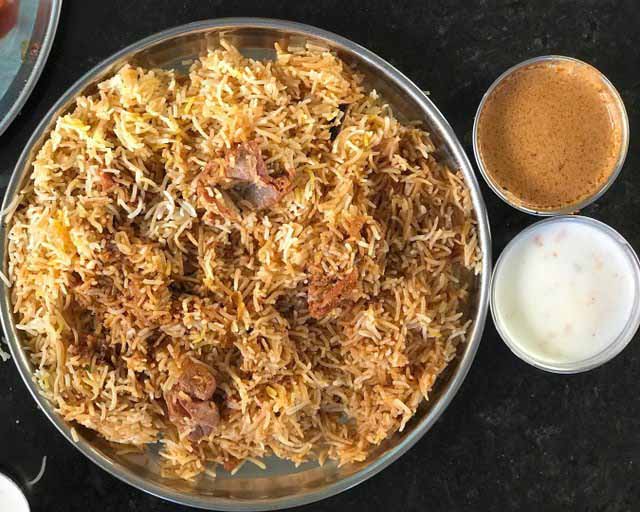 If you step into this restaurant in Hyderabad, you are sure to have an unforgettable gastronomical experience. The aroma of the irresistible dishes served at Bawarchi do not limit themselves within the four walls of the restaurant; rather the aromas will greet you on the roads near the restaurant.
Bawarchi has a simple dining area without any fussy decorations. People visit this famous restaurant in Hyderabad to simply relish the flavourful dishes, especially the biryani. Hyderabadi Biryani, Tandoori Chicken, Haleem and Tandoori Roti are some of the specialities of the restaurant.
Location: Plot No. 44, RTC Cross Road, Opposite Sandhya Theatre, Jawahar Nagar, Chikkadpally, New Nallakunta, Hyderabad, Telangana 500020
Timings: 11:30 AM to 12 AM
Cost for two: ₹ 900
2. Cafe Bahar and Restaurant
This modest late-night restaurant according to most residents of the city serves one of the best biryanis in Hyderabad. Cafe Bahar and Restaurant has been ruling the hearts of biryani lovers since 1973. The flavourful biryani is served in generous amounts at pocket-friendly prices, which will attract you to visit the restaurant once again.
A single plate of biryani can easily be shared by two people while the Family Pack is sufficient for about four to five people. Hyderabadi Biryani, Chicken 65, Chicken Tikka and Mutton Boti Kebab are some of the most tantalising dishes served at Cafe Bahar and Restaurant.
Location: 3-5, 815/A, Old MLA Quarters Road, Avanti Nagar, Himayatnagar, Hyderabad, Telangana 500029
Timings: 11 AM to 1 AM
Cost for two: ₹ 700
3. Hotel Shadab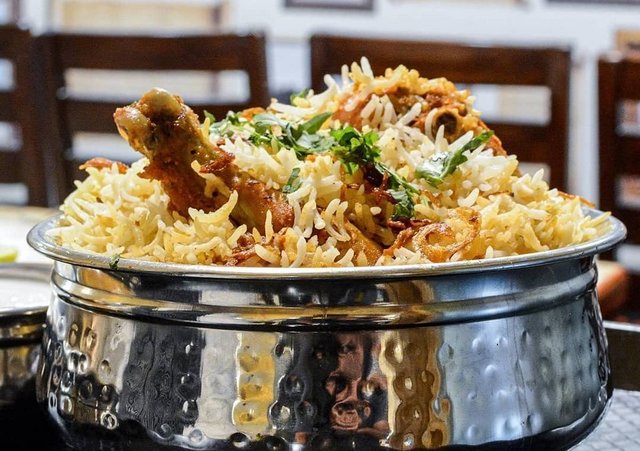 Hotel Shadab is an iconic restaurant in Hyderabad that is known for its scrumptious Mughlai fare. This fifty-year-old restaurant situated at the bustling street near Charminar never fails to lose its charm to attract biryani lovers from different corners of the city.
The flavourful and spicy biryani is a treat for those who love spicy food. Hotel Shadab not only serves delicious Mutton Biryani but it also serves one of the best chicken biryani in Hyderabad. Chicken Drumstick, Haleem, Mirchi Ka Saalan, Chicken Hyderabadi, Tandoori Roti and Naan are some of the hot-selling items at Hotel Shadab. Their creamy Falooda is a perfect way to end a hearty meal.
Location: 21-1-140-144, Near High Court, High Court Road, Madina Circle, Charminar, Ghansi Bazaar, Hyderabad, Telangana 500012
Timings: 5 AM to 12 AM
Cost for two: ₹ 1000
4. Adaa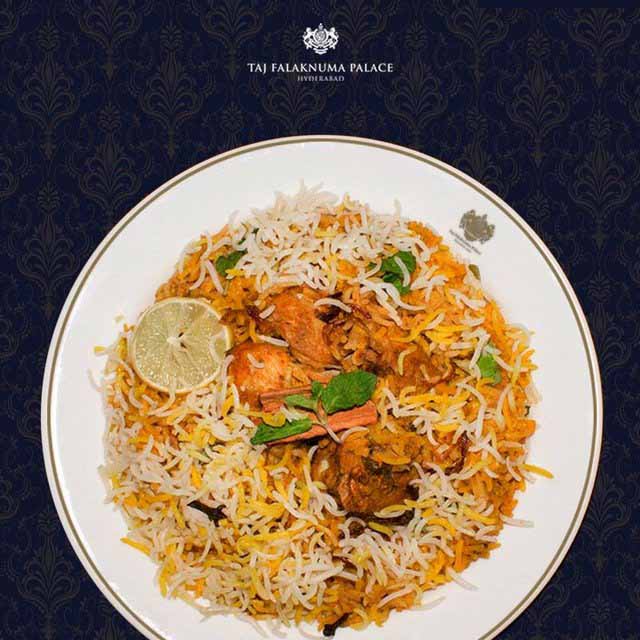 This fine-dining restaurant at the majestic Taj Falaknuma Palace serves some of the most delectable Hyderabadi dishes in the city. The luxuriously decorated interiors, warm hospitality and perfectly cooked Hyderabadi dishes will surely transport you to the by-gone era of the Nizams. This charming panoramic view of the city from the dining area is the icing on the cake for an unforgettable dining experience.
The slow-cooked Hyderabadi Kachhi Biryani is a culinary delight that will surely tantalise your taste buds. Haleem, Nalli Gosht, Shikampuri Kebab, Pathar ka Gosht and Badami Soup are some of the highly recommended dishes that you must try at Adda.
Location: Taj Falaknuma Palace, Engine Bowli, Hyderabad, Telangana 500053
Timings: 12:30 PM to 11:30 PM
Cost for two: ₹ 10000
5. Shah Ghouse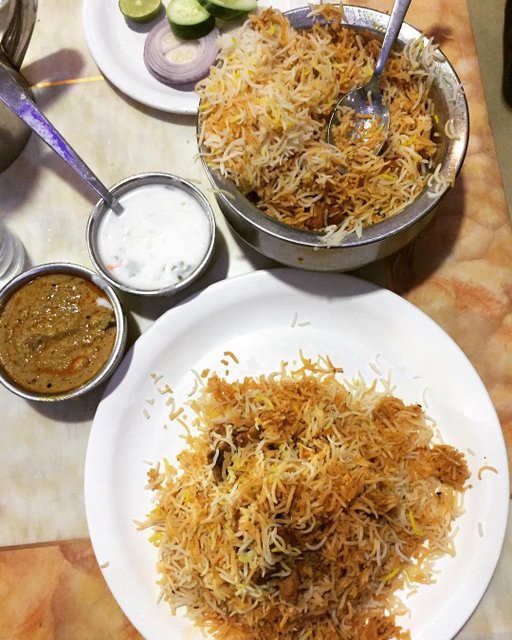 Shah Ghouse is one of the most popular biryani places in Hyderabad. The crowd that can be seen here throughout the day is a simple proof of its popularity. Do not be surprised if you find yourself amongst the crowd waiting for their turn even late in the night. Most of the people have been loyal customers of this modest restaurant for years.
Boti Kebab, Khichdi Keema, Gurda Bhaji, Biryani, Chicken Nihari Special and Sheermal are some of the specialities of the restaurant that are worth trying.
Location: 8-191/15, Opposite Bio-Diversity Park, Raidurgam, Gachibowli Road, Madhura Nagar Colony, Gachibowli, Hyderabad, Telangana 500032
Timings: 12 PM to 1 AM
Cost for two: ₹ 700
6. Dum Pukht Begum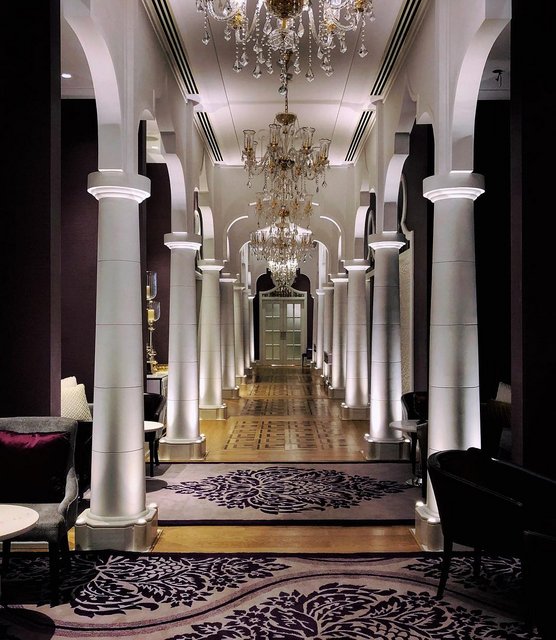 The age-old recipes from the royal kitchens of Hyderabad have found a new home on the menu of Dum Pukht Begum, the opulent restaurant at ITC Kohenur. The elegantly decorated interiors instantly catch your attention as you step into this fine-dining restaurant.
Warqi Paratha, Murgh Chandi Tikka, Dum Pukht Badin Jaan, Shahi Nehari and Dum Pukht Biryani are some of the iconic dishes at Dum Pukht Begum which you must try. The taste of the sinful desserts such as Badami Kheer and Khubani ka Meetha will surely linger on your tastebuds for a while.
Location: Knowledge City, Plot No.5, Survey No. 83/1 Survey No.83/1, Hyderabad, Madhapur, Hyderabad, Telangana 500081
Timings: 7 PM to 11:30 PM from Monday to Friday. 12:30 PM to 2:30 PM and 7 PM to 11:30 on Saturday and Sunday.
Cost for two: ₹ 4000
7. Paradise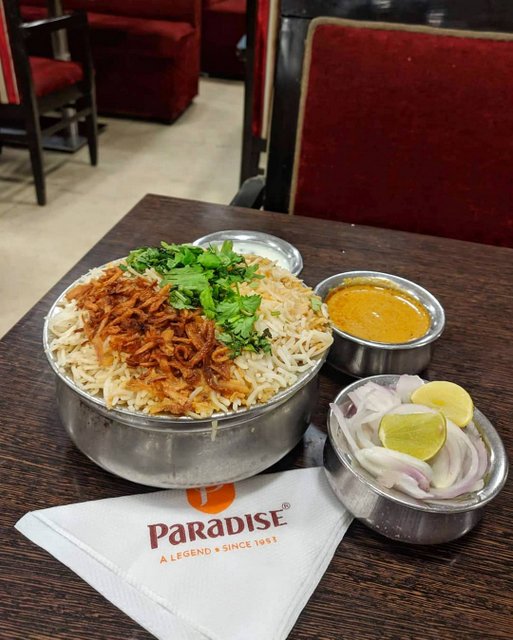 Paradise Biryani has become synonymous with Hyderabad over the years. This renowned six-decade-old chain of restaurants in Hyderabad serves one of the best biryanis in the city. Although many people may argue that Paradise does not serve the authentic Hyderabadi Biryani, no one can deny the fact that the flavourful biryani of Paradise is to die for!
The prompt service and neat seating arrangement of this restaurant will convince you to visit again. Mutton Biryani, Chicken Biryani, Mirchi ka Saalan, Haleem and Chicken 65 are some of the hot-selling items of this restaurant.
The Paradise chain of restaurants is located in eight different cities in India, namely Hyderabad, Bengaluru, Gurugram, Kolkata, Visakhapatnam, Chennai, Vijayawada and Guntur. In Hyderabad, the chain of restaurants is present at over 15 different locations across the city.
Location: Plot No. 22 & 23, Gachibowli Road, Vinayak Nagar, Hyderabad, Telangana 500032
Timings: 11 AM to 8 PM
Cost for two: ₹ 900
8. Chicha's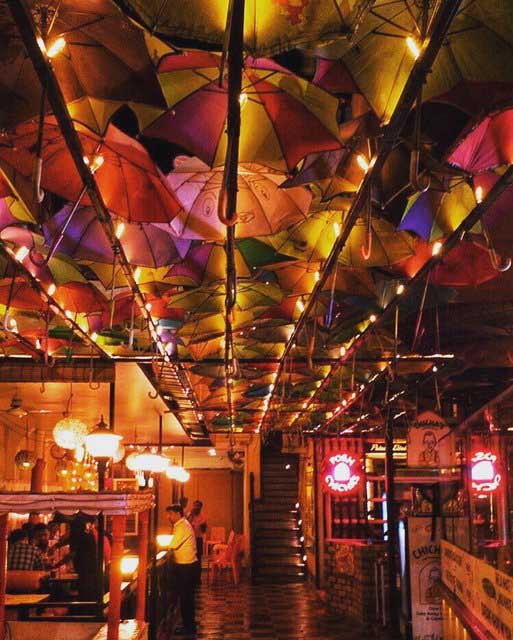 If you are not a fan of overpowering spiced biryani, then Chicha's biryani will surely delight you with its flavourful yet perfectly spiced biryani. This restaurant with minimal decor is definitely not the place for your gourmet food, instead the menu of Chicha's has been curated keeping in mind the simple yet delicious ghar ka khana.
Each of the dishes at the restaurant boasts of homemade flavours that do not resemble any of the restaurant food in the city; you have to taste it yourself to know what we mean. In addition to the biryani; Khatti Dal, Tala Hua Gosht, Shikampuri Kebab, Pathar Ka Gosht, Mirchi Ka Saalan and Haleem are some of the dishes that you must try at Chicha's.
Chicha's is one of the best late-night restaurants to satiate your cravings for some delectable non-vegetarian Tawa snacks like kebabs, kaleji, gurda and others.
Location: 6-2-39, AC Guards Road, opposite Kun Hyundai, Veer Nagar, Lakdikapul, Hyderabad, Telangana 500004
Timings: 7 AM to 10:30 AM
Cost for two: ₹ 800
9. Biryaniwalla & Co.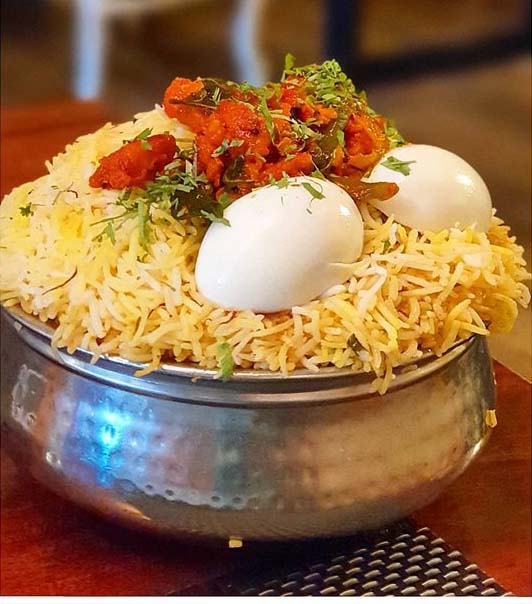 Vegetarians do have a real struggle when it comes to biryani; finding delicious vegetarian biryani is a mammoth task! We have found just the right restaurant in the city that serves one of the best vegetarian biryanis in Hyderabad. Well, we can guarantee that the vegetarian biryani at Biryaniwalla & Co. tastes equally good as its non-vegetarian counterparts, if not better.
In addition to biryani and kebabs, their elaborate menu boasts of an assorted variety of vegetarian, non-vegetarian and seafood dishes. Fish Biryani, Prawn Biryani and Seafood kebabs are some of the popular seafood dishes that you can try. Biryani, Pathar ka Gosht, Khubani ka Meetha and Gajar ka Halwa are some of the star dishes of the restaurant that you must try.
Location: Plot No 100, Banjara Hills Road Number 3, Beside TV9 office, SBI Executive Enclave, Green Valley, Banjara Hills, Hyderabad, Telangana 500034
Timings: 12 PM to 12:00 AM
Cost for two: ₹ 1200
10. Alhamdulillah Hotel
Alhamdulillah Hotel is one of the most popular biryani restaurants at Nampally. This modest restaurant is frequented by foodies who simply visit the restaurant for its delicious food at affordable prices. The succulent yet not overspiced meat of the flavourful biryani is a treat for those who do not like spicy biryani. If you ever find yourself craving for some biryani or kebab in the odd hours of the day, look no further beyond Alhamdulillah Hotel.
Haleem, Sheek Kebab and Boti Kabab with Rumali Roti, Tala Hua Gosht and Khubani ka Meetha are some of the irresistible dishes that you must try at Alhamdulillah Hotel. Any visit to this restaurant will be incomplete without a cup of creamy Irani Chai, it's something you must try yourself to know the taste.
Location: Door No.11-2-284, Beside Bismillah Hotel Habeeb Nagar Road, Aghapura, Nampally, Hyderabad, Telangana 500001
Timings: Open 24 hours
Cost for two: ₹ 600
Conclusion
Biryani is much more than a food for the people of Hyderabad, it is an emotion that manifests itself into a luscious dish with many varieties. Arguing about which restaurant in Hyderabad serves the best biryani in the city can easily spark a heated argument amongst the biryani lovers. Therefore, it is best if you visit the restaurants and try the biryani they serve for yourself.
The above-mentioned restaurants are some of the best places in Hyderabad to savour a delightful plate of biryani. Whether you like moderately spiced biryani or a spicy version of this Hyderabadi dish, you are sure to find your favourite biryani points in Hyderabad on the list.
If you have been to any of the restaurants or know any other restaurant that serves delicious biryani, then share the details with us in the comment section below.
Image Source: Facebook and Instagram
Latest posts by Fateha Firdaus Barbhuiya
(see all)